Surface topography control of NiS/Ni3S4 nanosheets for the promotion of electrochemical performance
ORIGINAL PAPER: NANO-STRUCTURED MATERIALS (PARTICLES, FIBERS, COLLOIDS, COMPOSITES, ETC.)
Abstract
In this work, a two-step protocol was proposed to prepare NiS/Ni3S4 composite nanosheets as an electrode material for supercapacitors. The composite nanosheets were prepared by hydrothermal sulfuration on the α-Ni(OH)2 monolayer nanosheets that were produced by grinding the mixture of nickel salt and morpholine at room temperature. The results of morphology observation indicated that the composite prepared at 140 °C had sheet-like morphology and large lateral size. It presented high-specific capacitance (2070.0 F g−1 at current density of 2.5 A g−1) and excellent electrochemical stability (86% retention of initial capacitance after 10,000 charge–discharge cycles). It was considered that the high electrochemical performance of this composite could be attributed to its sheet-like morphology and the introduction of Ni3S4 phase.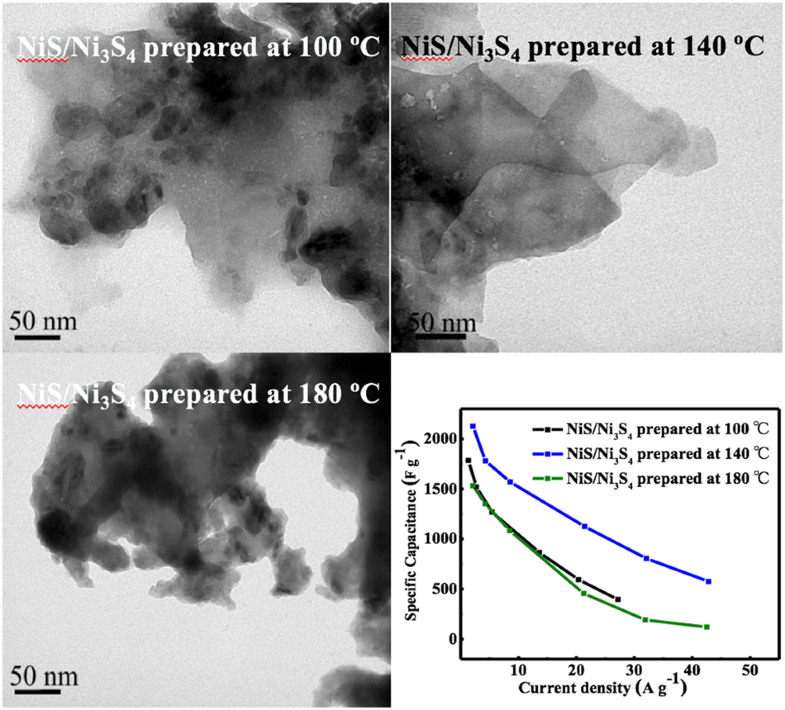 Highlights
NiS/Ni3S4 composite nanosheets were prepared by a two-step hydrothermal route.

α-Ni(OH)2 monolayer nanosheets were prepared at room temperature in first step.

Composite nanosheets were prepared by the sulfuration of hydroxide in second step.

Composite presented high performance due to its well-defined sheet-like morphology.
Keywords
Nickel sulfide 
Nanosheets 
Sulfuration 
Supercapacitors 
Notes
Acknowledgements
The authors acknowledge the National Natural Science Foundation of China Grant No. 21606226.
Compliance with ethical standards
Conflict of interest
The authors declare that they have no conflict of interest.
Copyright information
© Springer Science+Business Media, LLC, part of Springer Nature 2018