Synthesis, characterization, and application of sol gel derived Mg2SiO4 powder
Original Paper: Characterization methods of sol-gel and hybrid materials
Abstract
This paper reports a successful preparation of a pure forsterite Mg2SiO4 using the sol–gel approach and its application for the removal of impurities from a Tunisian frying oil. Magnesium nitrate hexahydrate and tetraethylortho-silicate were used as magnesium and silicon precursors, respectively. The synthesis was held at different calcination temperatures for 30 min. The annealed samples were characterized by X-ray diffraction, Fourier transform infrared, scanning electron microscopy, and laser diffraction. The results revealed that the sample calcined at 500 °C was forsterite with unimodal particle size distribution (PSD) centered at 122.8 ± 0.3 μm. The dispersion index I (indicator of particle size uniformity) was 1.84. With the temperature increase, well crystallized compounds were obtained. Their PSDs remain unimodal and shift towards smaller particles. A decrease of the dispersion index was also noted, indicating the formation of Mg2SiO4 with more uniform particle size. This study showed that 900 °C could be selected as energy saving temperature suitable for the preparation of a pure and well crystallized Mg2SiO4 within just 30 min of annealing time. The obtained silicate exhibited promoting results for the purification of waste frying oils.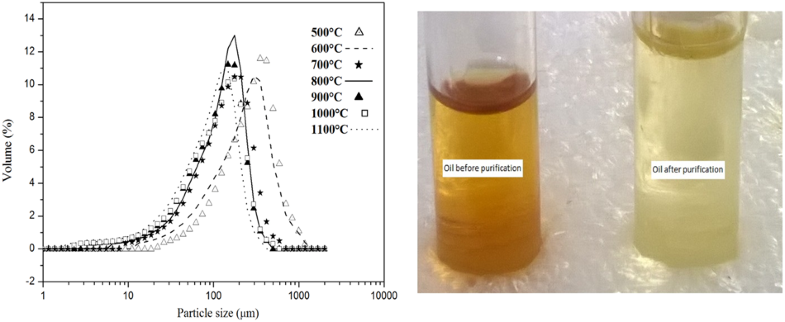 Highlights
Sol–gel synthesis of pure forsterite Mg2SiO4.

Structural characterizations of Mg2SiO4 powders.

The forsterite powders exhibit unimodal particle size distribution.

Successful Mg2SiO4 application for waste frying oil purification.
Keywords
Forsterite 
Sol–gel 
Synthesis 
Particle size 
Oil purification 
Notes
Compliance with ethical standards
Conflict of interest
The authors declare that they have no conflict of interest.
Copyright information
© Springer Science+Business Media, LLC, part of Springer Nature 2018