Single cyanobacteria@silica porous microcapsules via a sol–gel layer by layer for heavy-metal remediation
Original Paper: Sol–gel and hybrid materials for biological and health (medical) applications
Abstract
Heavy-metal removal from industrial wastewater is a major issue. The use of microbial biosorbent is a low cost, sustainable, and efficient way for water cleaning, but the living organisms are limited by their sensitivity and fragility and subjected to water contamination by other relevant bacteria. In order to improve the use of the powerful photosynthetic prokaryote, this work focused on the development of a new protection method of cyanobacterial strains of the genus Synechococcus sp. PCC7002 by a multiple coating including an external layer made of silica. This surfacing was performed using the layer-by-layer method and different polyelectrolytes. Polydiallyldimethylammonium chloride, a cationic polymer is used as a link between the cell wall and silica shell, while polystyrene sulfonate is inserted to play a protective role against ultraviolet light irradiation. This study discloses the synthesis of a highly efficient hybrid material and the excellent protection brought by the silica material. First of all, the layers, in particular four layers, deposited around single cells offer a strong protection against very harmful UV-C light irradiation while maintaining high viability and the same bioadsorption capacity for heavy-metal ions in solution. The long-term viability of this living material and its successful use for copper and lead sequestration, confirms the possibility of exploiting encapsulated cyanobacteria to improve current biotechnologies for wastewater purification.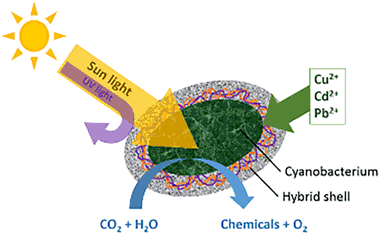 Highlights
Individual cyanobacterium encapsulation within hybrid porous layers via a sol–gel method

Biohybrid materials with UV-C irradiation resistance

Biohybrid materials with a long-term viability

Biohybrid materials for wastewater treatment
Keywords
Individual cell encapsulation 
Silica 
Cyanobacteria 
Heavy-metal remediation 
Notes
Acknowledgements
C. Delneuville thanks the Belgian Fonds de la Recherche Scientifique—FNRS for his Fonds pour la Formation à la Recherche dans l'Industrie et dans l'Agriculture (FRIA) scholarship. The authors thank A. Krief for the useful help and comments on this manuscript, P. Campier for his relevant advice and assistance with atomic absorption (URBV, UNamur), C. Charlier from the microscopy service (UNamur) for technical assistance and equipment, A. Felten and the SIAM technology platform (UNamur) for the XPS measurement, and E. Perpete (CPB, UNamur) for the zeta-potential measurements.
Compliance with ethical standards
Conflict of interest
The authors declare that they have no conflict of interest.
Ethical approval
This article does not contain any studies with animals or human participants performed by any of the authors.
Informed consent
Informed consent was obtained from all individual participants included in the study.
Copyright information
© Springer Science+Business Media, LLC, part of Springer Nature 2018