Synthesis of hierarchically porous MgO monoliths with continuous structure via sol–gel process accompanied by phase separation
Brief Communication: Nano and macroporous materials (aerogels, xerogels, cryogels, etc.)
Abstract
Hierarchically porous magnesium oxide, MgO, monoliths with a well-defined continuous macroporous structure have been synthesized via the sol–gel route accompanied by phase separation. Magnesium chloride hexahydrate was used as a precursor, and propylene oxide was used as an acid scavenger to raise the pH of a reaction solution homogenously. In order to obtain a crack-free monolith after heating in air, poly(vinylpyrrolidone), PVP, was employed as a scaffold of the skeleton as well as a phase separation controller to form the continuous macropores with higher homogeneity. Due to the moderate hydrogen-bonding interaction with magnesium hydroxide, PVP reinforces the gel network essentially composed of fine grained magnesium hydroxide. Even after the removal of all organic components by calcination, the porous gel samples maintained their monolithic form. On the other hand, an additional incorporation of 1,3,5-benzenetricarboxylic acid, H3BTC, was found to be effective in suppressing the oriented growth of the micrometer-sized crystalline phase. The polycrystalline MgO monoliths with specific surface area of 185, 64, and 48 m2 g−1 were prepared after heating at 400, 500, and 600 °C in air, respectively.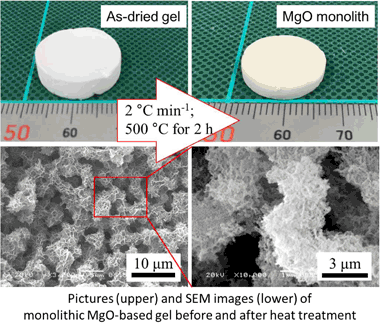 Keywords
Magnesium oxide 
Sol–gel 
Phase separation 
Hierarchical pore structure 
Monoliths 
Notes
Acknowledgements
The present study has been performed under financial supports from Advanced Low Carbon Technology Research and Development Program (ALCA, Japan Science and Technology Agency).
Compliance with ethical standards
Conflict of interest
The authors declare that they have no conflict of interest.
Copyright information
© Springer Science+Business Media, LLC, part of Springer Nature 2018