New precursors for the preparation of pH-sensitive, targeting, and loaded non-porous bridged silsesquioxane nanoparticles
BRIEF COMMUNICATION: SOL-GEL AND HYBRID MATERIALS FOR BIOLOGICAL AND HEALTH (MEDICAL) APPLICATIONS
Abstract
Two new tetrasilylated precursors based on a triazine derivative with molecular recognition properties have been synthesized and are shown to efficiently produce pH-sensitive, targeting, and (one-step) loaded non-porous bridged silsesquioxane nanoparticles (nano-BS). This was achieved by the sol−gel hydrolysis−condensation of the precursors in the presence of cyanuric acid (CA) H-bonded through the three complementary faces and mimicking 5-fluorouracil (5-FU) anticancer drug. The complex in the nano-BS is not affected under neutral medium and operates under acidic conditions to deliver the loaded molecule, as demonstrated by FTIR spectroscopic studies. Furthermore, thanks to the presence of the amino function, the nano-BS could be functionalized with targeting or fluorescent systems. Indeed, the grafting of fluorescein isothiocyanate revealed the internalization into cancer cells, confirming that nano-BS are promising materials as carriers to avoid the side effects of anticancer drug due to a controlled and targeted drug delivery.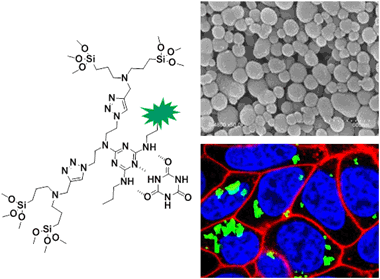 Keywords
Bridged silsesquioxane nanoparticles 
Drug delivery 
pH-sensitive 
One-step drug loading 
Targeting 
Notes
Compliance with ethical standards
Conflict of interest
The authors declare that they have no conflict of interest.
Copyright information
© Springer Science+Business Media, LLC, part of Springer Nature 2018