Synthesis of lamellar mesostructured phenylene-bridged periodic mesoporous organosilicas (PMO) templated by polyion complex (PIC) micelles
Original Paper: Nano-structured materials (particles, fibers, colloids, composites, etc.)
Abstract
Periodic mesoporous organosilicas (PMOs), obtained by the surfactant-mediated hydrolysis-condensation of bridged organosilanes, combine versatile organic functionalities with advantages of a stable inorganic framework. Here, we introduce a novel synthesis of lamellar mesostructured phenylene-bridged PMOs templated by polyion complex (PIC) micelles (PICPMOs). The micelles assemble by electrostatic interactions between oppositely charged polyelectrolytes, with one being part of a double-hydrophilic block copolymer (DHBC), and the other being a polybase oligochitosan (OC). The PICPMO material was characterized by a range of techniques, including TEM, IR spectroscopy, SAXS, TGA and elemental analysis, which indicates that the material exhibits long-range ordering with an inter-lamellae distance of around 15 nm. Advantages of the synthetic approach developed, together with potential applications of the PICPOs, are discussed.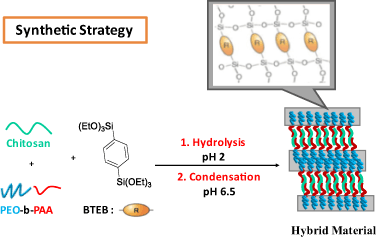 Keywords
Hybrid material 
PMO 
Polyion complex micelles 
Notes
Acknowledgements
We acknowledge Dr. Philippe Gaveau (Institut Charles Gerhardt Montpellier) for solid-state NMR experiments, and Akira Ishii and Professor Masafumi Unno (Department of Chemistry and Chemical Biology, Graduate School of Science and Technology, Gunma University, Japan) for their contribution to this work. We thank the French Agence Nationale de la Recherche for funding of the MESOPIC Project (2015–2019), No. ANR- 15-CE07-0005.
Compliance with ethical standards
Conflict of interest
The authors declare that they have no conflict of interest.
Copyright information
© Springer Science+Business Media, LLC, part of Springer Nature 2018