Facile synthesis, microstructure, photo-catalytic activity, and anti-bacterial property of the novel Ag@gelatin–silica hybrid nanofiber membranes
Original Paper: Nano-structured materials (particles, fibers, colloids, composites, etc.)
Abstract
In this study, novel fibrous membranes made of Ag@gelatin–silica hybrid nanofibers were synthesized from gelatin, 3-glycidoxypropyl trimethoxysilane, and Ag@gelatin nanoparticles (NPs) via a combined method of in situ reduction, sol–gel route, and electrospinning method. Their microstructure, photo-catalytic activity, and anti-bacterial property were evaluated. SEM and TEM observations showed that they were constructed by numerous Ag@gelatin–silica hybrid nanofibers whose surfaces were rough and constructed by numerous Ag@gelatin NPs with the diameter of 10–30 nm. XRD patterns showed that they presented some typical diffractive peak at 39°, 45°, 65°, and 78°, all of which were assigned to Ag NPs. After incubation with the solution of 4-NP and NaBH4, they presented strong photo-catalytic activity for reduction of 4-nitrophenol to 4-aminophenol and their photo-catalytic activity could be well adjusted through adjustment of the content of Ag in the Ag@gelatin–silica hybrid nanofibers. Moreover, they could be easily recycled with a high recovery efficiency. In addition, when exposed to Escherichia coli (E. coli), they showed strong anti-bacterial property and highly inhibited the growth of E. coli. These results indicated that the present hybrid nanofiber membranes are applicable to the multi-functional materials for removal of both organic pollutants and microbial contaminants in the wastewater.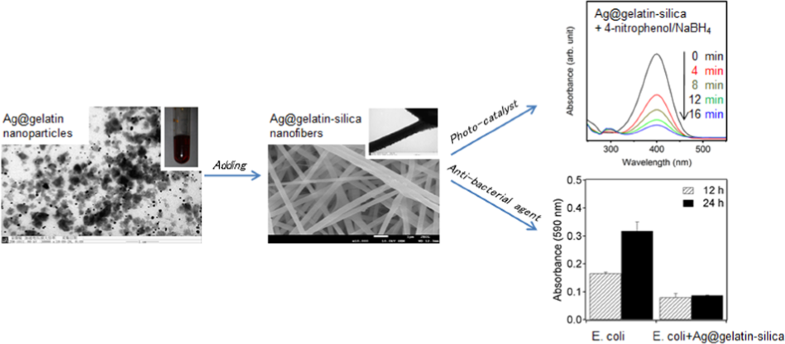 Highlights
Ag@gelatin nanoparticles were synthesized through in situ of AgNO3 by gelatin.

Ag@gelatin-silica nanofibers were synthesized in the presence of Ag@gelatin nanoparticles.

Ag@gelatin–silica hybrid nanofibers showed photo-catalytic activity.

Ag@gelatin–silica hybrid nanofibers could be utilized as recyclable photo-catalyst.

Ag@gelatin–silica hybrid nanofibers showed anti-bacterial property.
Keywords
Synthesis 
Hybrid nanofibers 
Photo-catalytic activity 
Anti-bacterial property 
Notes
Acknowledgements
This work was conducted with the financial support from the Shanxi Scholarship Council of China (Grant No. 2016-024) and Natural Science Foundation of Shanxi (Grant Nos. 201801D121087 and 201801D121099).
Compliance with ethical standards
Conflict of interest
The authors declare that they have no conflict of interest.
Copyright information
© Springer Science+Business Media, LLC, part of Springer Nature 2019