Abstract
This research aimed to prepare 99mTc-/177Lu-CXCR4-L radiotracers and evaluate their in vitro and in vivo capability to detect the chemokine-4 receptor. Molecular docking calculations, Kd values (< 10 nM) of 99mTc-/177Lu-CXCR4-L (radiochemical purities > 98.5%) estimated by saturation binding assays, as well as biodistribution studies in mice with induced tumors, confirmed the affinity of radiotracers towards CXCR4, expressed in DU-4475 breast cancer cells and C6 glioblastoma cells. Micro-SPECT/CT images showed that 99mTc-CXCR4-L and 177Lu-CXCR4-L could work as a theranostic pair for CXCR4 targets. Results warrant additional research to assess the therapeutic efficacy and dosimetry of 177Lu-CXCR4-L.
This is a preview of subscription content, log in to check access.
Access options
Buy single article
Instant access to the full article PDF.
US$ 39.95
Price includes VAT for USA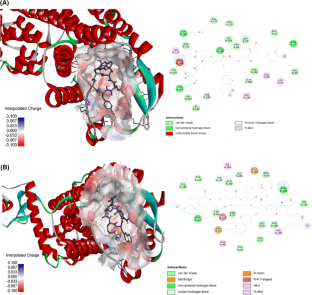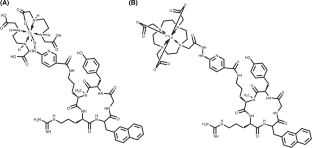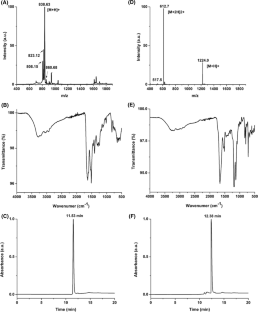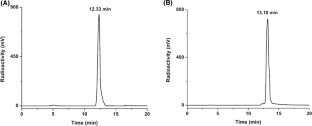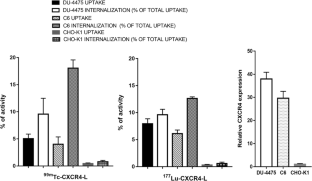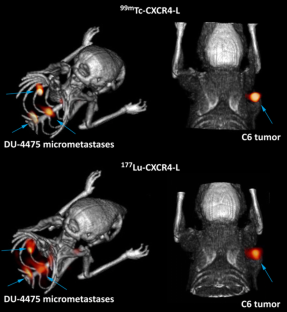 References
1.

Lapa C, Lückerath K, Kleinlein I et al (2016) (68)Ga-Pentixafor-PET/CT for imaging of chemokine receptor-4 expression in glioblastoma. Theranostics 6:428–434

2.

Gourni E, Demmer O, Schottelius M et al (2011) PET of CXCR4 expression by a (68)Ga-labeled highly specific targeted contrast agent. J Nucl Med 52:1803–1810

3.

Herrmann K, Lapa C, Wester HJ et al (2015) Biodistribution and radiation dosimetry for the chemokine receptor CXCR4-targeting probe 68 Ga-pentixafor. J Nucl Med 56:410–416

4.

Hartimath SV, van Waarde A, Dierckx RA et al (2014) Evaluation of N-[(11)C]methyl-AMD3465 as a PET tracer for imaging of CXCR4 receptor expression in a C6 glioma tumor model. Mol Pharm 11:3810–3817

5.

Tamamura H, Omagaria A, Oishi S et al (2000) Pharmacophore identification of a specific CXCR4 inhibitor, T140, leads to development of effective anti-HIV agents with very high selectivity indexes. Bioorg Med Chem Lett 10:2633–2637

6.

Fujii N, Oishi S, Hiramatsu K et al (2003) Molecular-size reduction of a potent CXCR4-chemokine antagonist using orthogonal combination of conformation- and sequence-based libraries. Angew Chem Int 42:3251–3253

7.

Demmer O, Gourni E, Schumacher U et al (2011) PET Imaging of CXCR4 receptors in cancer by a new optimized ligand. ChemMedChem 6:1789–1791

8.

Mikaeili A, Erfani M, Shafiei M et al (2018) Development of a 99mTc-Labeled CXCR4 antagonist derivative as a new tumor radiotracer. Cancer Biother Radiopharm 33:17–24

9.

Wu B, Chien EYT, Mol CD et al (2010) Structures of the CXCR4 chemokine receptor in complex with small molecule and cyclic peptide antagonists. Science 330:1066–1071

10.

Thoma G, Streiff MB, Kovarik J et al (2008) Orally bioavailable isothioureas block function of the chemokine receptor CXCR4 in vitro and in vivo. J Med Chem 51:7915–7920

11.

Hanwell MD, Curtis DE, Lonie DC et al (2012) Avogadro: an advanced semantic chemical editor, visualization, and analysis platform. J Cheminform 4:17

12.

Pettersen EF, Goddard TD, Huang CC et al (2004) UCSF Chimera—a visualization system for exploratory research and analysis. J Comput Chem 25:1605–1612

13.

Trott O, Olson AJ (2010) AutoDock Vina: improving the speed and accuracy of docking with a new scoring function, efficient optimization and multithreading. J Comput Chem 31:455–461

14.

Mungalpara J, Zachariassen ZG, Thiele S et al (2013) Structure-activity relationship studies of the aromatic positions in cyclopentapeptide CXCR4 antagonists. Org Biomol Chem 11:8202–8208

15.

Choy CJ, Ling X, Geruntho JJ et al (2017) 177Lu-Labeled phosphoramidate-based PSMA inhibitors: the effect of an albumin binder on biodistribution and therapeutic efficacy in prostate tumor-bearing mice. Theranostics 7:1928–1939

16.

Wester HJ, Keller U, Schottelius M et al (2015) Disclosing the CXCR4 expression in lymphoproliferative diseases by targeted molecular imaging. Theranostics 5:618–630

17.

Wüstemann T, Bauder-Wüst U, Schäfer M et al (2016) Design of internalizing PSMA-specific Glu-ureido-based radiotherapeuticals. Theranostics 6:1085–1095

18.

Kufareva I, Stephens BS, Holden LG et al (2014) Stoichiometry and geometry of the CXC chemokine receptor 4 complex with CXC ligand 12: molecular modeling and experimental validation. Proc Natl Acad Sci USA 111:E5363–E5372

19.

Hattermann K, Holzenburg E, Hans F et al (2014) Effects of the chemokine CXCL12 and combined internalization of its receptors CXCR4 and CXCR7 in human MCF-7 breast cancer cells. Cell Tissue Res 357:253–266

20.

Escudero-Castellanos A, Ocampo-Garcia B, Ferro-Flores G et al (2017) Preparation and in vitro evaluation of 177Lu-iPSMA-RGD as a new heterobivalent radiopharmaceutical. J Radioanal Nucl Chem 314:2201–2207

21.

Rubin JB, Kung AL, Klein RS et al (2003) A small-molecule antagonist of CXCR4 inhibits intracranial growth of primary brain tumors. Proc Natl Acad Sci USA 100:13513–13518

22.

Tamamura H, Hori A, Kanzaki N et al (2003) T140 analogs as CXCR4 antagonists identified as anti-metastatic agents in the treatment of breast cancer. FEBS Lett 28:79–83

23.

Smith MC, Luker KE, Garbow JR et al (2004) CXCR4 regulates growth of both primary and metastatic breast cancer. Cancer Res 64:8604–8612

24.

Takenaga M, Tamamura H, Hiramatsu K et al (2004) A single treatment with microcapsules containing a CXCR4 antagonist suppresses pulmonary metastasis of murine melanoma. Biochem Biophys Res Commun 320:226–232
Acknowledgements
This research received financial support from the Mexican National Council of Science and Technology (CONACyT-Mexico, Grant CB2017-2018-A1-S-36841). This work was performed as part of the activities of the ''Laboratorio Nacional de Investigación y Desarrollo de Radiofármacos, CONACyT''.
Ethics declarations
Conflict of interest
The authors declare no potential conflicts of interest with regard to the research, authorship, and/or publication of this article.
Ethical approval
All applicable international, national and/or institutional guidelines for the care and use of animals were followed. This research was approved by the CICUAL-ININ Ethics Committee (Internal Committee of Care and Use of Laboratory Animals of the National Institute of Nuclear Research, Approval No. 02-2018).
Additional information
Publisher's Note
Springer Nature remains neutral with regard to jurisdictional claims in published maps and institutional affiliations.
About this article
Cite this article
Ávila-Sánchez, M., Ferro-Flores, G., Jiménez-Mancilla, N. et al. Synthesis and preclinical evaluation of the 99mTc-/177Lu-CXCR4-L theranostic pair for in vivo chemokine-4 receptor-specific targeting. J Radioanal Nucl Chem (2020). https://doi.org/10.1007/s10967-020-07043-6
Keywords
HYNIC-CXCR4-L

DOTA-HYNIC-CXCR4-L

99mTc-CXCR4-L
177Lu-CXCR4-L

Chemokine-4 receptor

Theranostic pair