Design and synthesis of vinylic glycomonomers and glycopolymer based on α-D-glucofuranose moieties
Abstract
Carbohydrates are valuable and safe sources for the synthesis of biopolymers. Today, synthetic polymers having saccharides as pedant groups are one of the great interests in biochemistry and the medicinal field. In this work, with the aim of preparing the new glyco-copolymer, firstly isopropylidene derivative of α-D-glucofuranose was synthesized from the reaction of acetone with the glucose in the presence of sulphuric acid as catalyst. Then the obtained compound separately reacted with acryloyl chloride and ρ-(chloromethyl)styrene monomers to produce related vinylic type glycomonomers. The synthesized glycomonomers were purified using column chromatography. Characterization of the synthesized vinylic glycomonomers was carried out using elemental analysis, fourier transform infrared (FT-IR), Carbon-13 nuclear magnetic resonance (13C NMR) and proton nuclear magnetic resonance (1H NMR) spectroscopy. In the next step, the obtained glycomonomers were copolymerized in 1:1 ratio via a fast and easy free radical polymerization technique. The obtained copolymer showed good solubility in various solvents such as tetrahydrofuran, chloroform, ethyl acetate, and some of the other organic solvents. Finally, water-soluble glyco-copolymer was obtained via partial hydrolysis. The structure of the isolated copolymers determined using the 1H NMR, gel permeation chromatography (GPC), and FT-IR spectroscopy.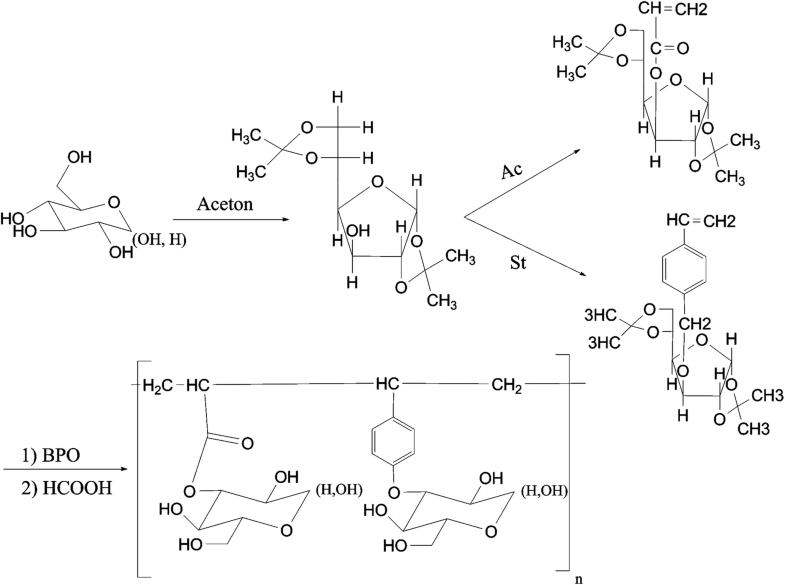 Keywords
Carbohydrate 
Glycosides 
Biobased monomers 
Copolymerization 
Functional polymers 
Glyco-copolymer 
Notes
Acknowledgements
Authors gratefully acknowledge the University of Tabriz and Research Center for Pharmaceutical Nanotechnology, Tabriz University of Medical Science for the financial supports for this research.
Compliance with ethical standards
Conflict of interest
The authors declare that there is no conflict of interest.
Copyright information
© The Polymer Society, Taipei 2019