Synthesized and mesomorphic properties of cholesterol end-capped poly(ε-caprolactone) polymers
Abstract
Cholesterol end-capped linear and star-shaped poly(ε-caprolactone) (PCL) polymers were prepared by a combination of copper catalyzed azide–alkyne cycloaddition (CUAAC, click chemistry) and ring-opening polymerization (ROP) techniques. The chemical structures of these polymers were determinated by Fourier Transform Infrared (FTIR), 1H NMR, 31P NMR, and Gel Permeation Chromatography (GPC). Mesogenic properties of these polymers were examined by wide and small-angle X-ray scattering (WAXS and SAXS), differential scanning calorimetry (DSC) and polarising optical microscopy (POM). The results revealed that PCLs have focal conic textures of the smectic liquid crystals, encouraging the mesomorphism. The mesomorphic temperature ranges became widen with the increasing amount of cholesterol moiety in the polymers.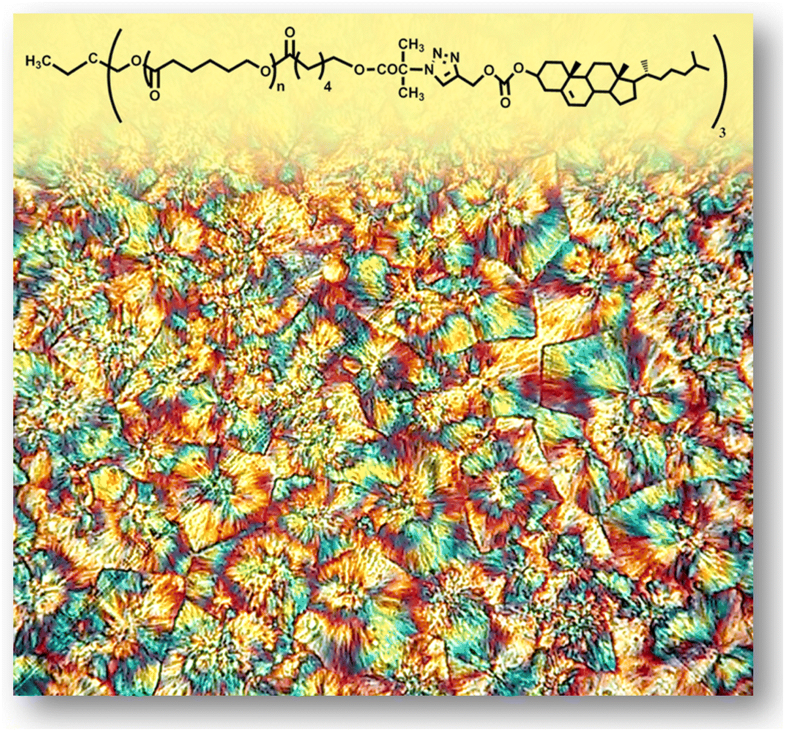 Keywords
Cholesterol 
Liquid crystal 
Poly(ε-caprolactone) 
Star-shaped polymers 
Ring-opening polymerization 
CUAAC click chemistry 
Notes
Acknowledgements
This work has been supported by the Scientific Research Projects Unit of Kocaeli University (KOU-2019-004HD).
Copyright information
© The Polymer Society, Taipei 2019