Enhanced interfacial properties of graphene oxide incorporated carbon fiber reinforced epoxy nanocomposite: a systematic thermal properties investigation
Abstracts
In this study influence of the graphene oxide (GO) inclusion on the thermal properties of carbon fiber reinforced polymer (CFRP) hybrid composite is reported. Different wt% content of GO used for development of epoxy matrix and CFRP hybrid composite was prepared using compression moulding process. The nanocomposites were characterized by various techniques viz. DMA, DSC, TMA, and TGA. It is observed that in GO-epoxy resin composites, storage and loss modulus reached maximum for 0.3 wt% of GO. The storage modulus of CFRP hybrid composite is achieved almost double with the addition of 0.3 wt% of GO. The glass transition temperature (Tg) calculated from DMA and TMA of GO incorporated CFRP hybrid composites demonstrated the enhancement in Tg by 4 °C and 12 °C respectively over to CFRP composites at 0.3 wt% GO. This improvement at GO loading is because of constraint effect of GO sheets on the polymer chain mobility in the composite.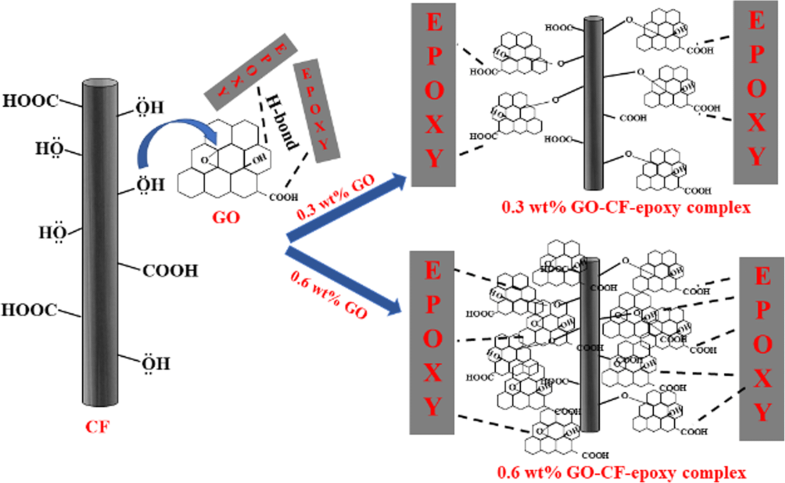 Keywords
Carbon fiber 
Compression moulding 
CFRP 
Glass transition temperature 
Thermo-mechanical 
Interfacial properties 
Notes
Acknowledgements
Authors are highly grateful to Director, CSIR-NPL, and Head, Advanced Materials and Devices Division, for his kind permission to publish the results. Authors are like to thanks, R. K. Seth, for providing TGA, DSC and TMA and Jai Tawale for providing in SEM characterization composites. One of the authors, Abhishek K. Pathak, would like to thanks, University grant Commission JRF fellowship. Authors also thank DST, for India-Japan International collaborative project funding.
Conflict of interest
The authors declare that they have no conflict of interest.
Copyright information
© The Polymer Society, Taipei 2019