Abstract
Batch adsorption of Congo red (CR) on tartaric acid pretreated sugarcane bagasse was performed via varying the experimental factors such as initial dye concentration, contact time, adsorbent dose and particle size. Tries were done to fit the equilibrium results using isotherms of Langmiur, Freundlich, Tempkin and Dubinin–Radushkevich (D–R). Among these, the Langmuir isotherm is not applicable. However, the other three isotherms exhibit correlation coefficient > 0.95, indicating their well applicability to the studied system. Different kinetic models were applied in order to have an insight on the kinetic adsorption process mechanism.
This is a preview of subscription content, log in to check access.
Access options
Buy single article
Instant access to the full article PDF.
US$ 39.95
Price includes VAT for USA
Subscribe to journal
Immediate online access to all issues from 2019. Subscription will auto renew annually.
US$ 99
This is the net price. Taxes to be calculated in checkout.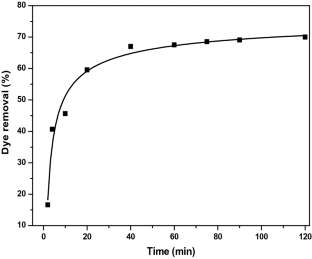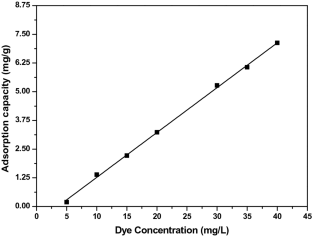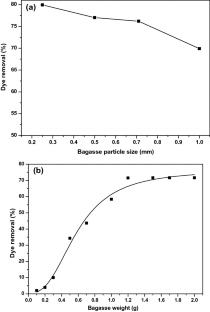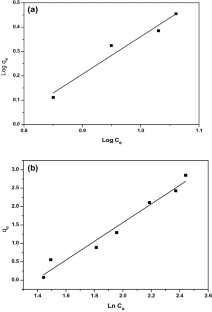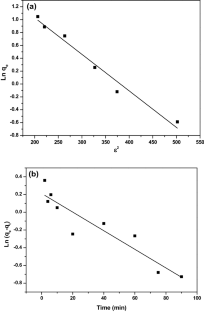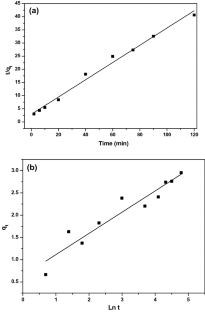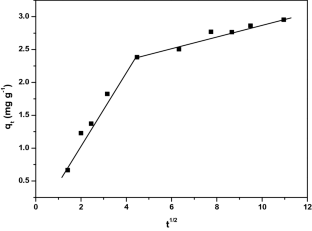 References
1.

SafaY BHN (2011) Adsorptive removal of direct textile dyes by low cost agricultural waste. Application of factorial design analysis. Chem Eng J 167:35–41

2.

Babu SS, Mohandass C, Vijayaraj AS, Dhale AM (2015) Detoxification and color removal of Congo red by a novel dietzia Sp(DTS26): a microcosm approach. Ecotoxicol Environ Saf 114:52–60

3.

Pavan F, Dias S, Lima E, Benvenutti E (2008) Removal of Congo red from aqueous solution by anilinepropylsilica xerogel. Dyes Pigm 76:64–69

4.

Khaniabadi YO, Basiri H, Nourmoradi H, Mohammadi MJ, Yari AR, Sadeghi S, Amrane A (2017) Adsorption of Congo red dye from aqueous solutions by montmorillonite as a low-cost adsorbent. Int J Chem React Eng 16:1. https://doi.org/10.1515/ijcre-2016-0203

5.

Cheng Z, Zhang L, Guo X, Jiang X, Li T (2015) Adsorption behavior of direct Red 80 and Congo red onto activated carbon/surfactant: process optimization, kinetics and equilibrium. Spectroc Acta Part A 137:1126–1143

6.

Srinivasan A, Viraraghavan T (2010) Decolorization of dye wastewaters by biosorbent: a review. J Environ Manag 91:1915–1929

7.

Salleh MAM, Mahmoud DK, Karim WA, Idris A (2011) Cationic and anionic dye adsorption by agricultural solid wastes: acomprehensive review. Desalination 280:1–13

8.

Dawood S, Sen TK (2012) Removal of anionic dye Congo red from aqueous solution by raw pine and acid-treated pine cone powder as adsorbent: equilibrium, thermodynamic, kinetics, mechanism and process design. Water Res 46:1933–1946

9.

Litefti K, Freire MS, Stitou M, González-Álvarez J (2019) Adsorption of an anionic dye (Congo red) from aqueous solutions by pine bark. Sci Rep 9:16530–16540

10.

Qingwen L, Kewong W, Mengfan G, Yunshan B, Lei C, Hongzhu M (2017) Effectively removal of cationic and anionic dyes by ptt-sensitive amphoteric adsorbent derived from agricultural waste: wheat straw. J Taiwan Inst Chem Eng 76:65–72

11.

Adegoke K, Bello OS (2015) Dye sequestration using agricultural wastes as adsorbents. Water Res Ind 12:8–24

12.

Bharathi KS, Ramesh ST (2013) Removal of dyes using agricultural waste as low-cost adsorbents: a review. Appl Water Sci 3:773–790

13.

Said AA, Aly AAM, Abd El-Wahab MM, Soliman SA, Abd El-Hafez AA, Helmey V, Goda MN (2013) An efficient biosorption of direct dyes from industrial wastewaters using pretreated sugarcane bagasse. Energy Environ Eng 1:10–16

14.

Jana S, Pradhan SS, Tripathy T (2018) Poly (N, N- dimethylacrylamide-co-acrylamide) grafted hydroxyethyl cellulose hydrogel:a useful congo red dye remover. J Polym Environ 26:2730–2747

15.

Rviknar M, Bilal B (2018) Removal of congo red from dye wastewater using adsorption. Int J Eng Tech 4(1):18–27

16.

Zhou Y, Ge L, Fan N, Xia M (2018) Adsorption of Congo red from aqueous solution onto shrimp shell powder. Adsorpt Sci Technol 36:1310–1330

17.

Deniz F (2017) A novel eco-biosorbent for decontamination of hazardous dye from aqueous medium. J Polym Environ 25:1242–1250

18.

Afkhami A, Moosavi R (2010) Adsorptive removal of Congo red, a carcinogenic textile dye, from aqueous solutions by maghemite nanoparticles. J Hazard Mater 174:398–403

19.

Nimkar DA, Chavan SK (2014) Removal of congo red dye from aqueous solution by using saw dust as an adsorbent. Int J Eng Res Appl 4:47–51

20.

Reddy MC, Sivaramakrishna L, Reddy AV (2012) The use of an agricultural waste material, jujuba seeds, for removal of anionic dye (congo red) from aqueous medium. J Hazard Mater 203–204:118–127

21.

Rajamohan N (2009) Equilibrium studies on sorption of an anionic dye onto acid activated water hyacinth roots. Afr J Environ Sci Technol 3:399–404

22.

Anastopoulos I, Hameed BH, Ok YS, Omirou M (2017) A review on waste-derived adsorbents from sugar industry for pollutant removal in water and wastewater. J Mol Liq 240:179–188

23.

Raymundo AS, Zanarotto R, Belisario M, Pereira MD, Ribeiro JH, Ribeiro AVFN (2010) Evaluation of sugar-cane bagasse as bioadsorbent in textile wastewater treatment contaminated with carcinogenic congo red dye. Braz Arch Biol Technol 53:931–938

24.

Zhang Z, Moghaddam L, Hara LMO, Doherty WOS (2011) Congo red adsorption by ball-milled sugarcane bagasse. Chem Eng J 178:122–128

25.

Ayawei N, Ebelegi AN, Wankasi D (2017) Modelling and interpretation of adsorption isotherms. J Chem 2017:1–11. https://doi.org/10.1155/2017/3039817

26.

Swenson H, Stadie NP (2019) Langmuir's theory of adsorption: a centennial review. Langmuir 35:5409–5426

27.

Asuquo ED, Martin AD (2016) Sorption of cadmium (II) ion from aqueous solution onto sweet potato(Ipomoea batatas L.) peel adsorbent: Characterisation, kinetic and isothermstudies. J Environ Chem Eng 4:4207–4228

28.

Said AA, Aly AAM, Goda MN, Abd El-Al M, Abdelazim M (2018) Modified sugarcane bagasse with tartaric acid for removal of diazonium blue from aqueous solutions. J Polym Environ 26:2424–2433

29.

Do DD (1998) Adsorption analysis: equilibria and kinetics. Imperial College Press, London

30.

Keskinkan O (2006) Isotherm models for predicting the dye adsorption potential of coon tail (ceratophyllum demersum ) and water milfoil (Myriophylum spicatum). Adsorpt Sci Technol 24:321–335

31.

Conrad EK, Nnaemeka OJ, Uchechi EE, Basil A, Veronica OO, Cynthia OE, Emeka OE (2016) Adsorption of Congo red dye from aqueous solution using agricultural waste. IOSR J Appl Chem 9:39–51

32.

Mall ID, Srivastava VC, Agarwal NK, Mishra IM (2005) Removal of congo red from aqueous solution by bagasse fly ash and activated carbon: kinetic study and equilibrium isotherm analyses. Chemosphere 61:492–501

33.

Annadurai G, Juang RS, Lee DJ (2002) Use of cellulose based wastes for adsorption of dyes from aqueous solutions. J Hazard Mater 92:263–274

34.

Tang S, Zaini MAA (2017) Congo red Removal by HNO3-modified resorcinol-formaldehyde carbon gels. Chem Eng Trans 56:835–840

35.

Ghaedi M, Tavallali H, Sharifi M, Nasiri-Kokhdan S, Asghari A (2012) Preparation of low cost activated carbon from Myrtus communis and pomegranate and their efficient application for removal of Congo red from aqueous solution. Spectrochim Acta A 86:107–114

36.

Tor A, Cengeloglu Y (2006) Removal of Congo red from aqueous solution by adsorption onto acid activated red mud. J Hazard Mater 138:409–415

37.

Namasivayam C, Kavitha D (2002) Removal of Congo red from water by adsorption onto activated carbon prepared from coir pith, an agricultural solid waste. Dyes Pigm 54:47–58

38.

Vimonses V, Lei S, Jin B, Chow C, Saint C (2009) Kinetic study and equilibrium isotherm analysis of Congo red adsorption by clay materials. Chem Eng J 148:354–364

39.

Roy TK, Mondal NK (2019) Potentiality of Eichhornia shoots ash towards removal of Congo red from aqueous solution: isotherms, kinetics, thermodynamics and optimization studies. Groundwater Sustain Dev 9:100269. https://doi.org/10.1016/j.gsd.2019.100269

40.

Kumar PS, Ramalingam S, Senthamarai C, Niranjanaa M, Vijayalakshmi P, Sivanesan S (2010) Adsorption of dye from aqueous solution by cashew nut shell: studies on equilibrium isotherm, kinetics and thermodynamics of interactions. Desalination 261:52–60

41.

Jayaraj R, Thanaraj PJ, Natarajan ST, Prasath PM (2011) Removal of Congo red dye from aqueous solution using acid activated eco-friendly low cost carbon prepared from marine algae Valoria bryopsis. J Chem Pharm Res 3:389–396

42.

Wanyonyi WC, Onyari JM, Shiundu PM (2014) Adsorption of Congo red dye from aqueous solutions using roots of Eichhornia crassipes: kinetic and equilibrium studies. Energy Procedia 50:862–869

43.

Ayawei N, Ekubo AT, Wankasi D (2015) Adsorption of Congo red by Ni/Al-CO3: equilibrium, thermodynamic and kinetic studies. Oriental J Chem 31:1307–1318
Additional information
Publisher's Note
Springer Nature remains neutral with regard to jurisdictional claims in published maps and institutional affiliations.
About this article
Cite this article
Said, A.E.A., Aly, A.A.M., Goda, M.N. et al. Adsorptive Remediation of Congo Red Dye in Aqueous Solutions Using Acid Pretreated Sugarcane Bagasse. J Polym Environ (2020). https://doi.org/10.1007/s10924-020-01665-3
Keywords
Congo red adsorption

Tartaric acid treated sugarcane bagasse

Isotherms

Adsorption kinetics