Abstract
The study describes the microencapsulation of Pterodon emarginatus fruit essential oil (OE) by spray drying using Brazilian Cerrado cashew polysaccharide (PEJU, Anacardium othonianum Rizz.) and maltodextrin (M) as wall materials. The microcapsules presented particles with irregular and rough surfaces confirmed by X-ray diffraction, with 57% in dry diameters ranging from 0 to 1 μm. Thermogravimetry showed a thermostable encapsulating material (peaks at 301 °C and 429 °C), with no loss of the encapsulated core. Zeta potential (ζ =  − 0.18 mV) demonstrated the material's amphiphilic power. The ratio of 1:3:3.6 of OE:cashew PEJU:M (w/w/w) showed the best encapsulation effect (75% yield and 6.25% of the OE retained) in the same proportion of β-caryophyllene retained. The Brazilian Cerrado cashew PEJU is a promising source for use as wall material in microcapsules, especially in protecting the OE of P. emarginatus fruits, as replacement for other gums, such as gum Arabic.
This is a preview of subscription content, log in to check access.
Access options
Buy single article
Instant access to the full article PDF.
US$ 39.95
Price includes VAT for USA
Subscribe to journal
Immediate online access to all issues from 2019. Subscription will auto renew annually.
US$ 99
This is the net price. Taxes to be calculated in checkout.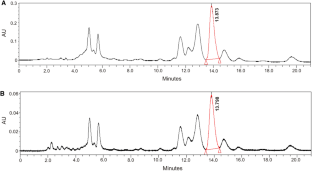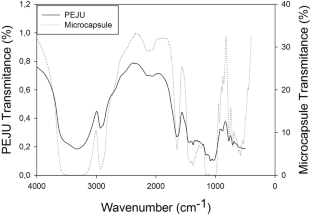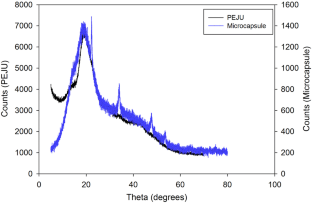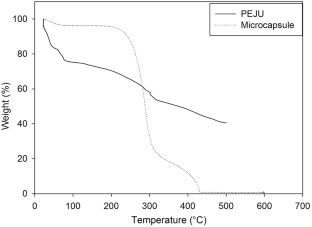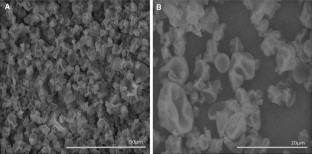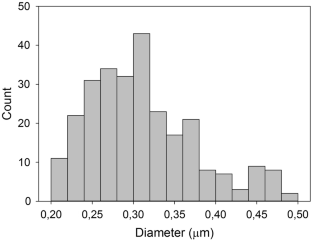 References
1.

Jyothi NVN, Prasanna PM, Sakarkar SN, Prabha KS, Ramaiah PS, Srawan GY (2010) Microencapsulation techniques, factors influencing encapsulation efficiency. J Microencapsul 27(3):187

2.

Jyothi SS, Seethadevi A, Prabha KS, Muthuprasanna P, Pavitra P (2012) Microencapsulation: a review. Int J Pharma Bio Sci 3(1):509

3.

Silva AC, González-Mira E, García ML, Egea MA, Fonseca J, Silva R, Ferreira D (2011) Preparation, characterization and biocompatibility studies on risperidone-loaded solid lipid nanoparticles (SLN): high pressure homogenization versus ultrasound. Colloids Surf B 86(1):158

4.

Casanova F, Estevinho BN, Santos L (2016) Preliminary studies of rosmarinic acid microencapsulation with chitosan and modified chitosan for topical delivery. Powder Technol 297:44

5.

Ye Q, Georges N, Selomulya C (2018) Microencapsulation of active ingredients in functional foods: from research stage to commercial food products. Trends Food Sci Technol 78:167

6.

Maresca D, Prisco A, Storia A, Cirillo T, Esposito F, Mauriello G (2016) Microencapsulation of nisin in alginate beads by vibrating technology: preliminary investigation. LWT Food Sci Technol 66:436

7.

Aghbashlo M, Mobli H, Madadlou A, Rafiee S (2012) The correlation of wall material composition with flow characteristics and encapsulation behavior of fish oil emulsion. Food Res Int 49:379

8.

Rosenberg M, Kopelman IJ, Talmon Y (1990) Factors affecting retention in spray-drying microencapsulation of volatile materials. J Agric Food Chem 36:1288

9.

Gharsallaoui A, Saurel R, Chambin O, Cases E, Voilley A, Cayot P (2010) Utilisation of pectin coating to enhance spray-dry stability of pea protein stabilised oil-in-water emulsions. Food Chem 122(2):447

10.

Funami T, Nakauma M, Ishihara S, Tanaka R, Inoue T, Phillips GO (2011) Structural modifications of sugar beet pectin and the relationship of structure to functionality. Food Hydrocoll 25(2):221

11.

Yang J, Han S, Zheng H, Dong H, Liu J (2015) Preparation and application of micro/nanoparticles based on natural polysaccharides. Carbohydr Polym 123:53

12.

Pinto GL, Martinez M, Mendoza JA, Ocando E, Rivas C (1995) Comparison of three Anacardiaceae gum exudates. Biochem Syst Ecol 23(2):151

13.

Silva DA, Feitosa JPA, Paula HCB, Paula RCM (2009) Synthesis and characterization of cashew gum/acrylic acid nanoparticles. Mater Sci Eng C 29(2):437

14.

Silva FEF, Batista KA, Di-Medeiros MCB, Silva CNS, Moreira BR, Fernandes KF (2016) A stimuli-responsive and bioactive film based on blended polyvinyl alcohol and cashew gum polysaccharide. Mater Sci Eng C 58:927

15.

Botrel DA, Borges SV, Fernandes RVB, Antoniassi R, Faria-Machado AF, Feitosa JPA, Paula RCM (2017) Application of cashew tree gum on the production and stability of spray-dried fish oil. Food Chem 221:1522

16.

Pitombeira NAO, Veras-Neto JG, Silva DA, Feitosa JPA, Paula HCB, Paula RCM (2015) Self-assembled nanoparticles of acetylated cashew gum: characterization and evaluation as potential drug carrier. Carbohydr Polym 117:610

17.

Abreu CMWS, Paula HCB, Seabra V, Feitosa JPA, Sarmento B, Paula RCM (2016) Synthesis and characterization of non-toxic and thermo-sensitive poly(N-isopropylacrylamide)-grafted cashew gum nanoparticles as a potential epirubicin delivery matrix. Carbohydr Polym 154:77

18.

Silva TM, Santiago PO, Purcena LLA, Fernandes KF (2010) Study of the cashew gum polysaccharide for the horseradish peroxidase immobilization: structural characteristics, stability and recovery. Mater Sci Eng C 30(4):526

19.

Fernandes RVB, Botrel DV, Silva EK, Borges SV, Oliveira CR, Yoshida MI, Feitosa JPA, Paula RCM (2016) Cashew gum and inulin: new alternative for ginger essential oil microencapsulation. Carbohydr Polym 153:133

20.

Porto BC, Cristianini M (2014) Evaluation of cashew tree gum (Anacardium occidentale L.) emulsifying properties. LWT Food Sci Technol 59(2):1325

21.

Cunha PLR, Paula RCM, Feitosa JPA (2009) Polysaccharides from Brazilian biodiversity: an opportunity to change knowledge into economic value. Quim Nova 32:649

22.

Silva TM, Souza ERB, Paula JAM, Borges LL, Caramori SS (2017) Chemical characterization and bioprospecting of cashew tree polysaccharide of Brazilian Cerrado (Anacardium othonianum Rizz.), Anarcadiaceae. Front J Soc Technol Environ Sci 6(3):230

23.

Figueiredo MCB, Potting J, Serrano LA, Bezerra MA, Barros VS, Gondim RS, Nemecek T (2016) Environmental assessment of tropical perennial crops: the case of the Brazilian cashew. J Clean Prod 112:131

24.

Alves SF, Borges LL, Santos TO, Paula JR, Conceição EC, Bara MTF (2014) Microencapsulation of essential oil from fruits of Pterodon emarginatus using gum Arabic and maltodextrin as wall materials: composition and stability. Dry Technol 32(1):96

25.

Anker MH, Reineccius GA (1998) In: Risch SJ, Reineccius GA (eds) Flavor encapsulation. American Chemical Society, Washington, DC, p 78

26.

Silverstein RM, Bassler GC, Morril TC (1991) Spectrometric identification of organic compounds, 5th edn. Wiley, New York, p x + 419

27.

Pang J, Jian W, Wang L, Wu C, Liu Y, Tang HJX (2012) X-ray photoelectron spectroscopy analysis on surface modification of Konjac glucomannan membrane by nitrogen plasma treatment. Carbohydr Polym 17:369

28.

Lomonaco D, Maia FJN, Clemente CS, Mota JPF, Costa-Júnior AE, Mazzeto SE (2012) Thermal studies of new biodiesel antioxidants synthesized from a natural occurring phenolic lipid. Fuel 97:552

29.

Pugnaloni LA, Matia-Merino L, Dickinson E (2005) Microstructure of acid-induced caseinate gels containing sucrose: quantification from confocal microscopy and image analysis. Colloid Surf B 42:211

30.

Silva F, Torres L, Silva L, Figueiredo R, Garruti D, Araújo T, Duarte A, Brito D, Ricardo N (2018) Cashew gum and maltodextrin particles for green tea (Camellia sinensis var. assamica) extract encapsulation. Food Chem 261:169

31.

Jafari SM, Assadpoor E, Bhandari B (2008) Encapsulation efficiency of food flavours and oils during spray dryer. Dry Technol 26(7):816

32.

Paula RCM, Rodrigues JF (1995) Composition and rheological properties of cashew tree gum, the exudate polysaccharide from Anacardium occidentale L. Carbohydr Polym 26:177

33.

Schulz H, Özkan G, Baranska M, Krüger H, Özcan M (2005) Characterization of essential oil plants from Turkey by IR and Raman spectroscopy. Vib Spectrosc 39:249

34.

Zabot GL, Silva EK, Azevedo VM, Meireles MAA (2016) Replacing modified starch by inulin as prebiotic encapsulant matrix of lipophilic bioactive compounds. Food Res Int 85:26

35.

Zohuriaan MJ, Shokrolahi F (2004) Thermal studies on natural and modified gums. Polym Test 23(5):575

36.

Mothé CG, Freitas JS (2014) Thermal behavior of cashew gum by simultaneous TG/DTG/DSCFT-IR and EDXRF. J Therm Anal Calorim 116:1509

37.

Orth DS (1993) Handbook of cosmetic microbiology. Marcel Dekker, New York

38.

Bertolini AC, Siani AC, Grosso CRF (2001) Stability of monoterpenes encapsulated in gum Arabic by spray-drying. J Microbiol Biotechnol Food Sci 49:780

39.

Madene A, Scher J, Desobry S (2006) Flavour encapsulation and controlled release—a review. Food Sci Technol Int 4:1

40.

Fernandes RVB, Marques GR, Borges SV, Botrel DA (2014) Effect of solids content and oil load on the microencapsulation process of rosemary essential oil. Ind Crops Prod 58:173

41.

Nijdam JJ, Langrish TAJ (2006) The effect of surface composition on the functional properties of milk powders. J Food Eng 77:919

42.

Mishra PR, Shaal L, Müller RH, Keck CM (2009) Production and characterization of Hesperetin nano suspensions for dermal delivery. Int J Pharm 371(1):182
Acknowledgements
This work was supported by Universidade Estadual de Goiás (Pró-projetos/pesquisa n. 201600020010722). The authors thank Dr. Eli Regina B. de Souza for provide cashew trees, and the Laboratory of Produtos Naturais of the Universidade Federal de Goiás to allow the High Performance Liquid Chromatography analyzes. Dr. Ivano Alessandro Devilla, as well as Waldeir Costa e Silva from Laboratory of Secagem e Armazenamento de Produtos Vegetais of the Universidade Estadual de Goiás provided the Spray Dryer. Finally, authors thank the Coordenação de Aperfeiçoamento de Pessoal de Nível Superior (CAPES) for PhD Scholarship granted to Thâmara Machado e Silva. Also, the PROBIP/UEG for Productivity Fellowship granted to Samantha Salomão Caramori.
Additional information
Publisher's Note
Springer Nature remains neutral with regard to jurisdictional claims in published maps and institutional affiliations.
About this article
Cite this article
Silva, T.M., Borges, L.L., Alves, S.F. et al. New Spray-Dried Microcapsule Based on Brazilian Cashew Polysaccharide (Anacardium othonianum Rizz.) and Maltodextrin as Wall Material. J Polym Environ 28, 854–862 (2020). https://doi.org/10.1007/s10924-019-01643-4
Keywords
Encapsulation

Microcapsules

Biodegradable polymers