Abstract
Refugee children are at risk to develop mental health problems, which have rarely been investigated in educational contexts. We conducted three studies in childcare programs for refugees in Germany. Children's behavior was assessed by educators on site (n = 84) and online (n = 50) using a two-stage-cluster sampling and on site (n = 107) using complete samples. In Study 1 and 2, children showed elevated attention problems ranging from medium to large effect sizes, r = 0.2 and r = 0.5, respectively, and aggressive behavior problems ranging from small to large effect sizes, r = 0.1 and r = 0.5, respectively, when compared to norm data. In Study 3, children showed elevated peer-problems, r = 0.5. Future research needs to investigate whether these problems are a consequence of adapting to a novel context or a precursor of a psychopathology caused by risk factors in the context of forced displacement.
This is a preview of subscription content, log in to check access.
Access options
Buy single article
Instant unlimited access to the full article PDF.
US$ 39.95
Price includes VAT for USA
Subscribe to journal
Immediate online access to all issues from 2019. Subscription will auto renew annually.
US$ 99
This is the net price. Taxes to be calculated in checkout.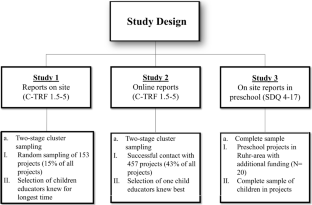 Notes
1.

If Roma people have previously lived in EU countries, they are not classified as refugees or asylum seekers in Germany. According to the UNHCR, however, 'a refugee is someone who has been forced to flee his or her country because of persecution, war or violence' [16]. Roma from eastern European countries suffer from ethnic discrimination [12] and their risk of being poor is higher than that of refugees living in the same countries [17]. Therefore, in line with other studies (for example [18]), we define Roma people as refugees regardless of whether they come from EU or non-EU countries such as Serbia.
References
1.

UNHCR. Global trends: Forced displacement in 2017. Geneva: UNHCR.

2.

Fazel M, Reed RV, Panter-Brick C, Stein A. Mental health of displaced and refugee children resettled in high-income countries: risk and protective factors. Lancet. 2012;379:266–82.

3.

Reynolds AJ, Temple JA, White BAB, Ou S-R, Robertson DL. Age 26 cost-benefit analysis of the Child-Parent Center Early Education Program. Child Dev. 2011;82:379–404.

4.

Slone M, Mann S. Effects of war, terrorism and armed conflict on young children: a systematic review. Child Psychiatry Hum Dev. 2016;47:950–65.

5.

Bornstein MH, Hahn C-S, Haynes OM. Social competence, externalizing, and internalizing behavioral adjustment from early childhood through early adolescence: developmental cascades. Dev Psychopathol. 2010;22:717–35.

6.

Kien C, Sommer I, Faustmann A, Gibson L, Schneider M, Krczal E, et al. Prevalence of mental disorders in young refugees and asylum seekers in European countries: a systematic review. Eur Child Adolesc Psychiatry. 2018. https://doi.org/10.1007/s00787-018-1215-z .

7.

Wiegersma PA, Stellinga-Boelen AAM, Reijneveld SA. Psychosocial problems in asylum seekers' children: the parent, child, and teacher perspective using the Strength and Difficulties Questionnaire. J Nerv Ment Dis. 2011;199:85–90.

8.

Nielsen SS, Norredam M, Christiansen KL, Obel C, Hilden J, Krasnik A. Mental health among children seeking asylum in Denmark—the effect of length of stay and number of relocations: a cross-sectional study. BMC Public Health. 2008;8:293.

9.

Bean TM, Eurelings-Bontekoe E, Spinhoven P. Course and predictors of mental health of unaccompanied refugee minors in the Netherlands: one year follow-up. Soc Sci Med. 2007;64:1204–15.

10.

Montgomery E. Trauma and resilience in young refugees: a 9-year follow-up study. Dev Psychopathol. 2010;22:477–89.

11.

Thabet AAM, Karim K, Vostanis P. Trauma exposure in pre-school children in a warzone. Br J Psychiatry. 2006;188:154–8.

12.

FRA – European Union Agency for Fundamental Rights. Fundamental Rights Report 2017. 2017. http://fra.europa.eu/en/publication/2017/fundamental-rights-report-2017. Accessed 25 Apr 2018.

13.

Bakker L, Dagevos J, Engbersen G. The importance of resources and security in the socio-economic integration of refugees. A study on the impact of length of stay in asylum accommodation and residence status on socio-economic integration for the four largest refugee groups in The Netherlands. J Int Migr Integr. 2014;15:431–48. https://doi.org/10.1007/s12134-013-0296-2.

14.

Sangalang CC, Becerra D, Mitchell FM, Lechuga-Peña S, Lopez K, Kim I. Trauma, post-migration stress, and mental health: a comparative analysis of refugees and immigrants in the United States. J Immigr Minor Health. 2018. https://doi.org/10.1007/s10903-018-0826-2.

15.

Federal Office for Migration and Refugees. Flüchtlinge (BAMF): Aktuelle Zahlen zu Asyl: Ausgabe Dezember 2016.

16.

UNHCR. Global Trends. http://www.unhcr.org/globaltrends2016/. Accessed 4 Apr 2018.

17.

Milcher S. Poverty and the determinants of welfare for roma and other vulnerable groups in southeastern Europe. Comp Econ Stud. 2006;48:20–35.

18.

Walsh CA, Este D, Krieg B, Giurgiu B. Needs of refugee children in Canada: what can Roma refugee families tell us? J Comp Fam Stud. 2011;42:599–613.

19.

Becker R, Tremel P. Bildungseffekte vorschulischer Betreuung, Erziehung und Bildung für Migranten im deutschen Schulsystem. In: Becker R, editor. Integration durch Bildung: Bildungserwerb von jungen Migranten in Deutschland. Wiesbaden: VS Verlag für Sozialwissenschaften/Springer Fachmedien Wiesbaden GmbH, Wiesbaden; 2011. p. 57–70. https://doi.org/10.1007/978-3-531-93232-3_3.

20.

Becker A, Woerner W, Hasselhorn M, Banaschewski T, Rothenberger A. Validation of the parent and teacher SDQ in a clinical sample. Eur Child Adolesc Psychiatry. 2004;13(Suppl 2):II11–6.

21.

Achenbach TM. Commentary: definitely more than measurement error: but how should we understand and deal with informant discrepancies? J Clin Child Adolesc Psychol. 2011;40:80–6.

22.

Busch J, Buchmüller T, Lembcke H, Bihler L, Leyendecker B. Building bridges to safe havens: transition of young refugee children to early childcare. Manuscript submitted for publication. 2018.

23.

Achenbach TM, Rescorla LA. Manual for the ASEBA preschool forms & profiles. Burlington: Asenbach System of Empirically Based Assessment (ASEBA); 2000.

24.

Achenbach TM, Rescorla LA. Multicultural Supplement to the Manual for the ASEBA Preschool Forms & Profiles: Child Behavior Checklist for Ages 1 1/2/-5, Language Development Survey, Caregiver-teacher Report Form; an Integrated System of Multi-informant Assessment; 2010.

25.

Petermann U, Petermann F, Schreyer I. The German Strengths and Difficulties Questionnaire (SDQ). Eur J Psychol Assess. 2010;26:256–62.

26.

Goodman R, Scott S. Comparing the strengths and difficulties questionnaire and the Child Behavior Checklist: is small beautiful? J Abnorm Child Psychol. 1999;27:17–24.

27.

Woerner W, Fleitlich-Bilyk B, Martinussen R, Fletcher J, Cucchiaro G, Dalgalarrondo P, et al. The Strengths and Difficulties Questionnaire overseas: evaluations and applications of the SDQ beyond Europe. Eur Child Adolesc Psychiatry. 2004;13(Suppl 2):II47–54.

28.

youthinmind. SDQ. 17.10.2006. http://sdqinfo.org/c1.html. Accessed 27 Nov 2018.

29.

Niclasen J, Skovgaard AM, Andersen AM, Sømhovd MJ, Obel C. A confirmatory approach to examining the factor structure of the Strengths and Difficulties Questionnaire (SDQ): a large scale cohort study. J Abnorm Child Psychol. 2013;41:355–65.

30.

Enders CK. A primer on maximum likelihood algorithms available for use with missing data. Struct Equ Model. 2001;8:128–41.

31.

Vostanis P. Strengths and Difficulties Questionnaire: research and clinical applications. Curr Opin Psychiatry. 2006;19:367–72.

32.

youthinmind. SDQ. 17.10.2006. http://sdqinfo.org/norms/UKNorm4.pdf. Accessed 13 Dec 2018.

33.

Allansson M, Melander E, Themnér L. Organized violence, 1989–2016. J Peace Res. 2017;54:574–87.

34.

Abdi H. Holm's Sequential Bonferroni procedure. In: Encyclopedia of research design. Thousand Oaks, CA: Sage.

35.

Buchmüller T, Lembcke H, Busch J, Kumsta R, Leyendecker B. Exploring mental health status and syndrome patterns among young refugee children in Germany. Front Psychiatry. 2018;9:212.

36.

de Los Reyes A, Kazdin AE. Informant discrepancies in the assessment of childhood psychopathology: a critical review, theoretical framework, and recommendations for further study. Psychol Bull. 2005;131:483–509.

37.

Scheeringa MS, Myers L, Putnam FW, Zeanah CH. Diagnosing PTSD in early childhood: an empirical assessment of four approaches. J Trauma Stress. 2012;25:359–67. https://doi.org/10.1002/jts.21723.

38.

Maercker A, Michael T, Fehm L, Becker ES, Margraf J. Age of traumatisation as a predictor of post-traumatic stress disorder or major depression in young women. Br J Psychiatry. 2004;184:482–7. https://doi.org/10.1192/bjp.184.6.482.

39.

de Young AC, Kenardy JA, Cobham VE. Diagnosis of posttraumatic stress disorder in preschool children. J Clin Child Adolesc Psychol. 2011;40:375–84. https://doi.org/10.1080/15374416.2011.563474.

40.

Hodges M, Godbout N, Briere J, Lanktree C, Gilbert A, Kletzka NT. Cumulative trauma and symptom complexity in children: a path analysis. Child Abuse Neglect. 2013;37:891–8. https://doi.org/10.1016/j.chiabu.2013.04.001.

41.

Sirin SR, Rogers-Sirin L. The educational and mental health needs of Syrian refugee children: young children in refugee families. Washington, DC: Migration Policy Institute Press; 2015.

42.

Seidman E, Allen L, Aber JL, Mitchell C, Feinman J. The impact of school transitions in early adolescence on the self-system and perceived social context of poor urban youth. Child Dev. 1994;65:507.

43.

Rimm-Kaufman SE, Curby TW, Grimm KJ, Nathanson L, Brock LL. The contribution of children's self-regulation and classroom quality to children's adaptive behaviors in the kindergarten classroom. Dev Psychol. 2009;45:958–72.

44.

Ponitz CC, McClelland MM, Matthews JS, Morrison FJ. A structured observation of behavioral self-regulation and its contribution to kindergarten outcomes. Dev Psychol. 2009;45:605–19.

45.

Moffitt TE, Arseneault L, Belsky D, Dickson N, Hancox RJ, Harrington H, et al. A gradient of childhood self-control predicts health, wealth, and public safety. PNAS. 2011;108:2693–8.

46.

Panter-Brick C, Grimon M-P, Eggerman M. Caregiver-child mental health: a prospective study in conflict and refugee settings. J Child Psychol Psychiatry. 2014;55:313–27.

47.

King S, Laplante DP. The effects of prenatal maternal stress on children's cognitive development: Project Ice Storm. Stress. 2005;8:35–45.

48.

McMahon SD, Grant KE, Compas BE, Thurm AE, Ey S. Stress and psychopathology in children and adolescents: is there evidence of specificity? J Child Psychol Psychiatry. 2003;44:107–33.

49.

Allwood MA, Bell-Dolan D, Husain SA. Children's trauma and adjustment reactions to violent and nonviolent war experiences. J Am Acad Child Adolesc Psychiatry. 2002;41:450–7.

50.

Keles S, Friborg O, Idsøe T, Sirin S, Oppedal B. Resilience and acculturation among unaccompanied refugee minors. Int J Behav Dev. 2017;42:52–63.

51.

Sirin SR, Ryce P, Gupta T, Rogers-Sirin L. The role of acculturative stress on mental health symptoms for immigrant adolescents: a longitudinal investigation. Dev Psychol. 2013;49:736–48.

52.

Crijnen AAM, Bengi-Arslan L, Verhulst FC. Teacher-reported problem behaviour in Turkish immigrant and Dutch children: a cross-cultural comparison. Acta Psychiatr Scand. 2000;102:439–44.

53.

Bongers IL, Koot HM, van der Ende J, Verhulst FC. The normative development of child and adolescent problem behavior. J Abnorm Psychol. 2003;112:179–92.

54.

Porter M, Haslam N. Predisplacement and postdisplacement factors associated with mental health of refugees and internally displaced persons: a meta-analysis. JAMA. 2005;294:602–12.

55.

Fazel M, Wheeler J, Danesh J. Prevalence of serious mental disorder in 7000 refugees resettled in western countries: a systematic review. Lancet. 2005;365:1309–14.
Acknowledgements
The study was funded by the Ministry for Children, Families, Refugees and Integration of the state of North Rhine-Westphalia (Ministerium für Kinder, Familie, Flüchtlinge und Integration des Landes Nordrhein-Westfalen) and by the educational trust RuhrFutur (Bildungsinitiative RuhrFutur).
Ethics declarations
Conflict of interest
We declare that we have no conflict of interest.
Ethical Approval
All studies were approved by the Ethics Committee of the Faculty of Psychology of the Ruhr University Bochum.
Additional information
Publisher's Note
Springer Nature remains neutral with regard to jurisdictional claims in published maps and institutional affiliations.
About this article
Cite this article
Buchmüller, T., Lembcke, H., Ialuna, F. et al. Mental Health Needs of Refugee Children in Specialized Early Education and Care Programs in Germany. J Immigrant Minority Health 22, 22–33 (2020) doi:10.1007/s10903-019-00896-4
Keywords
Refugee children

Early education and care

Mental health

C-TRF

SDQ