Abstract
In this study, an imidazole-coumarin based fluorescent probe was developed for the selective and sensitive detection of Ag+ in aqueous solution. Using a combination of Job plot, NMR titrations, and DFT calculations, the binding properties between Ag+ and the probe were deeply investigated, and the results revealed a 1:1 binding stoichiometry between the probe and Ag+ with a binding constant of 1.02 × 106 M−1. The detection limit was found to be 150 nM, which satisfies the requirement for the quantitative detection of Ag+ in real water samples. Moreover, the new probe, Ic, was successfully applied to sense Ag+ in HeLa and HepG2 cells as well as in C. elegans, indicating that it could be a useful tool for the environmental monitoring of Ag+ pollution. These results demonstrated that Ic could serve as a high-efficiency and low-cost fluorescent probe for tracking Ag+ in an aquatic environment and biological organisms.
This is a preview of subscription content, log in to check access.
Access options
Buy single article
Instant unlimited access to the full article PDF.
US$ 39.95
Price includes VAT for USA
Subscribe to journal
Immediate online access to all issues from 2019. Subscription will auto renew annually.
US$ 99
This is the net price. Taxes to be calculated in checkout.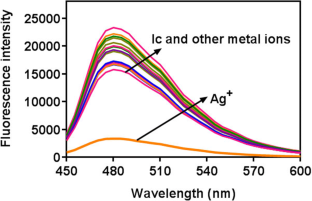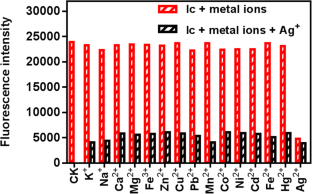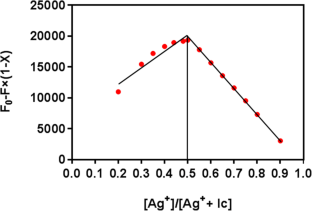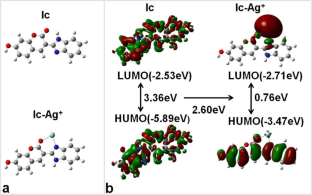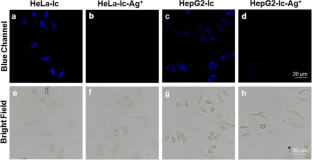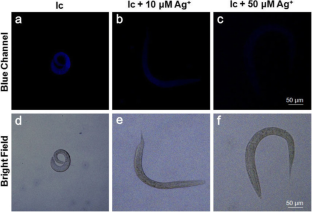 References
1.

Kursunlu AN, Ozmen M, Guler E (2016) Novel magnetite nanoparticle based on BODIPY as fluorescent hybrid material for Ag(I) detection in aqueous medium. Talanta 153:191–196

2.

Huang GW, Xiao HM, Fu SY (2014) Paper-based silver-nanowire electronic circuits with outstanding electrical conductivity and extreme bending stability. Nanoscale 6:8495–8502

3.

Drake PL, Hazelwood KJ (2005) Exposure-related health effects of silver and silver compounds: a review. Ann Occup Hyg 49:575–585

4.

Silver S, Lo J, Gupta (1999) A silver cations as an antimicrobial agent: clinical uses and bacterial resistance. APUA Newsletter 17:1–3

5.

Purcell TW, Peters JJ (1998) Sources of silver in the environment. Environ Toxicol Chem 17:539–546

6.

Ratte HT (1999) Bioaccumulation and toxicity of silver compounds: a review. Environ Toxicol Chem 18:89–108

7.

Bian L, Ji X, Hu W (2014) A novel single-labeled fluorescent oligonucleotide probe for silver(I) ion detection in water, drugs, and food. J Agric Food Chem 62:870–4877

8.

Monteiro DR, Gorup LF, Takamiya AS, Ruvollo-Filho AC, de Camargo ER, Barbosa DB (2009) The growing importance of materials that prevent microbial adhesion: antimicrobial effect of medical devices containing silver. Int J Antimicrob Agents 34:103–110

9.

Siddiqi KS, Husen A, Rao RAK (2018) A review on biosynthesis of silver nanoparticles and their biocidal properties. J Nanobiotechnology 16:14

10.

Li Y, Yu HJ, Shao G, Gan F (2015) A tetraphenylethylene-based "turn on" fluorescent sensor for the rapid detection of Ag+ ions with high selectivity. J Photoch Photobio A 301:14–19

11.

Wan T, Conyers RA, Coombs CJ, Masterton JP (1991) Determination of silver in blood, urine and tissues of volunteers and burn patients. Clin Chem 37:1683–1687

12.

Järup L (2003) Hazards of heavy metal contamination. Br Med Bull 68:167–182

13.

Zhang JF, Zhou Y, Yoon J, Kim JS (2011) Recent progress in fluorescent and colorimetric chemosensors for detection of precious metal ions (silver, gold and platinum ions). Chem Soc Rev 40:3416–3429

14.

Lai Q, Liu Q, He Y, Zhao K, Wei C, Wojtas L, Shi X, Song Z (2018) Triazole-imidazole (TA-IM) derivatives as ultrafast fluorescent probes for selective Ag+ detection. Org Biomol Chem 16:7801–7805

15.

Li DH, Shen JS, Chen N, Ruan YB, Jiang YB (2011) A ratiometric luminescent sensing of Ag+ ion via in situ formation of coordination polymers. Chem Commun (Camb) 47:5900–5902

16.

Hu M, Fan J, Cao J, Song K, Zhang H, Sun S, Peng X (2012) Enhanced fluorescent chemosensor for Ag+ in absolute aqueous solution and living cells: an experimental and theoretical study. Analyst 137:2107–2111

17.

Maurya N, Bhardwaj S, Singh AK (2017) Selective colorimetric and fluorescence 'turn-on' sensor for Ag+ and in-situ sensing of CN- (off-on-off) via displacement approach. Mater Sci Eng C Mater Biol Appl 74(2017):55–61

18.

Lum JT, Leung KS (2019) Quantifying silver nanoparticle association and elemental content in single cells using dual mass mode in quadrupole-based inductively coupled plasma-mass spectrometry. Anal Chim Acta 1061:50–59

19.

Gao Y, Hu Z, Wu J, Ning Z, Jian J, Zhao T, Liang X, Yang X, Yang Z, Zhao Q, Wang J, Wang Z, Dina NE, Gherman AMR, Jiang Z, Zhou H (2019) Size-tunable Au@Ag nanoparticles for colorimetric and SERS dual-mode sensing of palmatine in traditional Chinese medicine. J Pharm Biomed Anal 174:123–133

20.

Feichtmeier NS, Leopold K (2014) Detection of silver nanoparticles in parsley by solid sampling high-resolution-continuum source atomic absorption spectrometry. Anal Bioanal Chem 406:3887–3894

21.

Omidi F, Behbahani M, Shahtaheri SJ, Salimi S (2015) Trace monitoring of silver ions in food and water samples by flame atomic absorption spectrophotometry after preconcentration with solvent-assisted dispersive solid phase extraction. Environ Monit Assess 187:361

22.

Tang J, Chen W, Ju H (2019) Sensitive surface-enhanced Raman scattering detection of atrazine based on aggregation of silver nanoparticles modified carbon dots. Talanta 201:46–51

23.

Lim Z, Smith DG, Kolanowski JL, Mattison RL, Knowles JC, Baek SY, Chrzanowski W, New EJ (2018) A reversible fluorescent probe for monitoring Ag(I) ions. J R Soc Interface 15

24.

Ono A, Cao S, Togashi H, Tashiro M, Fujimoto T, Machinami T, Oda S, Miyake Y, Okamoto I, Tanaka Y (2008) Specific interactions between silver(I) ions and cytosine-cytosine pairs in DNA duplexes. Chem Commun (Camb) 39:4825–4827

25.

Wang L, Zhang Y, Dong Y (2018) A multifunctional molecular probe for detecting Hg2+ and Ag+ based on ion-mediated base mismatch. Sensors (Basel) 18

26.

Tsukamoto K, Shinohara Y, Iwasaki S, Maeda H (2011) A coumarin-based fluorescent probe for Hg2+ and Ag+ with an N'-acetylthioureido group as a fluorescence switch. Chem Commun (Camb) 47:5073–5075

27.

Chatterjee A, Santra M, Won N, Kim S, Kim JK, Kim SB, Ahn KH (2009) Selective fluorogenic and chromogenic probe for detection of silver ions and silver nanoparticles in aqueous media. J Am Chem Soc 131:2040–2041

28.

Zhang Y, Ye A, Yao Y, Yao C (2019) A sensitive near-infrared fluorescent probe for detecting heavy metal Ag+ in water samples. Sensors (Basel) 19

29.

Tabaraki R, Nateghi A (2016) Nitrogen-doped graphene quantum dots: "turn-off" fluorescent probe for detection of Ag(+) ions. J Fluoresc 26:297–305

30.

Hammud HH, El Shazly S, Sonji G, Sonji N, Bouhadir KH (2015) Thiophene aldehyde-diamino uracil Schiff base: a novel fluorescent probe for detection and quantification of cupric, silver and ferric ions. Spectrochim Acta A Mol Biomol Spectrosc 150:94–103

31.

Chen ZE, Zhang H, Iqbal Z (2019) A new thiosemicarbazone fluorescent probe based on ,9′-bianthracene for Hg2+ and Ag+. Spectrochim Acta A Mol Biomol Spectrosc 215:34–40

32.

Ye F, Liang XM, Xu KX, Pang XX, Chai Q, Fu Y (2019) A novel dithiourea-appended naphthalimide "on-off" fluorescent probe for detecting Hg2+ and Ag+ and its application in cell imaging. Talanta 200:494–502

33.

Xu L, Yang X, Ding H, Li S, Li M, Wang D, Xia J (2019) Synthesis of green fluorescent carbon materials using byproducts of the sulfite-pulping procedure residue for live cell imaging and Ag+ ion determination. Mater Sci Eng C Mater Biol Appl 102:917–922

34.

Bhorge YR, Chou TL, Chen YZ, Yen YP (2015) New coumarin-based dual chromogenic probe: naked eye detection of copper and silver ions. Sensors Actuators B 220:1139–1144

35.

El-Shekheby HA, Mangood AH, Hamza SM, Al-Kady AS, Ebeid e-ZM (2014) A highly efficient and selective turn-on fluorescent sensor for Hg2+, Ag+ and Ag nanoparticles based on a coumarin dithioate derivative. Luminescence 29:158–167

36.

Katerinopoulos HE (2004) The coumarin moiety as chromophore of fluorescent ion indicators in biological systems. Curr Pharm Des 10:3835–3852

37.

Li J, Li XK, Jia JB, Chen X, Lv YJ, Guo Y, Li J (2019) A ratiometric near-infrared fluorescence strategy based on spiropyran in situ switching for tracking dynamic changes of live-cell lysosomal pH. Dyes Pigments. https://doi.org/10.1016/j.dyepig.2019.03.060

38.

Wang F, Nandhakumar R, Moon JH, Kim KM, Lee JY, Yoon J (2011) Ratiometric fluorescent chemosensor for silver ion at physiological pH. Inorg Chem 50:2240–2245

39.

Khilya OV, Frasinyuk MS, Turov AV, Khilya VP (2001) Chemistry of 3-Hetarylcoumarins. 1. 3-(2-Benzazolyl)coumarins. Chem Heterocycl Compd 37(2001):1029–1037

40.

Bian W, Zhang H, Yu Q, Shi M, Shuang S, Cai Z, Choi MM (2016) Detection of Ag(+) using graphite carbon nitride nanosheets based on fluorescence quenching. Spectrochim Acta A Mol Biomol Spectrosc 169:122–127

41.

Cen MJ, Chang T, Yin YB, Li XL, He YW (2018) A novel ratiometric fluorescent sensor for Ag+ based on two fluorophores. Methods Appl Fluoresc 6:5005

42.

Fang Q, Tian HH, Yang L, Chen S, Liu XJ, Song XZ (2018) A thiocoumarin-based fluorescent probe for detection of hypochlorite with high selectivity over other typical desulfurizing agents (Hg 2+/Ag+). Sensors Actuators B Chem 260:146–155

43.

Yang Z, She M, Yin B, Hao L, Obst M, Liu P, Li J (2015) Solvent-dependent turn-on probe for dual monitoring of Ag(+) and Zn(2+) in living biological samples. Anal Chim Acta 868:53–59

44.

Li WT, Wu GY, Qu WJ, Li Q, Lou JC, Lin Q, Yao H, Zhang YM, Wei TB (2017) A colorimetric and reversible fluorescent chemosensor for Ag + in aqueous solution and its application in IMPLICATION logic gate. Sensors Actuators B Chem 239:671–678

45.

Zhang E, Ju P, Li Q, Hou X, Yang H, Yang XJ, Zong Y, Zhang YQ (2018) A novel rhodamine 6G-based fluorescent and colorimetric probe for Bi3+: synthesis, selectivity, sensitivity and potential applications. Sensors Actuators B Chem 260:204–212

46.

Wang L, Bing QJ, Li JX, Wang G (2018) A new "ON-OFF" fluorescent and colorimetric chemosensor based on 1,3,4-oxadiazole derivative for the detection of Cu2+ ions. J Photoch Photobio A 360:86–94

47.

Abdel-Gaber R, Abdel-Ghaffar F, Abdallah Shazly M, Morsy K, Quraishy SA, Mohamed S, Mehlhorn H (2017) Morphological re-description of Electrotaenia malapteruri (Cestoda: Proteocephalidae) and Dujardinnascaris malapteruri (Nematoda: Heterocheilidae) infecting the electric catfish Malapterurus electricus and heavy metal accumulation in host and parasites in relation to water and sediment analysis in Lake Manzala, North Delta, Egypt. Acta Parasitol 62:319–335

48.

Mutwakil MH, Reader JP, Holdich DM, Smithurst PR, Candido EPM, Jones D, Stringham EG, de Pomerai DI (1997) Use of stress-inducible transgenic nematodes as biomarkers of heavy metal pollution in water samples from an English River system. Arch Environ Contam Toxicol 32:146–153
Acknowledgments
This work was supported by Grants from the National Science and Technology Major Project of the Ministry of Science and Technology of China (2018ZX09721004-006), the Administration of Traditional Chinese Medicine of Sichuan Province (2018JC013), the Science and Technology Planning Project of Sichuan Province (2016JY0101, 2017JQ0052, 2018JY0237, 2019JDPT0010), the Joint Fund of Luzhou City and Southwest Medical University (2015LZCYD-S01, 2018LZXNYD-ZK18, 2018LZXNYD-ZK28), the Educational Commission of Sichuan Province (18ZA0528, 18TD0051), the Open Program of Nuclear Medicine and Molecular Imaging Key Laboratory of Sichuan Province (HYX18010, HYX19018), and the Health Commission of Sichuan Province (18PJ019). We gratefully acknowledge Dr. Zengjin Liu for assistance in probe synthesis.
Ethics declarations
Conflict of Interest
The authors have no conflicts of interest to declare.
Additional information
Publisher's Note
Springer Nature remains neutral with regard to jurisdictional claims in published maps and institutional affiliations.
Electronic supplementary material
About this article
Cite this article
Jiang, X., Yang, Y., Li, H. et al. A Water-Soluble Fluorescent Probe for the Selective Sensing of Ag+ and its Application in Imaging of Living Cells and Nematodes. J Fluoresc (2020). https://doi.org/10.1007/s10895-019-02477-y
Received:

Accepted:

Published:
Keywords
Silver(I) ion

Fluorescent probe

Binding mechanism

Real water sample

Bioimaging