Multiplatform Protein Detection and Quantification Using Glutaraldehyde-Induced Fluorescence for 3D Systems
Abstract
Glutaraldehyde (GTA) is a dialdehyde used as biological fixative and its interaction with proteins like bovine serum albumin (BSA) has been well described. Additionally, GTA is known to induce fluorescence when interacting with BSA molecules. In this work, it is developed a new sensitive and reproducible method for BSA quantification using GTA crosslinking to endow fluorescence to BSA molecules. This method can be used with standard lab equipment, providing a low cost, fast-tracking and straightforward approach for BSA quantification. Techniques such as confocal laser scanning microscopy (CLSM) and spectrofluorometry are applied for quantitative assessment, and widefield fluorescence microscopy for qualitative assessment. Qualitative and quantitative correlations between BSA content and GTA-induced fluorescence are verified. BSA concentrations as low as 62.5 μg/mL are detected using CLSM. This method can be highly advantageous for protein quantification in three-dimensional hydrogel systems, specially to evaluate protein loading/release in protein delivery or molecular imprinting systems.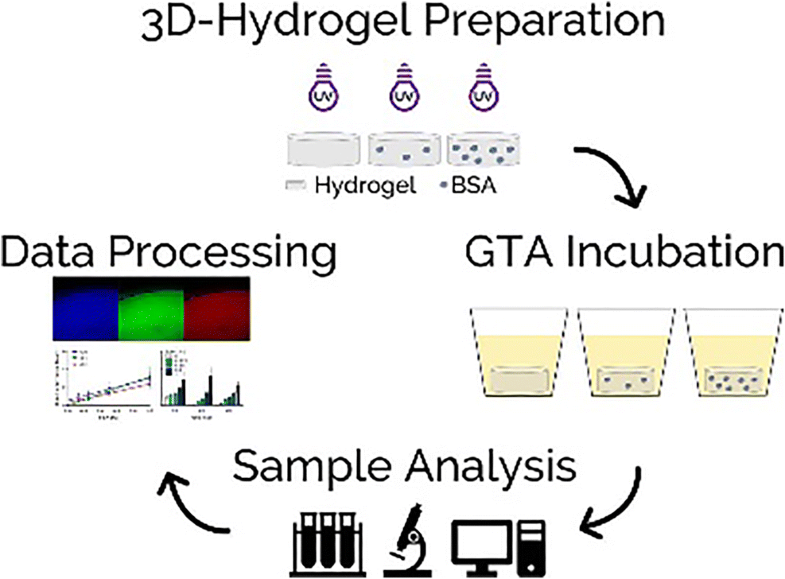 Keywords
Bovine serum albumin 
Biosensor 
Hydrogels 
Confocal laser scanning microscopy 
Spectrofluorometry 
Notes
Acknowledgements
The authors would like to acknowledge FEDER - Fundo Europeu de Desenvolvimento Regional funds through the COMPETE 2020 - Operacional Programme for Competitiveness and Internationalisation (POCI), Portugal 2020, and Portuguese funds through FCT - Fundação para a Ciência e a Tecnologia/ Ministério da Ciência, Tecnologia e Ensino Superior in the framework of the Project PTDC/BBB-BIO/1889/2014, the doctoral grant SFRH/BD/129855/2017 to Mariana I Neves and the contract to Aureliana Sousa in the framework of the project "Institute for Research and innovation in Health Sciences" (POCI-01-0145-FEDER-007274). Marco Araújo gratefully acknowledges Interreg V-A Spain-Portugal (POCTEP) 2014-2020 and FEDER (0245_IBEROS_1_E) for the Postdoctoral grant.
The authors acknowledge the support of Ricardo Vidal from the Biointerfaces and Nanotechnology i3S Scientific Platform, the Bioimaging i3S Scientific Platform, member of the national infrastructure PPBI - Portuguese Platform of Bioimaging (PPBI-POCI-01-0145-FEDER-022122) and Daniela Silva from the Image, Microstructure and Microanalysis Unit (IMCROS) from the Materials Centre of the University of Porto (CEMUP). The authors thank Prof. Nuno Alves from the Centre for Rapid and Sustainable Product Development (CDRSP) of Politécnico de Leiria for the use of the photopolymerization system.
Copyright information
© Springer Science+Business Media, LLC, part of Springer Nature 2019