Novel Water-Soluble Cyclotriphosphazene-Bodipy Conjugates: Synthesis, Characterization and Photophysical Properties
Abstract
In the present work, novel water-soluble cyclotriphosphazene derivatives (3b and 4b) were synthesized by 'click' reactions between cyclotriphosphazene derivative with hydrophilic glycol side groups (2) and Bodipy's (3a and 4a). All newly synthesized compounds (2, 3b and 4b) were characterized by fourier-transform infrared (FTIR), mass and NMR spectroscopy techniques and elemental analysis (EA). The photophysical properties of Bodipy substituted novel cyclotriphosphazenes (3a and 4a) were examined via UV-Vis absorption and fluorescence emission spectroscopy inside water and many organic solvents such as acetone, tetrahydrofuran, dichloromethane, dimethyl sulfoxide, etc., and the results were compared with the each other.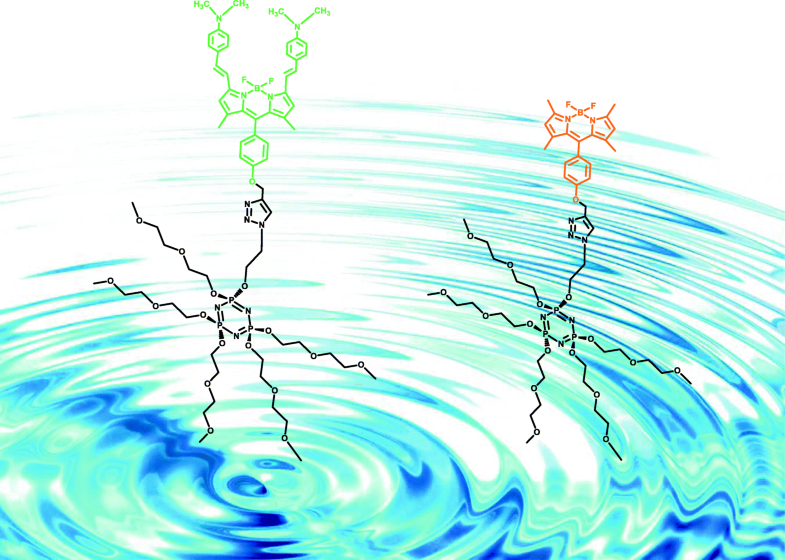 Keywords
Cyclotriphosphazene 
BODIPY 
Diethylene glycol methyl ether 
Photophysical 
Notes
Acknowledgements
The authors would like to thanks the Gebze Technical University (GTU) for the provided financial support (Grant no: BAP 2017-A105-38).
Copyright information
© Springer Science+Business Media, LLC, part of Springer Nature 2019