Novel 4,4′-Fluoresceinoxy Bisphthalonitrile Showing Aggregation-Induced Enhanced Emission and Fluorescence Turn off Behavior to Fe3+ Ions
Abstract
A novel 4,4′-fluoresceinoxy bisphthalonitrile FPN is synthesized from fluorescein and 4-nitrophthalonitrile by aromatic nucleophilic ipso nitro substitution reaction. The structure of FPN constitutes phthalonitrile-fluorescein-phthalonitrile, acceptor-donor-acceptor, A-D-A form and the solvatochromic study of newly synthesized compound FPN was done in hexane, cyclohexane, CHCl3, DCM, DMF, acetonitrile, ethanol and in methanol. The aggregation behavior of FPN was investigated in good-poor solvent mixture DMF-water in various proportions and the molecule was found to be exhibiting Aggregation Induced Emission Enhancement AIEE for volume percentage of water beyond 50% with a significant hypsochromic shift of 70 nm in the emission maxima from 458 to 388 nm. This phenomenon is termed as Aggregation Induced Blue Shifted Emission Enhancement AIBSEE and was reported in substituted phthalonitrile for the first time. The chemo sensing activity of FPN with various transition metal ions also has been checked by fluorescence spectroscopy where the new molecule FPN exhibited fluorescence turn OFF behaviour towards Fe3+ ion in acetonitrile-methanol ACN-MeOH solution. The binding stoichiometry of FPN with Fe3+ was verified by Job's plot analysis and Density Functional Theory DFT-B3LYP computational methodology by using Gaussian 09 software.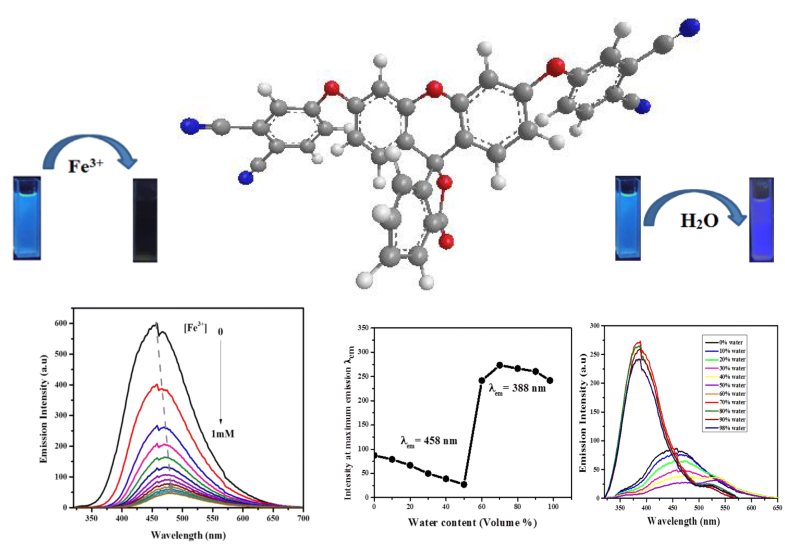 Keywords
4,4′-fluoresceinoxy bisphthalonitrile FPN 
Aggregation induced blue shifted emission enhancement AIBSEE 
Substituted phthalonitrile 
Chemo sensing 
Fe3+ ion 
Notes
Acknowledgements
Amitha G S is thankful to NCB-GATE for research fellowship and Suni Vasudevan would like to thank SERB – Dept. of Science and Technology (Grant Sanction No. SERB/F/3600/2013-14) for financial support. The co-author Vijisha K. Rajan expresses sincere gratitude to UGC for the financial support and Central Sophisticated Instrumentation Facility (CSIF) of University of Calicut for the Gaussian 09 software support. The authors would like to acknowledge Sophisticated Test Instrumentation Centre (STIC) of Cochin University of Science and Technology (CUSAT) for providing single crystal XRD facility. The Crystallographic Information File (CIF) of single crystal of FPN was deposited in Cambridge Crystallographic Data Centre with CCDC No. 1828283.
Compliance with Ethical Standards
Conflict of Interest
The authors declare no conflict of interest.
Copyright information
© Springer Science+Business Media, LLC, part of Springer Nature 2019