Abstract
Purpose
In the past decade, the relationship between naturally occurring interferon-γ-neutralizing autoantibodies (IFNγ-Ab) and disseminated non-tuberculous mycobacteria (NTM) infection has been established. Furthermore, immune suppressive therapy aimed at the suppression of antibody production has shown efficacy as a supportive treatment. However, the nature of antibody behavior and antibody titer during the course of this disease, as well as the pathophysiological significance of IFNγ-Ab, has not yet been fully elucidated.
Methods
Thirteen Japanese subjects suffering from disseminated NTM (dNTM) infection with IFNγ-Ab were evaluated. The fluctuation of IFNγ-Ab titer and the neutralizing capacity against IFN-γ during the course of the disease were retrospectively analyzed. IFNγ-Ab titers in the sera were quantified using an enzyme-linked immunosorbent assay; neutralizing capacity was evaluated via flow cytometry.
Results
Serum antibody titers were not constant during the treatment period and varied over the course of the disease. The antibody titer decreased when the disease was improved by anti-mycobacterial treatment (p < 0.01) and increased as the disease progressed (p < 0.05). Even after the antibody titer decreased, the neutralizing capacity against IFN-γ was maintained by individual sera.
Conclusions
Despite the improvement in the pathological condition via treatment, the patients' sera maintained neutralizing capacity against IFN-γ. Antibody titer fluctuated over the course of the disease and exhibited potential as a biomarker for judgment of the disease state.
This is a preview of subscription content, log in to check access.
Access options
Buy single article
Instant access to the full article PDF.
US$ 39.95
Price includes VAT for USA
Subscribe to journal
Immediate online access to all issues from 2019. Subscription will auto renew annually.
US$ 99
This is the net price. Taxes to be calculated in checkout.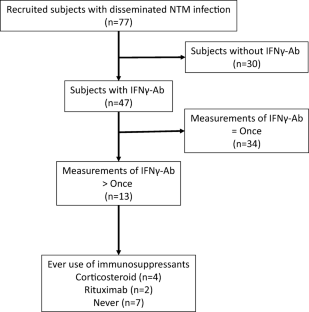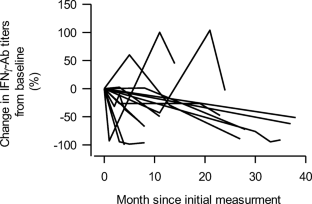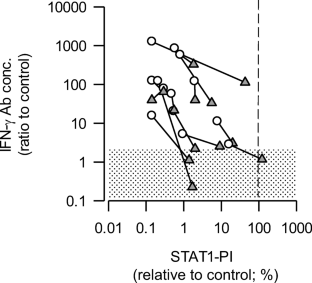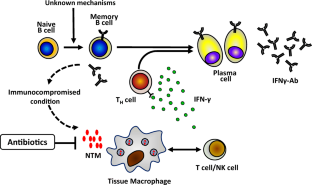 References
1.

Browne SK, Burbelo PD, Chetchotisakd P, Suputtamongkol Y, Kiertiburanakul S, Shaw PA, et al. Adult-onset immunodeficiency in Thailand and Taiwan. N Engl J Med. 2012;367:725–34.

2.

Phoompoung P, Ankasekwinai N, Pithukpakorn M, Foongladda S, Umrod P, Suktitipat B, et al. Factors associated with acquired anti IFN- gamma autoantibody in patients with nontuberculous mycobacterial infection. PLoS One. 2017;12:e0176342.

3.

Aoki A, Sakagami T, Yoshizawa K, Shima K, Toyama M, Tanabe Y, et al. Clinical significance of interferon-gamma neutralizing autoantibodies against disseminated nontuberculous mycobacterial disease. Clin Infect Dis. 2018;66:1239–45.

4.

Chi CY, Lin CH, Ho MW, Ding JY, Huang WC, Shih HP, et al. Clinical manifestations, course, and outcome of patients with neutralizing anti-interferon-gamma autoantibodies and disseminated nontuberculous mycobacterial infections. Medicine (Baltimore). 2016;95:e3927.

5.

Hase I, Morimoto K, Sakagami T, Ishii Y, van Ingen J. Patient ethnicity and causative species determine the manifestations of anti-interferon-gamma autoantibody-associated nontuberculous mycobacterial disease: a review. Diagn Microbiol Infect Dis. 2016;88:308–15.

6.

Tang BS, Chan JF, Chen M, Tsang OT, Mok MY, Lai RW, et al. Disseminated penicilliosis, recurrent bacteremic nontyphoidal salmonellosis, and burkholderiosis associated with acquired immunodeficiency due to autoantibody against gamma interferon. Clin Vaccine Immunol. 2010;17:1132–8.

7.

Chaisathaphol T, Jitmuang A. Disseminated Mycobacterium avium and recurrent Salmonella group D infection in a patient with autoantibodies to interferon-gamma. Southeast Asian J Trop Med Public Health. 2013;44:460–7.

8.

Hanitsch LG, Lobel M, Muller-Redetzky H, Schurmann M, Suttorp N, Unterwalder N, et al. Late-onset disseminated Mycobacterium avium intracellulare complex infection (MAC), cerebral toxoplasmosis and Salmonella sepsis in a German caucasian patient with unusual anti-interferon-gamma IgG1 autoantibodies. J Clin Immunol. 2015;35:361–5.

9.

Browne SK, Zaman R, Sampaio EP, Jutivorakool K, Rosen LB, Ding L, Pancholi MJ, Yang LM, Long Priel D, Uzel G, Freeman AF, Hayes CE, Baxter R, Cohen SH, Holland SM, Anti-CD20 (rituximab) therapy for anti-interferon-gamma autoantibody-associated nontuberculous mycobacterial infection. Blood 2012;119(17):3933–9.

10.

Czaja CA, Merkel PA, Chan ED, Lenz LL, Wolf ML, Alam R, et al. Rituximab as successful adjunct treatment in a patient with disseminated nontuberculous mycobacterial infection due to acquired anti-interferon-gamma autoantibody. Clin Infect Dis. 2014;58:e115–8.

11.

Pruetpongpun N, Khawcharoenporn T, Damronglerd P, Suthiwartnarueput W, Apisarnthanarak A, Rujanavej S, et al. Disseminated Talaromyces marneffei and Mycobacterium abscessus in a Patient with anti-interferon-gamma autoantibodies. Open Forum Infect Dis. 2016;3:ofw093.

12.

Naik R, Cortes JA. Persistent Mycobacterium abscessus infection secondary to interferon-gamma autoantibodies. Ann Allergy Asthma Immunol. 2016;116:461–2.

13.

Koizumi Y, Sakagami T, Nishiyama N, Hirai J, Hayashi Y, Asai N, et al. Rituximab restores IFN-gamma-STAT1 function and ameliorates disseminated Mycobacterium avium infection in a patient with anti-interferon-gamma autoantibody. J Clin Immunol. 2017;37:644–9.

14.

Koizumi Y, Sakagami T, Minamiguchi H, Makino A, Aoki A, Hodohara K, et al. Chylous ascites, anti-interferon-gamma autoantibody, and angioimmunoblastic T-cell lymphoma: a rare but intriguing connection over Mycobacterium avium. Med Microbiol Immunol. 2018;208:33–7.

15.

Chetchotisakd P, Anunnatsiri S, Nanagara R, Nithichanon A, Lertmemongkolchai G. Intravenous cyclophosphamide therapy for anti-IFN-gamma autoantibody-associated Mycobacterium abscessus infection. J Immunol Res. 2018;2018:6473629.

16.

Tham EH, Huang CH, Soh JY, Thayalasingam M, Lee AJ, Lum LH, et al. Neutralizing anti-interferon-gamma autoantibody levels may not correlate with clinical course of disease. Clin Infect Dis. 2016;63:572–3.

17.

Angkasekwinai N, Suputtamongkol Y, Phoompoung P, Pithukpakorn M, Wongswat E, Umrod P, et al. Clinical outcome and laboratory markers for predicting disease activity in patients with disseminated opportunistic infections associated with anti-interferon-gamma autoantibodies. PLoS One. 2019;14:e0215581.

18.

Shima K, Sakagami T, Tanabe Y, Aoki N, Moro H, Koya T, et al. Novel assay to detect increased level of neutralizing anti-interferon gamma autoantibodies in non-tuberculous mycobacterial patients. J Infect Chemother. 2014;20:52–6.

19.

Lin CH, Chi CY, Shih HP, Ding JY, Lo CC, Wang SY, et al. Identification of a major epitope by anti-interferon-gamma autoantibodies in patients with mycobacterial disease. Nat Med. 2016;22:994–1001.

20.

Shapiro-Shelef M, Calame K. Regulation of plasma-cell development. Nat Rev Immunol. 2005;5:230–42.

21.

Shlomchik MJ, Craft JE, Mamula MJ. From T to B and back again: positive feedback in systemic autoimmune disease. Nat Rev Immunol. 2001;1:147–53.

22.

McHeyzer-Williams LJ, Malherbe LP, McHeyzer-Williams MG. Helper T cell-regulated B cell immunity. Curr Top Microbiol Immunol. 2006;311:59–83.
Acknowledgments
We thank all of the attending doctors who referred their patients to our study and all of the participants for their trust. Also, we thank Hiroko Aita for providing excellent technical assistance.
Authorship Contributions
All authors contributed to the conception and design of the study. KY, AA, and KS coordinated the investigation of subjects' sample analysis. KY and TS performed data analysis and interpretation. TS drafted the manuscript. KY, YT, TK, TH, TK, and TS reviewed the manuscript critically. All authors read and approved the final manuscript.
Conflict of Interest
The authors declare that they have no conflict of interest.
Funding
This work was supported by Grant-in-Aid for Scientific Research (C) from the Japan Society for the Promotion of Science [25461507 to T.H.] and [19K08956 to T.S.], and by the Research Program on Emerging and Re-emerging Infectious Disease from the Japan Agency for Medical Research and Development.
Ethics declarations
This study was performed with the approval of the Ethics Committee at the School of Medicine, Niigata University (Approval number; 1413), and complied with the Declaration of Helsinki. All subjects provided informed consent.
Additional information
Publisher's Note
Springer Nature remains neutral with regard to jurisdictional claims in published maps and institutional affiliations.
About this article
Cite this article
Yoshizawa, K., Aoki, A., Shima, K. et al. Serum Anti-interferon-γ Autoantibody Titer as a Potential Biomarker of Disseminated Non-tuberculous Mycobacterial Infection. J Clin Immunol (2020). https://doi.org/10.1007/s10875-020-00762-1
Received:

Accepted:

Published:
Keywords
Disseminated NTM

neutralizing capacity

biomarker

serum interferon-γ autoantibody titer