Understanding the Formation of Novel Hydrated Gallic Acid-Creatinine Molecular Salt: Crystal Structure, Hirshfeld Surface and DFT Studies
Abstract
Creatinine, an aliphatic hetero monocyclic compound, plays an important role in the protein metabolism and change in its physiological normal concentration leads to diabetic nephropathy, renal failure and muscle disorder. In this work, a novel molecular salt form (ionic cocrystal) of creatinine (CR) with gallic acid (GA) has been obtained and preliminarily characterized by PXRD, FTIR and the crystal structure was confirmed by X-ray diffraction method. The presence of a single C–O stretching band in the place of two stretching bands [C=O and C–O] in the infrared spectrum confirms the formation of molecular salt. The asymmetric unit of GA–CR ionic cocrystal [(C7H5O5)− (C4H8N3O)+ 3(H2O)] comprises of a molecule of gallic acid, a molecule of creatinine and three water molecules. The structural analysis reveals the strong hydrogen bond DDAA environment of water molecules which confirms the presence of different supramolecular architectures. Thermal gravimetric analysis was carried out to investigate the presence of water/solvent molecules in the molecular salt. Further, the intermolecular interactions in stabilizing the molecular salt were analyzed using Hirshfeld surfaces. Furthermore, the coordinates of molecular salt were optimized by DFT calculations using APFD hybrid functional with 6-311 + G(d,p) level basis set. Frontier molecular orbitals, energy gap and related molecular properties were also analyzed. GA–CR pharmaceutical molecular salt form is found to be more reactive than CR and therefore offers an innovative approach for the futuristic drug design.
Graphic Abstract
Strong hydrogen-bond DDAA environment (D: donor, A: acceptor) exhibited by the water molecules in the GA–CR molecular salt play a major role in stabilizing the crystal structure.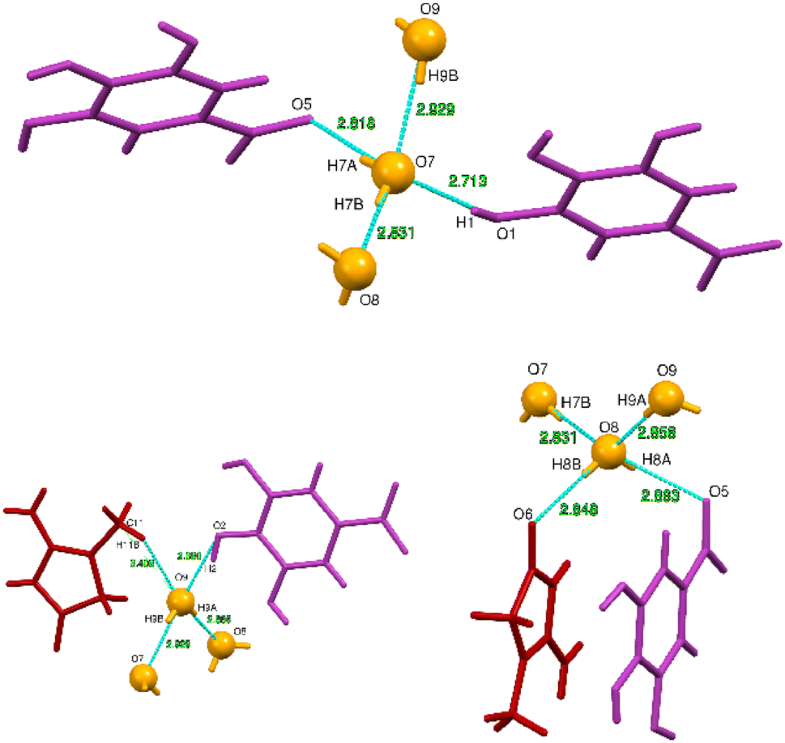 Keywords
Molecular salt 
Supramolecular architectures 
Hirshfeld surface 
Density functional theory 
Notes
Acknowledgements
Authors would like to thank the National Single Crystal diffractometer Facility, UGC-MRP project (MRP-Phys2013-32718), Department of Studies in Physics, University of Mysore, Mysuru for providing computational facilities. Authors also thank the Solid State and Structural Chemistry Unit, Indian Institute of Science, Bengaluru for providing infrastructure and instrumentation facilities.
Copyright information
© Springer Science+Business Media, LLC, part of Springer Nature 2019