Syntheses and Crystal Structures of Methyl N-Substituted-N′-Cyanocarbamimidothioates Derived from Dimethyl N-Cyanodithioiminocarbonate
Abstract
Reaction of dimethyl N-cyanodithioiminocarbonate and arylamine or alkylamine compounds in the refluxing ethanol solution afforded the according methyl N-substituted-N′-cyanocarbamimidothioates 1–16 in good yields. Compounds 1–16 were characterized by proton nuclear magnetic resonance (1H NMR) and infrared spectroscopies, of which the structures of compounds 1, 2 and 3 (Elgemeie et al. in Acta Cryst E71:104–111, 2015) were established by X-ray crystallography, showing that weak hydrogen-bonding interactions exist in compounds 1–3. Compound 1 crystallizes in the orthorhombic space group Pbca, with a = 6.997(2), b = 7.395(2), c = 36.112(11) Å, and Z = 8. The unit cell of 2 has a monoclinic P21/c symmetry with the cell parameters a = 5.8717(12), b = 4.6598(9), c = 37.799(9) Å, β = 91.126(6)°, and Z = 4. Compound 3 crystallizes in the orthorhombic space group Pbca, with a = 7.123(3), b = 7.374(3), c = 38.538(16) Å, and Z = 8.
Graphic Abstract
A series of methyl N-subsituted-N′-cyanocarbamimidothioate compounds were efficiently synthesized via the reaction of arylamine or alkylamine compounds with dimethyl N-cyanodithioiminocarbonate. The structures of compounds 1–3 were characterized by X-Ray crystallography.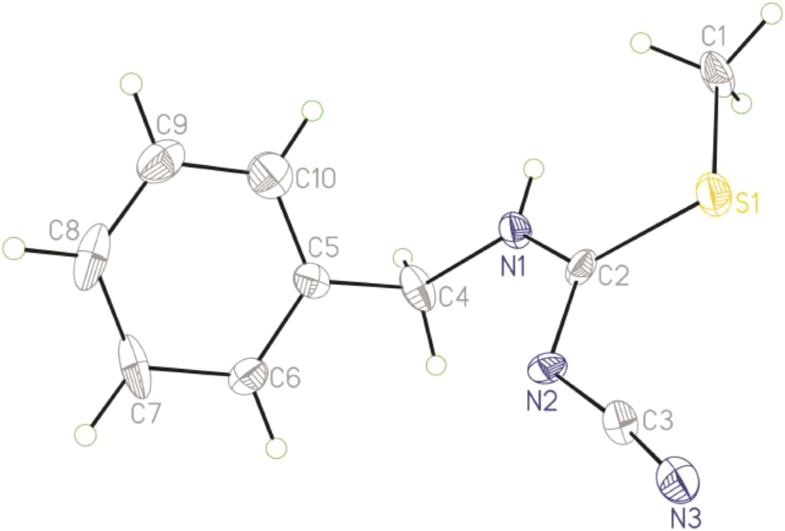 Keywords
Dimethyl N-cyanodithioiminocarbonate 
Methyl N-substituted-N′-cyanocarbamimidothioate 
Synthesis 
X-ray structure 
Notes
Acknowledgements
This project was supported by the National Natural Science Foundation of China (21372007).
Copyright information
© Springer Science+Business Media, LLC, part of Springer Nature 2019