Biomimetic coatings and negative pressure wound therapy independently limit epithelial downgrowth around percutaneous devices
Engineering and Nano-engineering Approaches for Medical Devices Original Research
Part of the following topical collections:
Abstract
Biomimetic material coatings and negative pressure wound therapy (NPWT) have been shown independently to limit the epithelial downgrowth rates in percutaneous devices. It was therefore hypothesized that these techniques, in combination, could further limit the clinically observed epithelial downgrowth around these devices. In this study, we evaluated the efficacy of two biomimetic coatings, collagen and hydroxyapatite (HA), to prevent downgrowth when used with continuous NPWT. Using an established single-stage surgical protocol, collagen (
n
 = 10) and HA (
n
 = 10) coated devices were implanted subdermally on the back of hairless guinea pigs. Five animals from each group were subjected to continuous ~90 mmHg NPWT. Four weeks post-implantation, animals were sacrificed, and the devices and surrounding tissues were harvested, processed, and downgrowth was computed and compared to historical porous titanium coated controls. Data showed a significant reduction in downgrowth in NPWT treated animals (
p
 ≤ 0.05) when compared to the untreated porous titanium controls. HA coated devices, without the NPWT treatment, also showed significantly decreased downgrowth compared to the untreated porous titanium controls.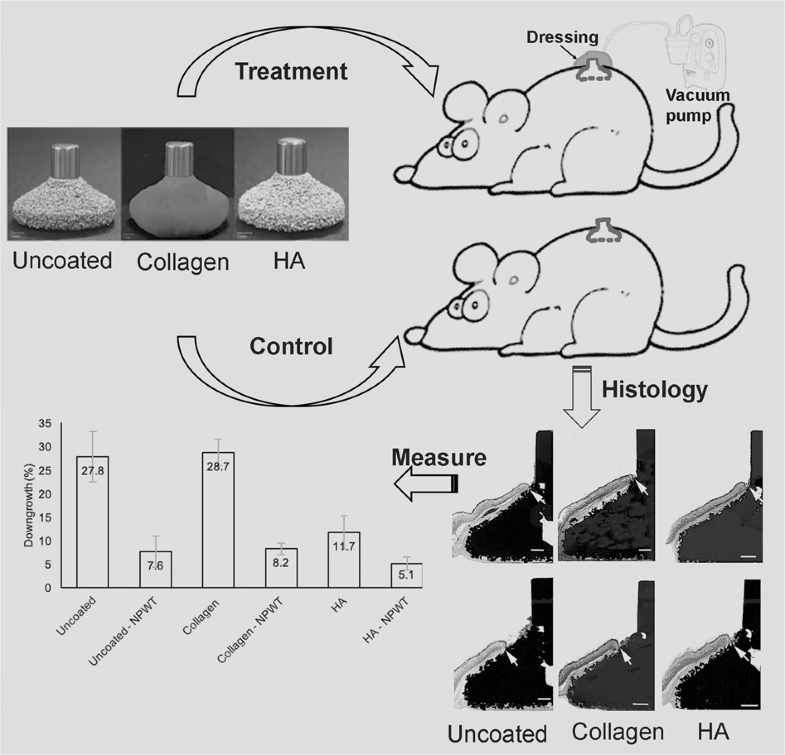 Notes
Acknowledgements
This work was supported in part by the Department of Defense [#W81XWH-11-1-0435, 2010], by the United States Department of Veterans Affairs Rehabilitation Research and Development Service under Merit Review Award [#I01RX001217, 2014], and by the Department of Orthopaedics, University of Utah School of Medicine, Salt Lake City, Utah. The views, opinions, and/or findings presented are those of the authors and should not be construed as an official position, policy or decision of any of these funding sources unless so designated by other documentation. In conducting research using animals, the investigators adhered to the Animal Welfare Act Regulations and other Federal statutes relating to animals and experiments involving animals and the principles set forth in the current version of the Guide for Care and Use of Laboratory Animals, National Research Council. The authors wish to express their sincere gratitude to Thortex Inc. (Portland, OR) for device fabrication and coating support. They also wish to acknowledge the Bone and Joint Research Laboratory's Histology Team for their technical expertize with the samples embedment process, and Greg Stoddard for his help with statistical analysis.
Compliance with ethical standards
Conflict of interest
The authors declare that they have no conflict of interest.
Copyright information
© This is a U.S. Government work and not under copyright protection in the US; foreign copyright protection may apply 2019