Tunable high Q perovskite dielectrics in the BaO–NiO–Ta2O5 system
Introduction
Oxide perovskites with the general formula A(B
1/3
I
B
2/3
II
)O
3
(A = Ba, Sr; B
I
= Mg, Zn, Ni, Co, etc.; B
II
= Ta, Nb) have been investigated for over two decades for applications as dielectric resonators in wireless communication systems. The key materials requirements include a high dielectric constant (ε), low dielectric loss or high quality factor (
Q
) in the GHz range, and a zero temperature coefficient of resonant frequency (τ
f
). Recent investigations of the effect of Zn volatilization on the properties of one of the most studied high
Q
systems, Ba(Zn
1/3
Ta
2/3
)O
3
(BZT), revealed a resultant Zn-deficient impurity phase, Ba
8
ZnTa
6
O
24
also exhibits a good microwave response (ε = 30.5,
Q
·
f
= 62,000, τ
f
= +36 ppm/°C) [
1
,
2
,
3
]. This phase, which has a closely related hexagonal perovskite structure (Fig.
1
), can also be sintered at temperatures significantly lower than its cubic perovskite counterpart.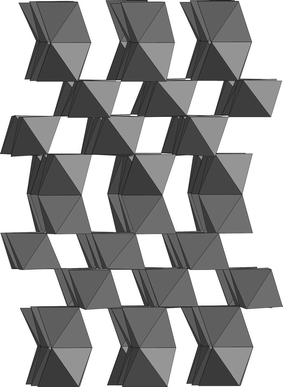 Keywords
Perovskite 
Dielectric Property 
Microwave Dielectric Property 
Standard Solid State 
Hexagonal Perovskite 
Notes
Acknowledgements
This work was supported by Ericsson Radio Access and made use of the MRSEC shared experimental facilities supported by the National Science Foundation through Grant No. DMR 05-20020.
Copyright information
© Springer Science+Business Media, LLC 2011