Preparation of dip-coated TiO2 photocatalyst on ceramic foam pellets
In recent decades, the photocatalytic reaction has attracted a great deal of attention for the purification of aquatic or atmospheric environments [
1
,
2
]. Especially, titanium dioxide (TiO
2
) has been widely utilized as a photocatalyst for generating electrons (e
−
) and holes (h
+
), thereby inducing reductive and oxidative reactions, respectively. The electrons and holes can be excited through UV light irradiation to overcome the band gap energy. Accordingly, O
−
2
and OH
•
radical ions are produced and mineralize pollutants into CO
2
and H
2
O. The highly oxidative ability of photocatalysis is very effective in the detoxication of volatile organic carbon (VOC) pollutants such as phenol. In this case, VOC passes through various reaction steps. The photo-oxidative reaction mechanisms and the mineralization pathway for the photoreaction of phenol are described schematically in Fig.
1
.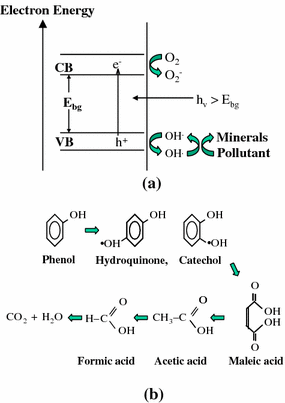 Keywords
TiO2 
Rutile 
Heating Temperature 
Anatase Phase 
TiO2 Particle 
Copyright information
© Springer Science+Business Media, LLC 2006