Host selectivity considerations of compound (+)-(2R,3R)-1,1-4,4-tetraphenylbutane-1,2,3,4-tetraol (TETROL) in the presence of o-, m- and p-cresol guest isomers
Abstract
In this work, (+)-(2R,3R)-1,1,4,4-tetraphenylbutane-1,2,3,4-tetraol (TETROL) was investigated for its feasibility as a host compound for its possible future employment in the separation of the cresol isomers (ortho-, meta- and para-cresol, o-, m- and p-Cr). Of the three, only m- and p-Cr were enclathrated by this host compound, and host:guest ratios were consistently 2:1. When TETROL was presented with equimolar mixed cresols, the host displayed significant selectivity for the para isomer, and a host selectivity order of p-Cr (64.9%) > m-Cr (23.8%) > o-Cr (11.3%) was observed. More notably, however, TETROL's selectivity for this isomer was enhanced (70.4%) when it was recrystallized from an equimolar binary mixture of m- and p-Cr, the two isomers that are the most onerous to separate by conventional means. Furthermore, TETROL remained selective for p-Cr even when this isomer was present in the mixture in low quantities relative to the meta isomer. Thermal analyses confirmed that p-Cr formed the more thermally stable complex with the host compared with the inclusion compound containing the m-Cr guest, and this correlated with the observed selectivity order.
Graphical abstract
Host selectivity considerations of compound (+)-(2
R
,3
R
)-1,1-4,4-tetraphenylbutane-1,2,3,4-tetraol (TETROL) in the presence of
o
-,
m
- and
p
-cresol guest isomers.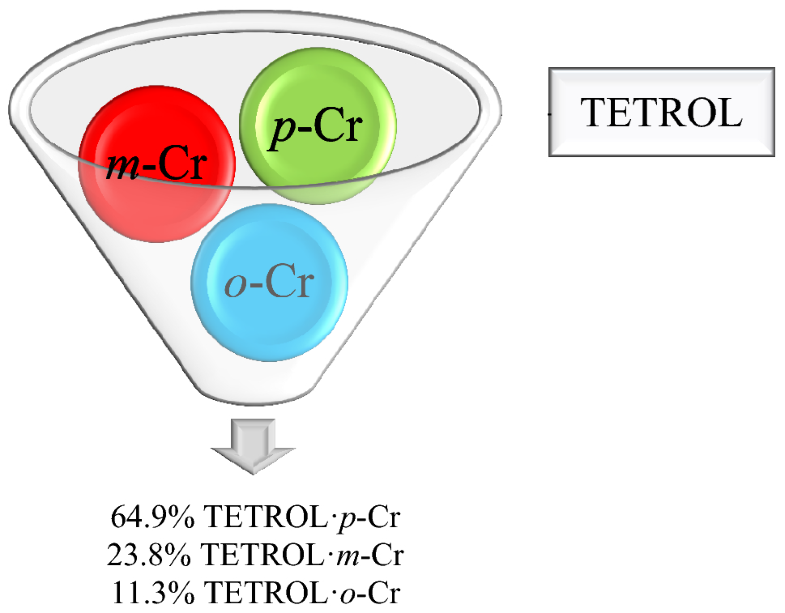 Keywords
Cresol 
Isomers 
Host–guest chemistry 
Inclusion 
Supramolecular chemistry 
TETROL 
Notes
Acknowledgements
Financial support is acknowledged from the Nelson Mandela University and the National Research Foundation (NRF). L. Bolo is thanked for thermogravimetric analyses.
Copyright information
© Springer Nature B.V. 2019