Abstract
Purpose
To investigate the impact of a 3-month course of intracortical injections of autologous platelet-rich plasma (PRP) upon ovarian reserve markers versus no intervention in women with low ovarian reserve prior to undergoing assisted reproductive technology (ART).
Methods
Prospective controlled, non-randomized comparative study conducted in a private fertility clinic, in Venezuela. Women with abnormal ovarian reserve markers (FSH, AMH and AFC) who declined oocyte donation were allocated to one of the following groups according to patient choice: monthly intracortical ovarian PRP injections for three cycles, or no intervention. Primary outcomes were the change in FSH, AMH and AFC pre- and post-treatment. Secondary outcomes included the number of oocytes collected and fertilized, biochemical/clinical pregnancy rates and miscarriage and live birth rates.
Results
Eighty-three women were included, of which 46 received PRP treatment and 37 underwent no intervention. Overall median age was 41 years (IQR 39–44). There were no demographic differences between the study groups. At the 3-month follow-up, women treated with PRP experienced a significant improvement in FSH, AMH and AFC, whereas there was no change in the control group. Furthermore, overall rates of biochemical (26.1% versus 5.4%, P = 0.02) and clinical pregnancy (23.9% versus 5.4%, P = 0.03) were higher in the PRP group, while there was no difference in the rates of first trimester miscarriage and live birth between groups.
Conclusion
PRP injections are effective and safe to improve markers of low ovarian reserve prior to ART, although further evidence is required to evaluate the impact of PRP on pregnancy outcomes.
This is a preview of subscription content, log in to check access.
Access options
Buy single article
Instant access to the full article PDF.
US$ 39.95
Price includes VAT for USA
Subscribe to journal
Immediate online access to all issues from 2019. Subscription will auto renew annually.
US$ 199
This is the net price. Taxes to be calculated in checkout.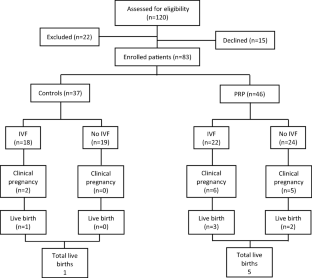 References
1.

American College of Obstetricians and Gynecologists Committee on Gynecologic Practice and Practice Committee. Female age-related fertility decline. Committee Opinion No. 589. Fertil Steril. 2014;101:633–34.

2.

Stoop H, Honecker F, Cools M, de Krijger R, Bokemeyer C, Looijenga LHJ. Differentiation and development of human female germ cells during prenatal gonadogenesis: an immunohistochemical study. Hum Reprod. 2005:1466–76.

3.

Macklon NS, Fauser BC. Aspects of ovarian follicle development throughout life. Horm Res. 1999;52:161–70.

4.

Broekmans FJ, Soules MR, Fauser BC. Ovarian aging: mechanisms and clinical consequences. Endocr Rev. 2009;30:465–93.

5.

Fritz R, Jindal S. Reproductive aging and elective fertility preservation. J Ovarian Res. 2018;11:66.

6.

Battaglia DE, Goodwin P, Klein NA, Soules MR. Influence of maternal age on meiotic spindle assembly in oocytes from naturally cycling women. Hum Reprod. 1996;11:2217–22.

7.

Weigert M, Hofstetter G, Kaipl D, Gottlich H, Krischker U, Bichler K, et al. The effect of smoking on oocyte quality and hormonal parameters of patients undergoing in vitro fertilization-embryo transfer. J Assist Reprod Genet. 1999;16:287–93.

8.

Oboni JB, Marques-Vidal P, Bastardot F, Vollenweider P, Waeber G. Impact of smoking on fertility and age of menopause: a population-based assessment. BMJ Open. 2016;6:e012015.

9.

Reynolds KA, Boudoures AL, Chi MM, Wang Q, Moley KH. Adverse effects of obesity and/or high-fat diet on oocyte quality and metabolism are not reversible with resumption of regular diet in mice. Reprod Fertil Dev. 2015;27:716–24.

10.

Meirow D, Nugent D. The effects of radiotherapy and chemotherapy on female reproduction. Hum Reprod Update. 2001;7:535–43.

11.

Devine PJ, Perreault SD, Luderer U. Roles of reactive oxygen species and antioxidants in ovarian toxicity. Biol Reprod. 2012;86:27.

12.

Collins GG, Rossi BV. The impact of lifestyle modifications, diet, and vitamin supplementation on natural fertility. Fertil Res Pract. 2015;1:11.

13.

Bahadori MH, Sharami SH, Fakor F, Milani F, Pourmarzi D, Dalil-Heirati SF. Level of vitamin E in follicular fluid and serum and oocyte morphology and embryo quality in patients undergoing IVF treatment. J Family Reprod Health. 2017;11:74–81.

14.

Tamura H, Takasaki A, Taketani T, Tanabe M, Kizuka F, Lee L, et al. The role of melatonin as an antioxidant in the follicle. J Ovarian Res. 2012;5:5.

15.

Gat I, Blanco Mejia S, Balakier H, Librach CL, Claessens A, Ryan EA. The use of coenzyme Q10 and DHEA during IUI and IVF cycles in patients with decreased ovarian reserve. Gynecol Endocrinol. 2016;32:534–7.

16.

Özcan P, Fıçıcıoğlu C, Kizilkale O, Yesiladali M, Tok OE, Ozkan F, et al. Can coenzyme Q10 supplementation protect the ovarian reserve against oxidative damage? J Assist Reprod Genet. 2016;33:1223–30.

17.

Ruder EH, Hartman TJ, Blumberg J, Goldman MB. Oxidative stress and antioxidants: exposure and impact on female fertility. Hum Reprod Update. 2008;14:345–57.

18.

Showell MG, Mackenzie-Proctor R, Jordan V, Hart RJ. Antioxidants for female subfertility. Cochrane Database Syst Rev. 2017;7.

19.

Okabe K, Yamada Y, Ito K, Kohgo T, Yoshimi R, Ueda M. Injectable soft-tissue augmentation by tissue engineering and regenerative medicine with human mesenchymal stromal cells, platelet-rich plasma and hyaluronic acid scaffolds. Cytotherapy. 2009;11:307–16.

20.

Sánchez-González D, Méndez-Bolaina E, Trejo-Bahena NI. Platelet-rich plasma peptides: key for regeneration. Int J Pept. 2012.

21.

Qian Y, Han Q, Chen W, Song J, Zhao X, Ouyang Y, et al. Platelet-rich plasma derived growth factors contribute to stem cell differentiation in musculoskeletal regeneration. Front Chem. 2017;5:89.

22.

Amable PR, Carias RBV, Teixeira MVT, Pacheco IC, Amaral RJFC, Granjeiro JM, et al. Platelet-rich plasma preparation for regenerative medicine: optimization and quantification of cytokines and growth factors. Stem Cell Res Ther. 2013;4:67.

23.

Reddy SHR, Reddy R, Babu NC, Ashok GN. Stem-cell therapy and platelet-rich plasma in regenerative medicines: a review on pros and cons of the technologies. J Oral Maxillofac Pathol. 2018;22:367–74.

24.

Bastami F, Vares P, Khojasteh. Healing effects of platelet-rich plasma on peripheral nerve injuries. J Craniofac Surg. 2017;28:e49–57.

25.

Spartalis E, Tomos P, Moris D, Athanasiou A, Markakis C, Spartalis MD, et al. Role of platelet-rich plasma in ischemic heart disease: an update on the latest evidence. World J Cardiol. 2015;7:665–70.

26.

Khatu SS, More YE, Gokhale NR, Chavhan DC, Bendsure N. Platelet-rich plasma in androgenic alopecia: myth or an effective tool. J Cutan Aesthet Surg. 2014;7:107–10.

27.

Ulusal BG. Platelet-rich plasma and hyaluronic acid–an efficient biostimulation method for face rejuvenation. J Cosmet Dermatol. 2017;16:112–9.

28.

Avila MY, Igua AM, Mora AM. Randomised, prospective clinical trial of platelet-rich plasma injection in the management of severe dry eye. Br J Ophthalmol. 2019;103:648–53.

29.

Miller LE, Parrish WR, Roides B, Bhattacharyya S. Efficacy of platelet-rich plasma injections for symptomatic tendinopathy: systematic review and meta-analysis of randomised injection-controlled trials. BMJ Open Sport Exerc Med. 2017;3:e000237.

30.

Taylor DW, Petrera M, Theodoropoulos JS. A systematic review of the use of platelet-rich plasma in sports medicine as a new treatment for tendon and ligament injuries. Clin J Sport Med. 2011;21:344–52.

31.

Dawood AS, Salem HA. Current clinical applications of platelet-rich plasma in various gynecological disorders: appraisal of theory and practice. Clin Exp Reprod Med. 2018;45:67–74.

32.

Bakacak M, Bostanci MS, Ínanc F, Yaylali A, Serin S, Attar R, et al. Protective effect of platelet rich plasma on experimental ischemia/reperfusion injury in rat ovary. Gynecol Obstet Investig. 2016;81:225–31.

33.

Chang Y, Li J, Chen Y, Wei L, Yang X, Shi Y, et al. Autologous platelet-rich plasma promotes endometrial growth and improves pregnancy outcome during in vitro fertilization. Int J Clin Exp Med. 2015;8:1286–90.

34.

Nazari L, Salehpour S, Hoseini S, Zadehmodarres S, Ajori L. Effects of autologous platelet-rich plasma on implantation and pregnancy in repeated implantation failure: a pilot study. Int J Reprod Biomed. 2016;14:625–8.

35.

Sfakianoudis K, Simopoulou M, Nitsos N, Rapani A, Pantou A, Vaxevanoglou T, et al. A case series on platelet-rich plasma revolutionary management of poor responder patients. Gynecol Obstet Investig. 2018;22:1–8.

36.

Nilsson EE, Detzel C, Skinner MK. Platelet-derived growth factor modulates the primordial to primary follicle transition. Reproduction. 2006;131:1007–15.

37.

McLaughlin EA, McIver SC. Awakening the oocyte: controlling primordial follicle development. Reproduction. 2009;137:1–11.

38.

Oktem O, Urman B. Understanding follicle growth in vivo. Hum Reprod. 2010;25:2944–54.

39.

Hsueh AJ, Billig H, Tsafriri A. Ovarian follicle atresia: a hormonally controlled apoptotic process. Endocr Rev. 1994;15:707–24.

40.

Skinner MK. Regulation of primordial follicle assembly and development. Hum Reprod Update. 2005;11:461–71.

41.

Oktem O, Oktay K. The ovary: anatomy and function throughout human life. Ann N Y Acad Sci. 2008;1127:1–9.

42.

Fenton AJ. Premature ovarian insufficiency: pathogenesis and management. J Midlife Health. 2015;6:147–53.

43.

Zou K, Yuan Z, Yang Z, Luo H, Sun K, Zhou L, et al. Production of offspring from a germline stem cell line derived from neonatal ovaries. Nat Cell Biol. 2009;11:631–6.

44.

White YA, Woods DC, Takai Y, Ishihara O, Seki H, Tilly JL. Oocyte formation by mitotically active germ cells purified from ovaries of reproductive-age women. Nat Med. 2012;18:413–21.

45.

Jain NK, Gulati M. Platelet-rich plasma: a healing virtuoso. Blood Res. 2016;51:3–5.

46.

Gougeon A. Human ovarian follicular development: from activation of resting follicles to preovulatory maturation. Ann Endocrinol. 2010;71:132–43.

47.

Barad DH, Yu Y, Kushnir VA, Shohat-Tal A, Lazzaroni E, Lee HJ, et al. A randomized clinical trial of endometrial perfusion with granulocyte colony-stimulating factor in in vitro fertilization cycles: impact on endometrial thickness and clinical pregnancy rates. Fertil Steril. 2014;101:710–5.

48.

Molina A, Sanchez J, Sanchez W, Vielma V. Platelet-rich plasma as an adjuvant in the endometrial preparation of patients with refractory endometrium. JBRA Assist Reprod. 2018;22:42–8.

49.

Sills ES, Rickers NS, Li X, Palermo GD. First data on in vitro fertilization and blastocyst formation after intraovarian injection of calcium gluconate-activated autologous platelet rich plasma. Gynecol Endocrinol. 2018;34:756–60.

50.

Herraiz S, Pellicer N, Romeu M, Pellicer A. Treatment potential of bone marrow-derived stem cells in women with diminished ovarian reserves and premature ovarian failure. Curr Opin Obstet Gynecol. 2019;31:156–62.

51.

Racowsky C, Vernon M, Mayer J, Ball GD, Behr B, Pomeroy KO, et al. Standardization of grading embryo morphology. Fertil Steril. 2010;94:1152–3.
Ethics declarations
This study was designed, conducted and reported in accordance with the principles of Good Clinical Practice guidance and with the 1964 Helsinki declaration and its later amendments. Prospective ethical approval was granted by a local Institutional Review Board (IRB) and the Venezuelan Health Ministry (IRB reference number #0940), and written consent was obtained from all participants.
Conflict of interest
The authors declare that they have no conflict of interest.
Additional information
Publisher's note
Springer Nature remains neutral with regard to jurisdictional claims in published maps and institutional affiliations.
About this article
Cite this article
Melo, P., Navarro, C., Jones, C. et al. The use of autologous platelet-rich plasma (PRP) versus no intervention in women with low ovarian reserve undergoing fertility treatment: a non-randomized interventional study. J Assist Reprod Genet (2020). https://doi.org/10.1007/s10815-020-01710-z
Received:

Accepted:

Published:
Keywords
Platelet-rich plasma

Ovarian reserve

Assisted reproductive techniques

Pregnancy outcome