Abstract
Purpose
Chemical fixation is a critical step to retaining cellular targets as naturally as possible. Recent developments in microscopy allow sophisticated detection and measuring techniques with which spatio-temporal molecular alterations are conceivable. In this study, we compare two members of aldehyde fixatives [i.e., glyoxal (Gly) and paraformaldehyde (PFA)] to determine whether Gly, a less toxic dialdehyde fixative that is considered to retain immunoreactivity could provide a successful and consistent cell fixation in favor of PFA in various cell preparations and types.
Methods
We document the fixation competence of Gly and PFA side-by-side (with or without Triton X-100 permeabilization) in live- and fixed-cell preparations in mouse oocytes, embryos, and human somatic cells (human umbilical cord-derived mesenchymal stromal cells) using protein quantification by Western blot assay and super-resolution microscopy.
Results
Although Gly seemed to act faster than PFA, catastrophic consequences were found not acceptable, especially in oocytes and embryos. Due to cell lysate and immunocytochemistry surveys, it was obvious that PFA is superior to Gly in retaining cellular proteins in situ with little/no background staining. In many samples, PFA revealed more reliable and consistent results regarding the protein quantity and cellular localization corresponding to previously defined patterns in the literature.
Conclusion
Although the use of Gly is beneficial as indicated by previous reports, we concluded that it does not meet the requirement for proper fixation, at least for the tested cell types and proteins. However, PFA alone with no addition of TX displayed a significant cytoplasmic loss by generating membrane blebs during fixation.
This is a preview of subscription content, log in to check access.
We're sorry, something doesn't seem to be working properly.
Please try refreshing the page. If that doesn't work, please contact support so we can address the problem.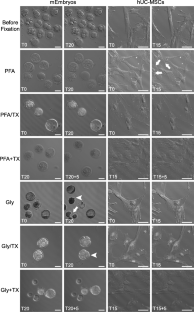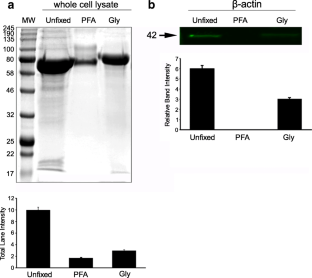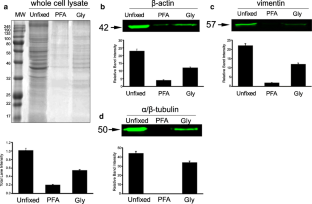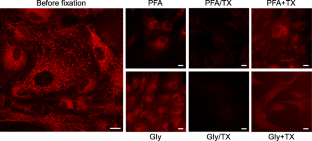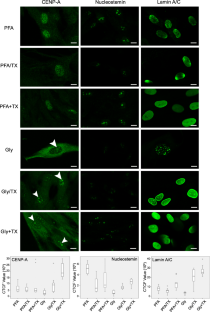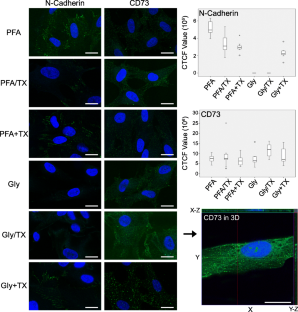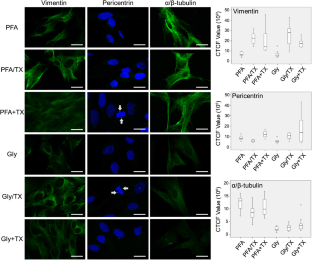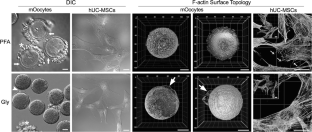 Abbreviations
3D:

Three-dimensional

ACRPB:

Acrosin-binding protein

BCA:

Bicinchoninic acid

BSA:

Bovine serum albumin

CTCF:

Corrected total cell fluorescence

ddH2O:

Double distilled water

DIC:

Differential interference contrast

DMEM:

Dulbecco's modified Eagle's medium

F-actin:

Filamentous actin

FA:

Formaldehyde

FITC:

Fluorescein isothiocyanate

Gly:

Glyoxal

GV:

Germinal vesicle

hCG:

Human chorionic gonadotropin

hUC-MSC:

Human umbilical cord-derived mesenchymal stem cell

ICC:

Immunocytochemistry

IHC:

Immunohistochemical

mEmbryos:

Mouse embryos

MI:

Meiosis-I

mOocyte:

Mouse oocyte

P4 :

Passage 4

PFA:

Paraformaldehyde

PMSG:

Pregnant mare's serum gonadotropin

PVDF:

Polyvinylidene difluoride

RT:

Room temperature

SDS:

Sodium dodecyl sulphate

TX:

Triton X-100

WB:

Western blot

ZP:

Zona pellucida
References
1.

Howat WJ, Wilson BA. Tissue fixation and the effect of molecular fixatives on downstream staining procedures. Methods. 2014;70(1):12–9. https://doi.org/10.1016/j.ymeth.2014.01.022.

2.

Marcon N, Bressenot A, Montagne K, Bastien C, Champigneulle J, Monhoven N, et al. Glyoxal: a possible polyvalent substitute for formaldehyde in pathology? Ann Pathol. 2009;29(6):460–7. https://doi.org/10.1016/j.annpat.2009.09.011.

3.

Fujiwara K. Techniques for localizing contractile proteins with fluorescent antibodies. Curr Top Dev Biol. 1980;14(Pt 2):271–96.

4.

Robinson RW, Snyder JA. An innovative fixative for cytoskeletal components allows high resolution in colocalization studies using immunofluorescence techniques. Histochem Cell Biol. 2004;122(1):1–5. https://doi.org/10.1007/s00418-004-0656-2.

5.

Leyton-Puig D, Kedziora KM, Isogai T, van den Broek B, Jalink K, Innocenti M. PFA fixation enables artifact-free super-resolution imaging of the actin cytoskeleton and associated proteins. Biol Open. 2016;5(7):1001–9. https://doi.org/10.1242/bio.019570.

6.

Kim SO, Kim J, Okajima T, Cho NJ. Mechanical properties of paraformaldehyde-treated individual cells investigated by atomic force microscopy and scanning ion conductance microscopy. Nano Converg. 2017;4(1):5. https://doi.org/10.1186/s40580-017-0099-9.

7.

Sabatini DD, Bensch K, Barrnett RJ. Cytochemistry and electron microscopy. The preservation of cellular ultrastructure and enzymatic activity by aldehyde fixation. J Cell Biol. 1963;17:19–58.

8.

Dapson RW. Glyoxal fixation: how it works and why it only occasionally needs antigen retrieval. Biotech Histochem. 2007;82(3):161–6. https://doi.org/10.1080/10520290701488113.

9.

Richter KN, Revelo NH, Seitz KJ, Helm MS, Sarkar D, Saleeb RS, et al. Glyoxal as an alternative fixative to formaldehyde in immunostaining and super-resolution microscopy. EMBO J. 2018;37(1):139–59. https://doi.org/10.15252/embj.201695709.

10.

Atkins D, Reiffen KA, Tegtmeier CL, Winther H, Bonato MS, Storkel S. Immunohistochemical detection of EGFR in paraffin-embedded tumor tissues: variation in staining intensity due to choice of fixative and storage time of tissue sections. J Histochem Cytochem. 2004;52(7):893–901. https://doi.org/10.1369/jhc.3A6195.2004.

11.

Dapson RW, Feldman AT, Wolfe D. Glyoxal fixation and its relationship to immunohistochemistry. J Histotechnol. 2006;29(2):66–76. https://doi.org/10.1080/01478885.2006.11800879.

12.

Umlas J, Tulecke M. The effects of glyoxal fixation on the histological evaluation of breast specimens. Hum Pathol. 2004;35(9):1058–62.

13.

Wang YN, Lee K, Pai S, Ledoux WR. Histomorphometric comparison after fixation with formaldehyde or glyoxal. Biotech Histochem. 2011;86(5):359–65. https://doi.org/10.3109/10520295.2010.520275.

14.

Paavilainen L, Edvinsson A, Asplund A, Hober S, Kampf C, Ponten F, et al. The impact of tissue fixatives on morphology and antibody-based protein profiling in tissues and cells. J Histochem Cytochem. 2010;58(3):237–46. https://doi.org/10.1369/jhc.2009.954321.

15.

Bussolati G, Annaratone L, Berrino E, Miglio U, Panero M, Cupo M, et al. Acid-free glyoxal as a substitute of formalin for structural and molecular preservation in tissue samples. PLoS One. 2017;12(8):e0182965. https://doi.org/10.1371/journal.pone.0182965.

16.

Dimitriadis GJ. Effect of detergents on antibody-antigen interaction. Anal Biochem. 1979;98(2):445–51.

17.

Can A, Semiz O, Cinar O. Centrosome and microtubule dynamics during early stages of meiosis in mouse oocytes. Mol Hum Reprod. 2003;9(12):749–56.

18.

Uysal F, Ozturk S, Akkoyunlu G. DNMT1, DNMT3A and DNMT3B proteins are differently expressed in mouse oocytes and early embryos. J Mol Histol. 2017;48(5–6):417–26. https://doi.org/10.1007/s10735-017-9739-y.

19.

Can A, Balci D. Isolation, culture, and characterization of human umbilical cord stroma-derived mesenchymal stem cells. Methods Mol Biol. 2011;698:51–62. https://doi.org/10.1007/978-1-60761-999-4_5.

20.

Coskun H, Can A. The assessment of the in vivo to in vitro cellular transition of human umbilical cord multipotent stromal cells. Placenta. 2015;36(2):232–9. https://doi.org/10.1016/j.placenta.2014.11.024.

21.

Oktar PA, Yildirim S, Balci D, Can A. Continual expression throughout the cell cycle and downregulation upon adipogenic differentiation makes nucleostemin a vital human MSC proliferation marker. Stem Cell Rev. 2011;7(2):413–24. https://doi.org/10.1007/s12015-010-9201-y.

22.

Wicks LF, Suntzeff V. Glyoxal, a non-irritating aldehyde suggested as substitute for formalin in histological fixations. Science. 1943;98(2539):204. https://doi.org/10.1126/science.98.2539.204.

23.

Titford ME, Horenstein MG. Histomorphologic assessment of formalin substitute fixatives for diagnostic surgical pathology. Arch Pathol Lab Med. 2005;129(4):502–6. https://doi.org/10.1043/1543-2165(2005)129<502:HAOFSF>2.0.CO;2.

24.

Smit JW, Meijer CJ, Decary F, Feltkamp-Vroom TM. Paraformaldehyde fixation in immunofluorescence and immunoelectron microscopy. Preservation of tissue and cell surface membrane antigens. J Immunol Methods. 1974;6(1–2):93–8.

25.

Zhang Z, Zhao D, Xu B. Analysis of glyoxal and related substances by means of high-performance liquid chromatography with refractive index detection. J Chromatogr Sci. 2013;51(10):893–8. https://doi.org/10.1093/chromsci/bms186.

26.

Ramos-Vara JA, Miller MA. When tissue antigens and antibodies get along: revisiting the technical aspects of immunohistochemistry—the red, brown, and blue technique. Vet Pathol. 2014;51(1):42–87. https://doi.org/10.1177/0300985813505879.

27.

Bhairi SM, Mohan C, Ibryamova S, La Favor T. Detergents: a guide to the properties and uses of detergents in biological systems. San Diego: Calbiochem-Novabiochem Corporation; 2001.

28.

Fonfría VL, Perálvarez-Marín A, Padrós E, Lazarova T. Solubilization, purification, and characterization of integral membrane proteins. 2011. https://doi.org/10.1002/9783527634521.ch12.
Ethics declarations
The experimental protocol regarding the mouse oocytes and embryos was approved by the IRB (approval number 792/20-18.10.27). All experiments were carried out in accordance with relevant regulations and guidelines of Ankara University Animal Care and Use Committee. Fresh umbilical cords (n = 3) were obtained from full-term female infants after cesarean section succeeding the acquisition of informed consent from the mother (Local Ethics Committee, IRB approval number 18-578-12, 2012) that the experiments conformed to the principles set out in the World Medical Association Declaration of Helsinki.
Conflict of interest
The authors declare that they have no conflict of interest.
Additional information
Publisher's note
Springer Nature remains neutral with regard to jurisdictional claims in published maps and institutional affiliations.
Electronic supplementary material
mEmbryos. Seven movie files are presented showing 20-min long time-lapse movies (40x) before and during the fixation with PFA and PFA/TX groups. Additional 5 min-TX incubation is shown in the PFA+TX and Gly+TX groups; (n=12 independent experiment). Scale bars: 50 μm. (ZIP 28682 kb).
hUC-MSCs. Seven movie files are presented showing 15-min long time-lapse movies (40x) before and during the fixation with PFA and PFA/TX groups. Additional 5 min-TX incubation is shown in PFA+TX and Gly+TX groups; (n=13 independent experiment). Scale bars: 50 μm. (ZIP 37534 kb).
About this article
Cite this article
Celikkan, F.T., Mungan, C., Sucu, M. et al. PFA is superior to glyoxal in preserving oocyte, embryo, and stem cell proteins evidenced by super-resolution microscopical surveys of epitopes. J Assist Reprod Genet (2020). https://doi.org/10.1007/s10815-019-01666-9
Received:

Accepted:

Published:
Keywords
Aldehyde fixative

Embryo

Fixation

Glyoxal

Oocyte

Paraformaldehyde