The synergistic anti-inflammatory activities of agaro-oligosaccharides with different degrees of polymerization
Abstract
The anti-inflammatory activities of agaro-oligosaccharide (AOS) fractions with different degrees of polymerization (DPs) were compared, and their anti-inflammatory mechanisms were investigated. Total AOS (F0) was prepared from the agar of Gracilaria lemaneiformis, and its three separated fractions of high DP (F1), medium DP (F2), and low DP (F3) were obtained using Bio-Gel P2 chromatography. F2 showed a high anti-inflammatory activity but also a potential cytotoxicity, while F1 and F3 showed no cytotoxicity but weak anti-inflammatory activities. The total AOS fractions of F0 exhibited a higher anti-inflammatory activity than the summarized activities of the separated fractions; moreover, the combination of the three fractions significantly alleviated the potential cytotoxicity of F2. Thus, the synergistic anti-inflammatory effects of the AOS fractions were revealed. Furthermore, the anti-inflammatory mechanisms of F0 were investigated both in lipopolysaccharide (LPS)-induced RAW 264.7 cells in vitro and LPS-induced zebrafish embryos in vivo. F0 inhibited NO production and PGE2 expression via the downregulation of iNOS and COX-2 expression, and it suppressed TNF-α, IL-1β, and IL-6 productions at the protein and mRNA levels in RAW 264.7 cells. It is the first time that the zebrafish model was used for the determination of anti-inflammatory activities of AOS, and F0 showed to suppress the productions of NO and ROS by exerting a protective effect against the phenotypic changes and the cell damage caused by LPS. This is the first report of the synergistic anti-inflammatory activities of AOS fractions. The result revealed that AOS without separation and purification showed a favorable anti-inflammatory activity, which was easy to be produced and had potential application in the food, pharmaceutical, and cosmetic industries.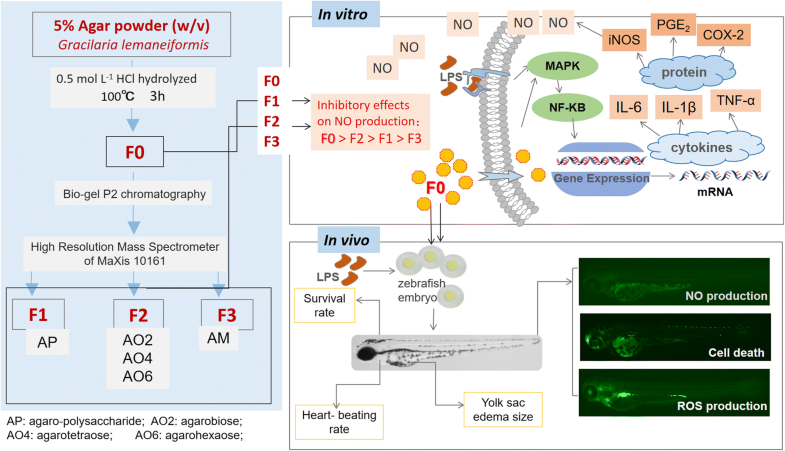 Keywords
Rhodophyta 
Agaro-oligosaccharide 
Anti-inflammation 
RAW 264.7 
Zebrafish 
Notes
Acknowledgements
This work was supported by the National Key R&D Program of China (Grant No. 2018YFD0901104), the International Science & Technology Cooperation Program of China (Grant No. 2015DFG32290), and the Jiangsu Provincial Key R&D project (Grant No. BE2015335). The authors thank the Laboratory of Molecular Medicine at the Ocean University of China (Qingdao, China) for their help with in vivo zebrafish system.
Copyright information
© Springer Nature B.V. 2019