Nickel phosphate/carbon fibre nanocomposite for high-performance pseudocapacitors
Part of the following topical collections:
Abstract
This article reports the use of crystalline nickel phosphate/carbon fibres (NiPh/CFs) nanocomposite as an electrode material for pseudocapacitor applications. The NiPh particles are synthesised by a cost-effective one-pot method, which is based on refluxing nickel and phosphate precursors at 90 °C. The crystallinity and structural morphologies of the synthesised particles are characterised by X-ray diffraction (XRD) and field-emission scanning electron microscopy (FE-SEM). Also, the N2 adsorption/desorption isotherms are recorded. The Brunauer–Emmett–Teller (BET) method is used to calculate the specific surface area. The electrochemical performances of pristine NiPh and NiPh/CFs composite electrodes are investigated in an alkaline solution of 0.5 M of KOH. The specific capacitances were calculated using cyclic voltammograms at a potential scan rate of 100 mV s− 1. For the pristine electrode, the calculated specific capacitance was 4.3 F g− 1 and for the composite NiPh/CFs electrode, it was 699.2 F g− 1. The significant improvement in the performance is attributed to the high surface area and enhanced electronic conductivity of the NiPh/CFs composite electrode. Also, the composite electrode shows outstanding stability and delivers 1000 cycles with excellent capacitance retention.
Graphical abstract
A cost-effective material for high-performance pseudocapacitors: Crystalline NiPh nanoparticles have been synthesised at 90 °C. SEM image shows the pseudocapacitors composite electrode fabricated by mixing the NiPh with CFs. The electrode delivers a specific capacitance of 699.2 F g
−1
; calculated from the cyclic voltammogram shown in the figure. Also, the composite electrode shows good stability and provides 1000 cycles with excellent capacitance retention.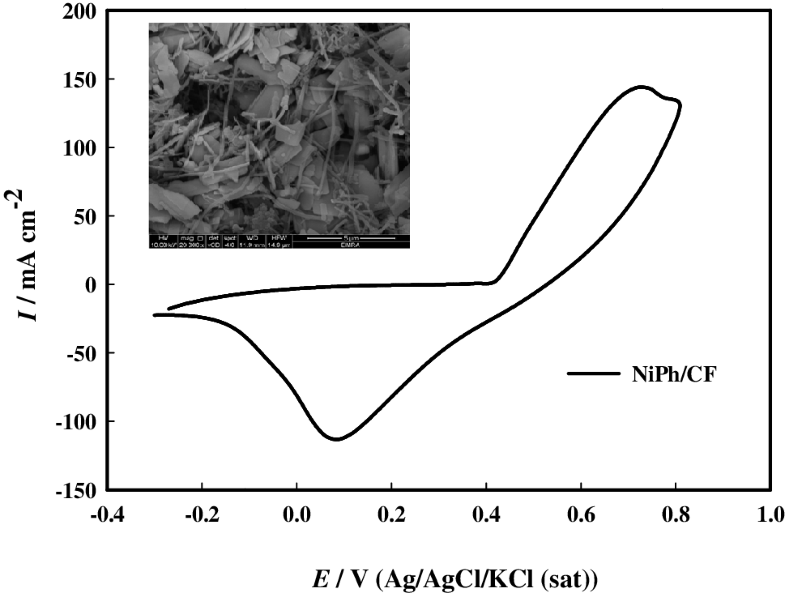 Keywords
Pseudocapacitors 
Nickel 
Phosphate 
Carbon 
Fibres 
Composite 
Notes
Acknowledgements
The authors thank the Deanship of Scientific Research at King Faisal University for the financial support (Project Number 186061).
Copyright information
© Springer Nature B.V. 2018