Ocular loiasis in Ohio: a case report
Introduction
Loiasis, a systemic infection with the parasitic nematode Loa loa endemic to wet regions of western and central Africa, can present several years after a patient's last exposure to the vector fly Chrysops sp. [1]. Though prevalent in countries such as Cameroon, Gabon, and Nigeria, it is considered an extreme rarity in the USA and other Western countries [2, 3, 4, 5]. A classic clinical finding is that of ocular pain, redness, foreign body sensation, and a visible, motile worm in the subconjunctival space. We present here a case of ocular loiasis diagnosed in Cleveland, OH, in an immigrant who last visited his native country of Cameroon 5 years prior to presentation.
Case
A 27-year-old man from Cameroon presented to the MetroHealth Eye Clinic as an urgent referral from the emergency department for presumed scleritis of the left eye. He described pain and redness in the eye starting the day prior, worsening overnight. He had been seen twice in the previous three years for redness and irritation in both eyes and diagnosed with atopic conjunctivitis, which incompletely responded to fluorometholone 0.1%. Current symptoms were similar but more severe than prior episodes. Additionally, he also noted having seen a "worm under the lining of the eye" in the hours prior to arriving in the emergency department. The patient gave a detailed report of the experience, describing a "long, thin, yellow-white moving worm," which had traveled from the inferior conjunctiva and disappeared from the temporal conjunctiva. He denied any previous episodes of this particular symptom. He also denied any changes to his vision, floaters, or photopsia at presentation.
Visual acuity without correction was 20/20 in both eyes with normal intraocular pressures, pupils, extraocular movements, and visual fields to confrontation. External examination of the affected left eye revealed moderate non-blanching injection and sectoral chemosis prominent in the nasal and temporal interpalpebral zones with notable edema of the plica semilunaris (Fig. 
1
). The cornea was thin and clear, the anterior chamber was quiet without evidence of active or prior inflammation, and the remainder of the dilated examination was unremarkable. The right eye was significant for only a small nasal pterygium.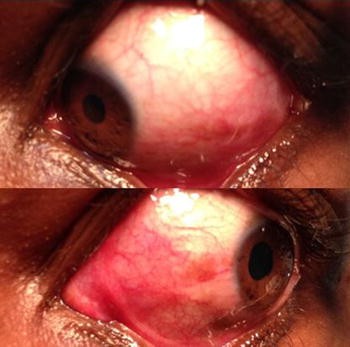 Given the patient's specific and detailed report of the visualized worm, a thorough slit-lamp examination was performed but failed to reveal a worm. Given the patient's geographic origin and reliable history, the presence of a subconjunctival worm was considered plausible, but did not warrant surgical exploration. Instead, the patient was sent to the laboratory for a complete blood count with differential as well as a peripheral smear, with special instructions to evaluate for microfilaria.
The following day, the blood count and differential returned and demonstrated a slightly low white blood cell count (3.5 K/μL; range 4/5–11/5 K/μL), but a preponderance of lymphocytes with eosinophilia (10.4%; range 0.1–4.0%). The peripheral blood smear identified the presence of microfilaria (Fig. 
2
). A detailed and directed physical examination by infectious disease did not demonstrate any other systemic signs or symptoms of filariasis, but antifilarial IgG and IgG4 titers were elevated, likely indicating an active filarial infection (Table 
1
).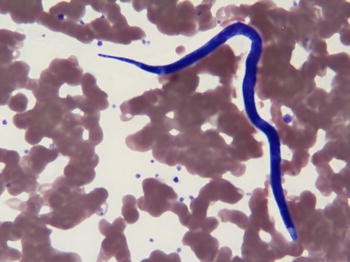 Table 1
Laboratory evaluation: CBC/differential showing eosinophilia and antifilarial IgG elevation
| Lab | Value | Ref range |
| --- | --- | --- |
| WBC | 3.5 (L) | 4.5–11.5 K/μL |
| Hemoglobin | 15.9 | 13.9–16.3 g/dL |
| Lymphocytes | 51.3 (H) | 24.0–44.0% |
| Eosinophils | 10.4 (H) | 0.1–4.0% |
| Antifilarial IgG | 75.8 (H) | 0–14 μg/mL |
| Antifilarial IgG4 | 7399 (H) | 0 ng/mL |
The patient was referred to the NIH for treatment with diethylcarbamazine (DEC) for 21 days. He was contacted 3 months following his initial presentation, and he reported he was doing well and symptom-free. He did not return for follow-up in the eye clinic.
Discussion
Loiasis is a systemic parasitic infection endemic to the rainforest regions of western and central Africa, which can present with ocular findings, known as the "African eye worm." Loa loa microfilaria or larvae are transmitted to humans from infected hosts by the mango fly (Chrysops. sp), which are bloodsucking insects and intermediate hosts of the nematode. In the host, microfilaria can be found circulating in the bloodstream during the day and often disappear into vascular beds of the lungs at night [1]. Ocular symptoms include eye pain or irritation, redness, ocular foreign body sensation, and most specifically, visualization of the adult worm moving in the subconjunctival space [1, 2, 6]. "Calabar swellings" are subcutaneous nodules caused by maturing larvae often appearing on the limbs of infected patients [1], but widespread organ involvement has been reported [5].
While the prevalence of Loa loa infection in endemic areas such as Cameroon is high [7], it remains a rare clinical entity in Western and European countries. However, citing an increase in global travel both to and from regions of high prevalence, a recent literature review of ocular loiasis diagnosed in non-endemic countries from 1986 to 2011 found 46 reports of ocular loiasis, including 9 cases in the USA [5]. The present case represents the first case of ocular loiasis diagnosed in the USA since 2010 [8].
Our patient reported immigrating from his native country of Cameroon over 5 years prior to diagnosis. However, microfilaria may take up to 4 years to mature into the adult worm, and the adult worm can live up to 17 years in a human host [9]. In similar cases of imported loiasis, when the diagnosis is made in a country non-endemic to the infection, the time from last exposure to areas of endemic spread is highly variable. However, it has been noted in multiple past studies that the time to presentation from last exposure is significantly longer for immigrants than for travelers or expatriates [5, 10]. Antinori et al. [5] found the median length of time from exposure to diagnosis was just under 4 years for immigrants compared to 2 years for travelers/expatriates. It is unknown why such differences exist, but this long latency period likely reflects the chronic nature of the infection and subtlety of clinical signs. For instance, our patient had presented twice prior to diagnosis with similar symptoms of ocular irritation and redness and was misdiagnosed with atopic conjunctivitis. The long latency period in imported cases of this ocular parasite may therefore also represent a knowledge bias, which impacts clinical suspicion for the disease. This may explain why travelers and expatriates are diagnosed with a shorter latency period than immigrants, as they may be more likely to divulge recent or more common travel habits to treating physicians than immigrants.
Another noteworthy aspect of the present case is the absence of identifiable adult worm in the subconjunctival space. Despite a thorough search with slit-lamp biomicroscopy, no motile or stationary organisms were seen and surgical exploration was not attempted. An episode of extended illumination of the conjunctival surface was also unsuccessful, despite prior suggestions that this may aid in drawing the parasite out [3]. Evaluation by infectious disease also failed to reveal any other clinical signs specific to the condition (such as Calabar swellings). However, high clinical suspicion was maintained on account of the patient's plausible report, and the diagnosis was made using laboratory findings of eosinophilia, confirmed with peripheral blood smear. Eosinophilia and elevated IgE are the most common laboratory findings among patients with loiasis [1, 5], and more recently identification of antifilarial IgG4 may also be useful [11].
Treatment of ocular loiasis invokes a dual approach: systemic antimicrobial therapy targeting circulating microfilaria and surgical removal of the adult worm [1]. The systemic treatment is diethylcarbamazine (DEC), 2 mg/kg three times daily for 21 days. Ivermectin, a drug most commonly used in wide-reaching campaigns to treat another common filarial disease, onchocerciasis ("river blindness"), can also be used to reduce microfilarial load in loiasis. However, severe neurological side effects such as coma and encephalitis have been seen in individuals treated with ivermectin for onchocerciasis who are coinfected with loiasis [12]. Thus, ocular loiasis should be managed in consultation with infectious disease or a physician specializing in travel medicine.
Conclusion
This case represents the first reported case of ocular loiasis diagnosed in the USA in several years. A high index of clinical suspicion was critical in diagnosing this patient, as a confirmatory adult worm could not be identified despite thorough examination. Given increases in global travel, ophthalmic clinicians must maintain awareness of this clinical entity when such travel or immigration history suggests exposure. Management of this condition requires systemic treatment and should involve an infectious disease specialist.
Notes
Compliance with ethical standards
Conflict of interest
The authors have no conflicts of interest to disclose.
Copyright information
© Springer Science+Business Media B.V. 2017