Abstract
A 59-year-old man who complained of binocular vertical diplopia after an exploratory laparotomy, complicated by cardiorespiratory arrest during anesthetic induction, was found to have Collier's sign, anisocoria, complete paralysis of upward vertical gaze associated with convergence-retraction nystagmus on attempted upgaze and skew deviation with hypertropia in the left eye without ptosis, and an absent Bielschowsky sign. Magnetic resonance imaging of the brain showed a small lesion in the left paramedian midbrain compatible with microvascular ischemic sequelae. This patient was diagnosed with Parinaud's syndrome (dorsal midbrain syndrome) associated with a vertical strabismus from an unilateral vascular ischemic paramedian midbrain lesion.
This is a preview of subscription content, log in to check access.
Access options
Buy single article
Instant unlimited access to the full article PDF.
US$ 39.95
Price includes VAT for USA
Subscribe to journal
Immediate online access to all issues from 2019. Subscription will auto renew annually.
US$ 99
This is the net price. Taxes to be calculated in checkout.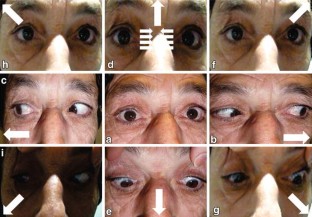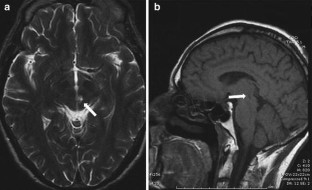 References
1.

Bender MB (1980) Brain control of conjugate horizontal and vertical eye movements: a survey of the structural and functional correlates. Brain 103:23–69

2.

Hommel M, Bogousslavsky J (1991) The spectrum of vertical gaze palsy following unilateral brainstem stroke. Neurology 41:1229–1234

3.

Wong A (2008) Eye movement disorders. Oxford University Press, New York

4.

Strupp M, Hüfner K, Sandmann R, Zwergal A, Dieterich M, Jahn K, Brandt T (2011) Central oculomotor disturbances and nystagmus: a window into the brainstem and cerebellum. Dtsch Arztebl Int 108:197–204. doi:10.3238/arztebl.2011.0197

5.

Helmchen C, Rambold H (2007) The eyelid and its contribution to eye movements. In: Straube A, Büttner U (eds) Neuro-ophthalmology: neuronal control of eye movements. Karger, Basel, pp 110–131

6.

Bogousslavsky J (1989) Oculomotor syndromes resulting from mesencephalic lesions in man. Rev Neurol (Paris) 145:546–559

7.

Buckley EG, Holgado S (2004) Surgical treatment of upgaze palsy in Parinaud's syndrome. J AAPOS 8:249–253

8.

Pierrot-Deseilligny CH, Chain F, Gray F, Serdaru M, Escourolle R, Lhermitte F (1982) Parinaud's syndrome: electro-oculographic and anatomical analyses of six vascular cases with deductions about vertical gaze organization in the premotor structures. Brain 105:667–696

9.

Rosa PR, Mendonça KB, Maduro LM, de Lemos AJ, de Barros MC, Couto GV, Santos PC, Deslandes Ade O, Cruz AA (2009) Parinaud's syndrome secondary to thromboembolism from myocardial infarction associated with myelofibrosis. Arq Neuropsiquiatr 67:109–111

10.

Moguel-Ancheita S, Ruiz-Morfín I, Pedraza-Jacob M (2006) Strabismus-associated Parinaud syndrome. Cir Cir 74:147–151

11.

Baloh RW, Furman JM, Yee RD (1985) Dorsal midbrain syndrome: clinical and oculographic findings. Neurology 35:54–60

12.

Foroozan R, Batti MT (2014) Basic and clinical science course. Section 5: neuro-ophthalmology. American Academy of Ophthalmology, San Francisco

13.

Keane JR (1990) The pretectal syndrome: 206 patients. Neurology 40:684–690

14.

Jouvent E, Benisty E, Fenelon G, Créange A, Pierrot-Deseilligny C (2005) Nystagmus de convergence et paralysie de la verticalité du regard d'origine vasculaire. Rev Neurol (Paris) 161:593–595

15.

Costantino A, Black SE, Carr T, Nicholson RL, Noseworthy JH (1986) Dorsal midbrain syndrome in multiple sclerosis with magnetic resonance imaging correlation. Can J Neurol Sci 13:62–65

16.

Bogousslavsky J, Miklossy J, Deruaz JP, Regli F, Assal G (1986) Unilateral left paramedian infarction of thalamus and midbrain: a clinico-pathological study. J Neurol Neurosurg Psychiatr 49:686–694

17.

Rabadi MH (2013) Unilateral midbrain infarct presenting as dorsal midbrain syndrome. J Neurol Neurosurg Psychiatr 84:973–975. doi:10.1136/jnnp-2013-304883

18.

Liu GT, Volpe NJ, Galetta SL (2010) Neuro-ophthalmology diagnosis and management, 2nd edn. Saunders Elsevier, London

19.

Lee AG, Brown DG, Diaz PJ (1986) Dorsal midbrain syndrome due to mesencephalic hemorrhage. J Neuroophthalmol 16:281–285

20.

Ranalli PJ, Sharpe JA, Fletcher WA (1988) Palsy of upward and downward saccadic, pursuit, and vestibular movements with a unilateral midbrain lesion: pathophysiologic correlations. Neurology 38:114–122

21.

Smith MS, Laguna JF (1981) Upward gaze paralysis following unilateral pretectal infarction. Arch Neurol 38:127–129

22.

Brodsky MC, Donahue SP, Vaphiades M, Brandt T (2006) Skew deviation revisited. Surv Ophthalmol 51:105–128

23.

Wong AM, Colpa L, Chandrakumar M (2011) Ability of an upright-supine test to differentiate skew deviation from other vertical strabismus causes. Arch Ophthalmol 129:1570–1575. doi:10.1001/archophthalmol.2011.335
Conflict of interest
The authors declare that they have no conflict of interest.
Ethical standards
The manuscript does not contain clinical studies with human participants or animals performed by any of the authors. Informed consent was obtained from individual participant included in the study. Additional informed consent was obtained from the individual participant for whom identifying information is included in this article.
Electronic supplementary material
Below is the link to the electronic supplementary material.
Converge-retraction nystagmus on attempting an upward gaze (MPG 2190 kb)
Converge-retraction nystagmus on attempting an upward gaze (MPG 2190 kb)
About this article
Cite this article
Serino, J., Martins, J., Páris, L. et al. Parinaud's syndrome due to an unilateral vascular ischemic lesion. Int Ophthalmol 35, 275–279 (2015) doi:10.1007/s10792-015-0045-y
Received:

Accepted:

Published:

Issue Date:
Keywords
Parinaud's syndrome

Dorsal midbrain syndrome

Convergence-retraction nystagmus

Skew deviation

Interstitial nucleus of Cajal