Abstract
The Purpose of this study was to describe the results of a new modification of the trabeculectomy technique, sutureless tunnel trabeculectomy without peripheral iridectomy (PI), in a group of patients with chronic open-angle glaucoma (COAG). Patients with uncontrolled COAG who were candidates for trabeculectomy underwent sutureless tunnel trabeculectomy without PI. Patients were examined before surgery and at 1, 3, 6 and 12 months after surgery. Pre- and post-operative data including intraocular pressure (IOP), visual acuity, number of anti-glaucoma medications and intraoperative and post-operative complications were recorded. Surgical success was defined as final IOP < 21 mmHg and > 20 % reduction from baseline (criterion A) and as final IOP < 18 mmHg and > 25 % reduction from baseline (criterion B), without further glaucoma surgery or complications that required returning the patient to the operating room. Success was further classified as complete when these criteria were obtained without medications and qualified with or without medical therapy. Eighteen eyes of 18 patients were recruited into the study. All patients had 6 months of follow-up and 15 patients (83.3 %) completed 12 months of follow-up. Mean (SD) age of the patients was 57.2 (5.7) years. Mean (SD) IOP decreased from 23.7 (4.5) mmHg pre-operatively to 14.7 (3.4) mmHg at final follow-up visit (p < 0.001), and the mean (SD) number of glaucoma medications decreased from 2.89 (0.32) pre-operatively to 1 (0.84) at last visit (p < 0.001). Post-operatively, IOP and number of glaucoma medications were decreased in comparison with baseline at all follow-up visits (p < 0.001 for all visits). Qualified and complete surgical success rates were 78 and 50 % for criterion A, and 72 and 50 % for criterion B. Sutureless tunnel trabeculectomy without PI effectively reduced IOP and number of medications in COAG patients during 6–12 months of follow-up. Further controlled studies are needed to better characterize the safety and efficacy of this technique.
This is a preview of subscription content, log in to check access.
Access options
Buy single article
Instant unlimited access to the full article PDF.
US$ 39.95
Price includes VAT for USA
Subscribe to journal
Immediate online access to all issues from 2019. Subscription will auto renew annually.
US$ 99
This is the net price. Taxes to be calculated in checkout.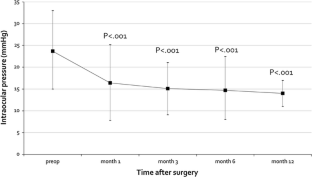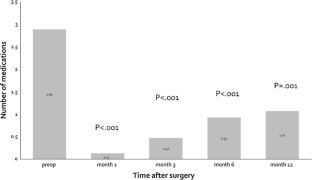 References
1.

Cairns JE (1968) Trabeculectomy preliminary report. Am J Ophthalmol 66:673–679

2.

Ramulu PY, Corcoran KJ, Corcoran SL, Robin AL (2007) Utilization of various glaucoma surgeries and procedures in Medicare beneficiaries from 1995 to 2004. Ophthalmology 114:2265–2270

3.

Raina UK, Tuli D, Mehta DK (1999) Polyglactin sutures versus nylon sutures for scleral flap suturing in trabeculectomy. Ophthalmic Surg Lasers 30:554–559

4.

Arnold PN (1996) No-stitch phacotrabeculectomy. J Cataract Refract Surg 22:253–260

5.

Gous PNJ, Roux P (1995) Preliminary report of sutureless phacotrabeculectomy through a modified self-sealing scleral tunnel incision. J Cataract Refract Surg 21:160–169

6.

Lai JS, Lam DS (1999) Trabeculectomy using a sutureless scleral tunnel technique: a preliminary study. J Glaucoma 8:188–192

7.

de Barros DS, Da Silva RS, Siam GA, Gheith ME, Nunes CM, Lankaranian D, Tittler EH, Myers JS, Spaeth GL (2009) Should an iridectomy be routinely performed as a part of trabeculectomy? Two surgeons' clinical experience. Eye 23:362–367

8.

Sherwood MB, Tolat N, Sando RS (1990) Complications of surgical iridectomy: Prevention and management. In: Spaeth GL, Sherwood MB (eds) Complications of Glaucoma Therapy. Slack Incorporated, Thorofare, New Jersey, pp 327–332

9.

Watson PG (1970) Trabeculectomy, a modified ab externo technique. Ann Ophthalmol 2:199–205

10.

Zohdy GA, Lukaris A, Rogers ZA, Hill A, Roberts-Harry TJ (1998–1999) Early results of punch trabeculectomy. Int Ophthalmol 22:253–256

11.

Ophir A (2001) Mini-trabeculectomy as initial surgery for medically uncontrolled glaucoma. Am J Ophthalmol 132:229–234

12.

Thimmarayan SK, Rao VA, Gupta A (2006) Mini-trabeculectomy in comparison to conventional trabeculectomy in primary open-angle glaucoma. Eur J Ophthalmol 16:674–679

13.

Stalmans I, Gillis A, Lafaut AS, Zeyen T (2006) Safe trabeculectomy technique: long term outcome. Br J Ophthalmol 90:44–47

14.

Wells AP, Bunce C, Khaw PT (2004) Flap and suture manipulation after trabeculectomy with adjustable sutures: titration of flow and intraocular pressure in guarded filtration surgery. J Glaucoma 13:400–406

15.

Eslami Y, Fakhraie G, Amini H, Zarei R, Moghimi S, Rajabi MT, Ghaffari R (2009) The results of trabeculectomy using a sutureless scleral tunnel technique. Int Ophthalmol 29:329–332

16.

Spaeth GL (2003) Incisional iridectomy. In: Spaeth GL, Abad JC, Augsburger JJ et al (eds) Ophthalmic surgery: principle & practice, 3rd edn. WB Saunders, Philadelphia, pp 323–335

17.

Edmunds B, Thompson JR, Salmon JF, Wormald RP (2001) The national survey of trabeculectomy. II. Variations in operative technique and outcome. Eye 15:441–448

18.

Prata Junior JA, Minckler DS, Baerveldt G, Lee PP, LaBree L, Heuer DK (1995) Trabeculectomy in pseudophakic patients: post-operative 5-fluorouracil versus intraoperative mitomycin C anti-proliferative therapy. Ophthalmic Surg 26:73–77

19.

Scott IU, Greenfield DS, Schiffman J, Nicolela MT, Rueda JC, Tsai JC, Palmberg PF (1998) Outcomes of primary trabeculectomy with the use of f adjunctive mitomycin. Arch Ophthalmol 116:286–291

20.

Kim YY, Sexton RM et al (1998) Outcomes of primary phakic trabeculectomies without versus with 0.5- to 1-minute versus 3- to 5-minute mitomycin C. Am J Ophthalmol 126:755–762
Electronic supplementary material
Below is the link to the electronic supplementary material.
Supplementary material 1 (MPG 39172 kb)
About this article
Cite this article
Eslami, Y., Mohammadi, M., Khodaparast, M. et al. Sutureless tunnel trabeculectomy without peripheral iridectomy: a new modification of the conventional trabeculectomy. Int Ophthalmol 32, 449–454 (2012). https://doi.org/10.1007/s10792-012-9607-4
Received:

Accepted:

Published:

Issue Date:
Keywords
Sutureless tunnel trabeculectomy

Peripheral iridectomy

Open-angle glaucoma