Abstract
Large-sized laser components with diameters over 100 mm are widely used in high-power/high-energy laser systems. In these laser systems, one of the key factors leading to laser damage is the strongly absorptive defects (usually with microscale sizes) on the surface/sub-surface of laser components. In previous studies, these absorptive defects were detected by thermal lensing (TL) technique with modulated focused pump beam and raster-scanning. This raster-scanning TL method is time-consuming and impractical for fast defect detection in full diameter of large-sized laser components. In this paper, a CCD-based pulse-pump pulse-probe TL technique, in which a high-energy pulse at the pump wavelength with a large diameter is used for excitation and a relatively low-energy pulse at a short wavelength is used for probe, is proposed for fast localization of absorptive defects in full diameter of large-sized laser components. A theoretical model is developed and employed to optimize the experimental parameters. The feasibility of this proposed TL technique for defect detection is quantitatively analyzed by theoretical simulations.
This is a preview of subscription content, log in to check access.
Access options
Buy single article
Instant access to the full article PDF.
US$ 39.95
Price includes VAT for USA
Subscribe to journal
Immediate online access to all issues from 2019. Subscription will auto renew annually.
US$ 199
This is the net price. Taxes to be calculated in checkout.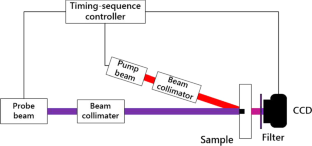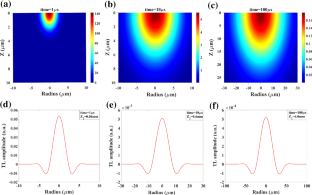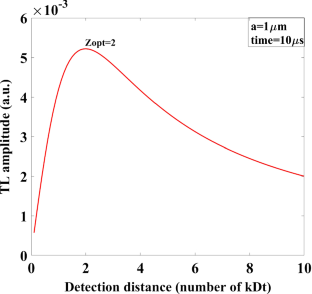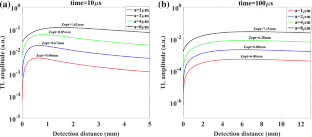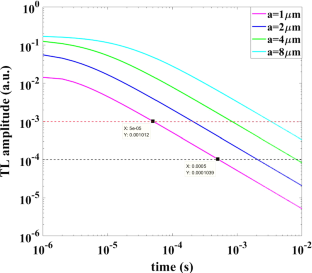 References
1.

H.J. Liu, J. Huang, F.R. Wang, X.D. Zhou, X. Ye, X.Y. Zhou, L.X. Sun, X.D. Jiang, Z. Sui, W.G. Zheng, Opt. Express 21, 12204 (2013)

2.

W.B. Jackson, N.M. Amer, A.C. Boccara, D. Fournier, Appl. Opt. 20, 1333 (1981)

3.

P.K. Kuo, M. Munidasa, Appl. Opt. 29, 5326 (1990)

4.

B.C. Li, S. Martin, E. Welsch, Opt. Lett. 24, 1398 (1999)

5.

B.C. Li, E. Welsch, Appl. Opt. 38, 5241 (1999)

6.

J.F. Power, Appl. Opt. 29, 52 (1990)

7.

J. Shen, R.D. Lowe, R.D. Snook, Chem. Phys. 165, 385 (1992)

8.

S.E. Bialkowski, N.G.C. Astrath, M.A. Proskurnin, Photothermal Spectroscopy Methods, 2nd edn. (John Wiley & Sons, New York, 2019)

9.

M.J. Weber, Handbook of Optical Materials (CRC, Boca Raton, 2003)

10.

X. Zhang, B. Li, Rev. Sci. Instrum. 86, 024902 (2015)

11.

R. Brennetot, J. Georges, Spectrochim. Acta A 54, 111 (1998)

12.

X.X. Chen, B.C. Li, Y.P. Yang, Acta. Phys. Sin. 55, 4673 (2006)
Acknowledgement
The authors are grateful to the National Natural Science Foundation of China (Grant No. U1830132).
Additional information
Publisher's Note
Springer Nature remains neutral with regard to jurisdictional claims in published maps and institutional affiliations.
About this article
Cite this article
Li, L., Li, B. & Sun, Q. CCD-Based Thermal Lensing for Fast Localization of Microscale Absorptive Defects on Large-Sized Laser Components. Int J Thermophys 41, 29 (2020). https://doi.org/10.1007/s10765-020-2605-2
Received:

Accepted:

Published:
Keywords
Absorptive defects

CCD

Fast localization

Large-sized laser components

Thermal lensing