Abstract
Dilated cardiomyopathy (DCM) represents one of the primary cardiomyopathies and may lead to heart failure and sudden death. Until recently, ventricular arrhythmias were considered to be a direct consequence of the systolic dysfunction of the left ventricle (LV) and guidelines for implantable cardioverter defibrillator implantation were established on this basis. However, the identification of heritable dilated cardiomyopathy phenotypes that presented with mildly impaired or moderate LV dysfunction, with or without chamber dilatation, and ventricular arrhythmias exceeding the degree of the underlying morphological abnormalities lead to the identification of the arrhythmogenic phenotypes and genotypes of DCM. This subset of DCM patients presents phenotypic and in many cases genotypic overlaps with left dominant arrhythmogenic cardiomyopathy (LDAC). LMNA, SCN5A, FLNC, TTN, and RBM20 are the main genes responsible for arrhythmogenic DCM. Moreover, desmosomal genes such as DSP and other non-desmosomal such as DES and PLN have been associated with both LDAC and arrhythmogenic DCM. The aim of this review is to highlight the importance of genetic profiling among DCM patients with disproportionate arrhythmic burden and the significance of the electrocardiogram, cardiac magnetic resonance, Holter monitoring, detailed family history, and other assays in order to identify red flags for arrhythmogenic DCM and proceed to an early preventive approach for sudden cardiac death. A special consideration was given to the phenotypic and genotypic overlap with LDAC. The role of myocarditis as a common disease expression of LDAC and arrhythmogenic DCM is also analyzed supporting the premise of their phenotypic overlap.
This is a preview of subscription content, log in to check access.
Access options
Buy single article
Instant access to the full article PDF.
US$ 39.95
Price includes VAT for USA
Subscribe to journal
Immediate online access to all issues from 2019. Subscription will auto renew annually.
US$ 99
This is the net price. Taxes to be calculated in checkout.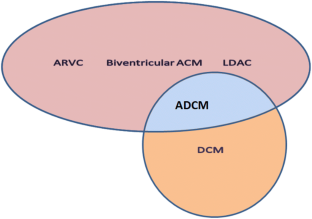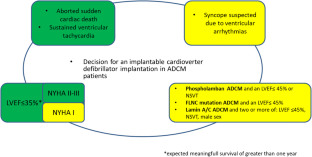 Ethics declarations
Conflict of interest
The authors declare that they have no conflict of interest.
Additional information
Publisher's note
Springer Nature remains neutral with regard to jurisdictional claims in published maps and institutional affiliations.
About this article
Cite this article
Zegkos, T., Panagiotidis, T., Parcharidou, D. et al. Emerging concepts in arrhythmogenic dilated cardiomyopathy. Heart Fail Rev (2020). https://doi.org/10.1007/s10741-020-09933-z
Keywords
Dilated cardiomyopathy

Arrhythmias

Arrhythmogenic cardiomyopathy

Left dominant

Genetic profile

Arrhythmic risk