Abstract
Stripe rust (yellow rust), caused by Puccinia striiformis f. sp. tritici (Pst), is considered as a major threat to the wheat production worldwide, including Pakistan. In the current study, 80 wheat landraces collected from different agroecological zones of Pakistan were screened for their stripe rust resistance. Molecular markers were used to identify/postulate the stripe rust genes in these landraces. The results indicated that 46 (57.5%) landraces had all-stage resistance, and only 4 (5%) landraces showed adult-plant resistance. The possible stripe rust resistance genes in these entries were postulated by the using already reported linked molecular markers of all-stage resistance and adult plant stage resistance genes (Yr4 Yr5, Yr10, Yr15 and Yr24/26 and adult-plant resistance genes Yr18, Yr29 and Yr32). Molecular analysis indicated that resistant genes Yr4, Yr5, Yr10, Yr15, Yr17, Yr18, Yr26/24, Yr29 and Yr32 were found in 16(20%), 12(15%), 4(5%), 15(18.75%), 16(20%), 13(16.25%), 39(48.75%), 20(25%) and 7(7.5%) of landraces, respectively. Majority of the landraces showed the presence of more than one gene. These lines could be used effectively in the wheat breeding programs.
This is a preview of subscription content, log in to check access.
Access options
Buy single article
Instant access to the full article PDF.
US$ 39.95
Price includes VAT for USA
Subscribe to journal
Immediate online access to all issues from 2019. Subscription will auto renew annually.
US$ 199
This is the net price. Taxes to be calculated in checkout.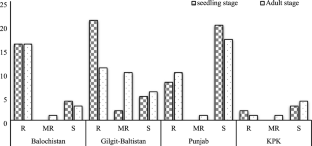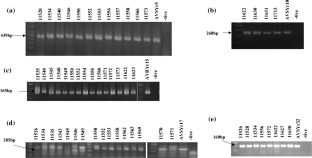 References
Afzal SN, Haque M, Ahmedani MS, Munir M, Firdous SS, Rattu AR, Ahmad I, Firdous SS (2008) Impact of stripe rust on kernal of wheat sown in rainfed areas of Pakistan. Pak J Bot 40(2):923–929

Afzal SN, Haque MI, Rauf A, Ahmad M, Ahmad I and Firdous SS (2010) Vulnerability of Pakistani wheat (Triticum aestivum L.) varieties against stripe rust under rain-fed climate of the northern Punjab and NWFP. Pak J Bot 42(3):2029–2042

Bansal UK, Hayden MJ, Gill MB, Bariana HS (2010) Chromosomal location of an uncharacterized stripe rust resistance gene in wheat. Euphytica 171:121–127

Bariana HS, Miah H, Brown GN, Willey N, Lehmensiek A (2007) Molecular mapping of durable rust resistance in wheat and its implication in breeding. In: Proc 7th international wheat conf, Mar del Plata, Argentina, 29 November-2 December, 2005, pp 723–728

Bux H, Ashraf M, Chen X, Mumtaz AS (2011) Effective genes for resistance to stripe rust and virulence of Puccinia striiformis f. sp. tritici in Pakistan. Afr J Biotechnol 10(28):5489–5495

Chen X (2005) Epidemiology and control of stripe rust on wheat. Can J Plant Pathol 27:314–337

Chen XM (2013) High-temperature adult-plant resistance, key for sustainable control of stripe rust. Am J Plant Sci 4:608–627

Chen X (2017) Stripe rust epidemiology. In: Chen X, Kang Z (eds) Stripe rust. Springer, Dordrecht

Chen XM, Moore M, Milus EA, Long DL, Line RF et al (2002) Wheat stripe rust epidemics and races of Puccinia striiformis f. sp. tritici in the United States in 2000. Plant Dis 86:39–46

Chen XM, Coram T, Huang X, Wang M, Dolezal A (2013) Understanding molecular mechanisms of durable and non-durable resistance to stripe rust in wheat using a transcriptomics approach. Curr Genom 14(2):111–126

Devos KM, Gale MD (1992) The use of random amplified polymorphic DNA markers in wheat. Theor Appl Genet 84:567–572

Eriksen L, Afshari F, Christiansen MJ, Afshari F, McIntosh RA, Jahoor A, Wellings CR (2004) Yr32 for resistance to stripe (yellow) rust present in the wheat cultivar Carstens V. Theor Appl Genet 108(3):567–575. https://doi.org/10.1007/s00122-003-1456-0

Fu YB, Somers DJ (2009) Genome-wide reduction of genetic diversity in wheat breeding. Crop Sci 49:161–168

Hovmøller MS, Yahyaoui AH, Milus EA, Justesen AF (2008) Rapid spread of two aggressive strains of a wheat rust fungus. Mol Ecol 17:3818–3826

Hubbard A, Lewis CM, Yoshida K, Ramirez-Gonzalez RH, de Vallavieille-Pope C et al (2015) Field pathogenomics reveals the emergence of a diverse wheat yellow rust population. Genome Biol 16:23

Hulbert SH, Pumphrey MO (2014) A time for more booms and fewer busts? Unraveling cereal–rust interactions. Mol Plant Microbe Interact 27:207–214

Jia JQ, Li GR, Liu C, Lei MP, Yang ZJ (2011) Characterization of wheat yellow rust resistance gene Yr17 using EST-SSR and rice syntenic region. Cereal Res Commun 39:88–99

Jin Y, Szabo LJ, Carson M (2010) Century-old mystery of Puccinia striiformis life history solved with the identification of Berberis as an alternate host. Phytopathology 100:432–435

Krattinger SG, Lagudah ES, Spielmeyer W, Singh RP, HuertaEspino J, McFadden H, Bossolini E, Selter LL, Keller B (2009) A putative ABC transporter confers durable resistance to multiple fungal pathogens in wheat. Science 323:1360–1363

Li Q, Wang B, Chao K, Guo J, Song J, Yue W, Li Q (2016) Molecular detection of stripe rust resistance gene(s) in 115 wheat cultivars (lines) from the Yellow and Huai River valley wheat region. Phytopathology 164(11–12):946–958

Line RF, Qayoum A (1992) Virulence, aggressiveness, evolution, and distribution of races of Puccinia striiformis (the cause of stripe rust of wheat) in North America, 1968–87. Technical Bulletin Number 1788. United States Department of Agriculture, Agricultural Research Service

McIntosh RA (1992) Close genetic linkage of genes conferring adult plant resistance to leaf rust and stripe rust in wheat. Plant Pathol 41:523–527

McIntosh RA, Lagudah ES (2000) Cytogenetical studies in wheat. XVIII. Gene Yr24 for resistance to stripe rust. Plant Breed 119(1):81–93

McIntosh RA, Yamazaki Y, Dubcovsky J, Rogers WJ, Morris CF et al (2013) Catalogue of gene symbols for wheat in 12th international wheat genetics symposium, September, 2013, Yokohama, Japan

Miedaner T, Korzun V (2012) Marker-assisted selection for disease resistance in wheat and barley breeding. Phytopathology 102:560–566

Peterson RF, Campbell AB, Hannah AE (1948) A diagrammatic scale for estimating rust intensity on leaves and stems of cereals. Can J Res 26:496–500

Qamar M, Gardezi DA, Muhammad Iqbal M (2012) Determination of rust resistance gene complex Lr34/Yr18 in spring wheat and its effect on components of partial resistance. J Phytopathol 160:628–636

Rizwan S, Ahmad I, Mujeeb-Kazi A, Mustafa SG, Iqbal MJ, Rattu AR, Ashraf M (2010) Virulence variation of Puccinia striiformis Westend. f. sp. tritici in Pakistan. Arch Phytopathol PFL 43:875–882

Rogers SO, Bendich AJ (1985) Extraction of DNA from milligram amounts of fresh, herbarium and mummified plant tissues. Plant Mol Biol 5:69–76

Sharma S, Ghimire SK, Niroula RK, Ojha BR, Thapa DB (2015) Marker assisted screening of nepalese wheat genotypes and advanced lines for resistance to different races of wheat rust species. Agric Biol Am 6:108–117

Sharma-Poudyal D, Chen X, Rupp RA (2014) Potential over summering and overwintering regions for the wheat stripe rust pathogen in the contiguous United States. Int J Biometeorol 58:987–997

Simons K, Abate Z, Chao S, Zhang W, Rouse M, Jin Y, Elias E, Dubcovsky J (2011) Genetic mapping of stem rust resistance gene Sr13 in tetraploid wheat (Triticum turgidum ssp. durum L.). Theor Appl Genet 122:649–658

Singh S, Sidhu JS, Huang N, Vikal Y, Li Z, Brar DS, Dhaliwal HS, Khush GS (2001) Pyramiding three bacterial blight resistance genes (xa5, xa13 and Xa21) using marker-assisted selection into indica rice cultivar PR106. Theor Appl Genet 102:1011–1015

Singh RP, William HM, Huerta-Espino J, Rosewarne G (2004) Wheat rust in Asia: meeting the challenges with old and new technologies. In: New directions for a diverse planet. Proceedings of the 4th international crop science congress, Brisbane, Australia

Singh RP, Huerta-Espino J, Bhavani S, Herrera-Foessel SA, Singh D et al (2011) Race non-specific resistance to rust diseases in CIMMYT spring wheats. Euphytica 179:175–186

Singh RP, Herrera-Foessel S, Huerta-Espino J, Singh S, Bhavani S et al (2014) Progress towards genetics and breeding for minor genes based resistance to Ug99 and other rusts in CIMMYT high-yielding spring wheat. J Integr Agric 13:255–261

Tester M, Langridge P (2010) Breeding technologies to increase crop production in a changing world. Science 327:818–822

Tian Y, Zhan G, Chen X, Tungruentragoon A, Lu X, Zhao J, Huang L, Kang Z (2016) Virulence and simple sequence repeat marker segregation in a Puccinia striiformis f. sp. tritici population produced by selfing a Chinese isolate on Berberis shensiana. Phytopathology 106:185–191

Wang L, Ma J, Zhou R, Wang X, Jia J (2002) Molecular tagging of the yellow rust resistance gene Yr10 in common wheat, P.I.178383 (Triticum aestivum L.). Euphytica 124:71–73

Wang L, Zhang Z, Liu H, Xu S, He M, Liu H, Veisz O, Xin Z (2009) Identification, gene postulation and molecular tagging of a stripe rust resistance gene in synthetic wheat CI142. Cereal Res Commun 37(2):209–215

Wellings CR (2011) Global status of stripe rust: a review of historical and current threats. Euphytica 179:129–141

Xiang C, Feng J, Wang M, Chen X, See DR, Wan A, Wang T (2016) Molecular mapping of stripe rust resistance gene Yr76 in winter club wheat cultivar Tyee. Phytopathology 106:1186–1193

Yang M, Li G, Wan H, Li L, Li J, Yang W, Pu Z, Yang Z, Yang E (2019) Identification of QTLs for stripe rust resistance in a recombinant inbred line population. Int J Mol Sci 20(14):3410. https://doi.org/10.3390/ijms20143410

Zakari A, McIntosh RA, Hovmoller MS, Wellings CR, Shariflou MR, Hayden M, Bariana HS (2003) Recombination of Yr15 and Yr24 in chromosome 1BS. In: Pogna NE, Romano N, Pogna EA, Galterio G (eds) Proceeding on 10th international wheat genet symposium, vol 1. Instituto Sperimentale per la Cerealcoltura, Rome: 2003, pp 417–420

Zhang P, McIntosh RA, Hoxha S, Dong C (2009) Wheat stripe rust resistance genes Yr5 and Yr7 are allelic. Theor Appl Genet 120:2
Acknowledgements
This research work was supported by COMSATS Research Grant Program (CRGP, Project #604). Dr. Aisha Khan, Assistant Professor, Department of Humanities, COMSATS University Islamabad.
Ethics declarations
Conflict of interest
The authors declare no conflict of interest.
Additional information
Publisher's Note
Springer Nature remains neutral with regard to jurisdictional claims in published maps and institutional affiliations.
About this article
Cite this article
Tahir, S., Zia, I., Dilshad, I. et al. Identification of stripe rust resistant genes and their validation in seedling and adult plant glass house tests. Genet Resour Crop Evol (2020). https://doi.org/10.1007/s10722-020-00898-4
Received:

Accepted:

Published:
Keywords
Stripe rust

Resistant genes

Seedling stage resistance

Adult plant stage resistance