The possibility of obtaining samples of lead-free piezoceramic by vibromolding under pressing pressure < 0.3 MPa is studied. The experiments were performed on the material K0.49Na0.49Sr0.02NbO3 synthesized by the standard ceramic technology of solid-phase synthesis. The samples of the piezoceramic fabricated by vibromolding are similar in terms of their properties to those obtained by static pressing under pressure 100 – 150 MPa. The advantages of the vibrocompaction process are: lower expenditures on tooling and equipment, smaller elastic deformation, and higher product density.
This is a preview of subscription content, log in to check access.
Access options
Buy single article
Instant unlimited access to the full article PDF.
US$ 39.95
Price includes VAT for USA
Subscribe to journal
Immediate online access to all issues from 2019. Subscription will auto renew annually.
US$ 199
This is the net price. Taxes to be calculated in checkout.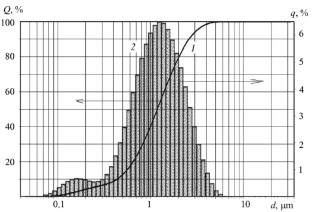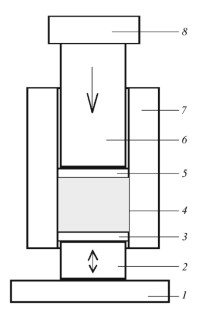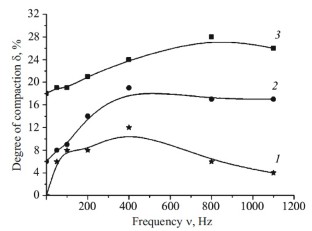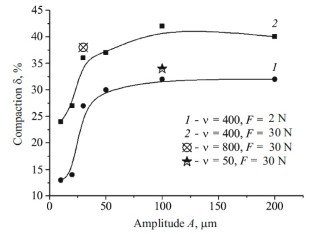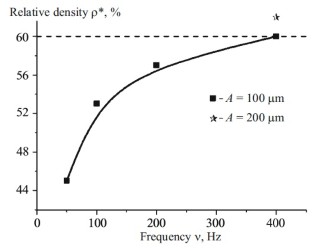 References
1.

B. Jaffe, Piezoelectric Ceramics, Elsevier (2012), Vol. 3.

2.

G. H. Haertling, "Ferroelectric ceramics: history and technology," J. Am. Ceram. Soc., 82(4), 797 – 818 (1999).

3.

P. K. Panda and B. Sahoo, "PZT to lead free piezo ceramics: a review," Ferroelectrics, 474(1), 128 – 143 (2015).

4.

J. Rödel, K. G. Webber, R. Dittmer, et al., "Transferring lead-free piezoelectric ceramics into application," J. Eur. Ceram. Soc., 35(6), 1659 – 1681 (2015).

5.

P. I. D. Label and P. Label, oHS Compliance Engineer R. Directive 2002/95/EC of the European Parliament and of the Council of 27 January 2003 on the Restriction of the Use of Certain Hazardous Substances in Electrical and Electronic Equipment (2005).

6.

J. Wu, D. Xiao, and J. Zhu, "Potassium-sodium niobate lead-free piezoelectric materials: past, present, and future of phase boundaries," Chem. Rev., 115(7), 2559 – 2595 (2015).

7.

X. Wang, J. Wu, D. Xiao, et al., "Giant piezoelectricity in potassium-sodium niobate lead-free ceramics," J. Am. Ceram. Soc., 136(7), 2905 – 2910 (2014).

8.

L. Liu, "Progress on the fabrication of lead-free textured piezoelectric ceramics: perspectives over 25 years," J. Mater. Sci.: Materials in Electronics, 26(7), 4425 – 4437 (2015).

9.

K. Okadzaki, Technology of Ceramic Dielectrics [Russian translation], Énergiya, Moscow (1976).

10.

I. G. Shatalova, N. S. Gorbunov, and V. I. Likhtman, Physicochemical Principles of Vibratory Compaction of Powdered Materials [in Russian], Nauka, Moscow (1965).

11.

I. I. Blekhman, Vibrational Mechanics [in Russian], Nauka, Moscow (1994).

12.

A. V. Smirnov, M. M. Marttyanov, A. U. Omarov, and A. D. Shlyapin, "Study of the effect of vibrocompaction modes, shape of particles and their size distribution on packing density," in: IOP Conf. Ser.: Mater. Sci. Eng., 479(1), 012087 (2019).

13.

X. Z. An, Li Ch, R. Yang, et al., "Experimental study of the packing of mono-sized spheres subjected to one-dimensional vibration," Powder Technology, 196(1), 50 – 55 (2009).

14.

B. Malic, J. Bernard, J. Holc, et al., "Strontium doped K0.5Na0.5NbO3 based piezoceramics," Ferroelectrics, 314(1), 149 – 156 (2005).

15.

J. Hreščak, G. Dražić, M. Deluca, et al., "Donor doping of K0.5Na0.5NbO3 ceramics with strontium and its implications to grain size, phase composition and crystal structure," J. Eur. Ceram. Soc., 37(5), 2073 – 2082 (2017).
This work received financial support from the Ministry of Education and Science of the Russian Federation as part of the state task No. 0699-2017-0007 (No. 11.3560.2017/PCh), dated May 31, 2017, using equipment from the Collective Use Center 'Science-intensive technologies in machine engineering at Moscow Polytech.'
Additional information
Translated from Steklo i Keramika, No. 9, pp. 31 – 36, September, 2019.
About this article
Cite this article
Ponomarev, S.G., Smirnov, A.V., Reznichenko, A.V. et al. Vibrocompaction of Lead-Free Piezoceramic Material Based on Solid Solutions of Potassium and Sodium Niobates. Glass Ceram 76, 346–350 (2020). https://doi.org/10.1007/s10717-020-00197-5
Keywords
lead-free piezoceramic

solid solutions of potassium and sodium niobates

vibromolding

static compaction