Abstract
Sowing time and cultivar choice have major effects on chickpea yield in the Mediterranean climate, but the effects on nutrient requirements are not well known. Information regarding nutrient requirements and utilization efficiency by crop species is necessary to optimize nutrient management in agricultural systems. Α two-year field study was conducted to examine the patterns of P and K uptake, translocation, utilization and removal across a wide-range of chickpea yield levels induced by sowing time (March and April) and cultivar [Zehavit-27 (Kabuli-type), Andros, Kassos, and Serifos (desi-type)], as well as to identify plant traits associated with efficient nutrient utilization. At all samplings throughout the growing period, P uptake was significantly correlated with that of K uptake with r values between 0.633 (P < 0.05) and 0.983 (P < 0.01). Both P and K uptake peaked, in terms of uptake rate and net uptake, earlier during the April sowing (early pod filling stage) compared with March sowing (late pod filling stage). Early sowing increased chickpea productivity and total nutrient uptake, but did not offer any advantage in terms of nutrient utilization efficiency. Phosphorus or K translocation to seeds were significantly correlated with P (r = 0.838, P < 0.01) or K (r = 0.861, P < 0.01) accumulation prior to the beginning of seed filling, respectively. PUtE varied from 161 to 422 kg kg−1 and was greater than KUtE (32–101 kg kg−1). Low (leaf + stem)-P or K concentration at maturity could be considered as an indirect selection tool to enhance nutrient utilization efficiency. Seed P or K removal depended on yield level of each cultivar. For a yield level of 2000 kg ha−1, 8.2 kg P ha−1 and 18.9 kg K ha−1 were removed by seed harvest.
This is a preview of subscription content, log in to check access.
Access options
Buy single article
Instant unlimited access to the full article PDF.
US$ 39.95
Price includes VAT for USA
Subscribe to journal
Immediate online access to all issues from 2019. Subscription will auto renew annually.
US$ 199
This is the net price. Taxes to be calculated in checkout.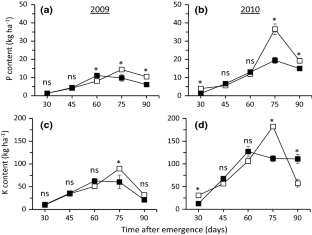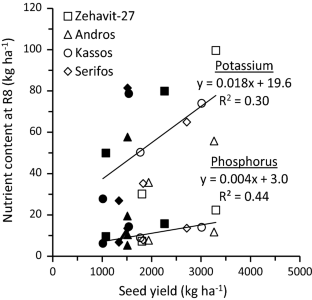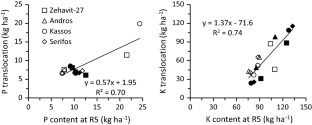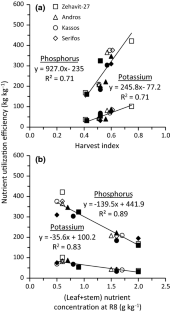 References
Ahlawat IPS, Gangaiah B, Zahid MA (2007) Nutrient management in chickpea. In: Yadav SS, Redden R, Chen W, Sharma B (eds) Chickpea breeding and management. CAB International, Wallingford, pp 213–232

Antoniadis V, Hatzis F, Bachtsevanidis D, Koutroubas SD (2015a) Phosphorus availability in low-P and acidic soils as affected by liming and P addition. Commun Soil Sci Plant Anal 46:1288–1298

Antoniadis V, Koutroubas SD, Fotiadis S (2015b) Nitrogen, phosphorus, and potassium availability in manure- and sewage sludge-applied soil. Commun Soil Sci Plant Anal 46:393–404

Baligar VC, Fageria NK, He ZL (2001) Nutrient use efficiency in plants. Commun Soil Sci Plant Anal 32:921–950

Clarke JM, Campbell CA, Cutforth HW, DePauw RM, Winkleman GE (1990) Nitrogen and phosphorus uptake, translocation, and utilization efficiency of wheat in relation to environment and cultivar yield and protein levels. Can J Plant Sci 70:965–977

Fageria NK, Baligar VC, Clark R (2006) Physiology of crop production. CRC Press, New York

Fageria NK, Moraes OP, Vasconcelos MJ (2013) Upland rice genotypes evaluation for phosphorus use efficiency. J Plant Nutr 36:1868–1880

Fotiadis S, Koutroubas SD, Damalas CA (2017) Sowing date and cultivar effects on assimilate translocation in spring Mediterranean chickpea. Agron J 109:2011–2024

Fotiadis S, Koutroubas SD, Damalas CA (2019) Nitrogen utilization and yield determination of spring Mediterranean chickpea as influenced by planting date and environmental conditions. Int J Plant Prod 13:59–72

Gaspar AP, Laboski CA, Naeve SL, Conley SP (2017) Phosphorus and potassium uptake, partitioning, and removal across a wide range of soybean seed yield levels. Crop Sci 57:2193–2204

Giuliani MM, Giuzio L, De Caro A, Flagella Z (2011) Relationships between nitrogen utilization and grain technological quality in durum wheat: I. Nitrogen translocation and nitrogen use efficiency for protein. Agron J 103:1487–1494

Gómez KA, Gómez AA (1984) Statistical procedures for agricultural research. Wiley, New York

Graham RD (1984) Breeding characteristics in cereals. In: Tinker PB, Lauchli A (eds) Advances in plant nutrition, vol I. Praeger, New York, pp 57–90

Guoping Z, Jingxing C, Tirore EA (1999) Genotypic variation for potassium uptake and utilization efficiency in wheat. Nutr Cycl Agroecosyst 54:41–48

Hocking PJ, Pate JS (1977) Mobilization of minerals to developing seeds of legumes. Ann Bot (Lond) 41:1259–1278

Kamiji Y, Pang J, Milroy SP, Palta JA (2014) Shoot biomass in wheat is the driver for nitrogen uptake under low nitrogen supply, but not under high nitrogen supply. Field Crops Res 165:92–98

Kekulandara DS, Sirisena DN, Bandaranayake PCG, Samarasinghe G, Wissuwa M, Suriyagoda LDB (2019) Variation in grain yield, and nitrogen, phosphorus and potassium nutrition of irrigated rice cultivars grown at fertile and low-fertile soils. Plant Soil 434:107–123

Koutroubas SD, Papakosta DK (2010) Seed filling patterns of safflower: genotypic and seasonal variations and association with other agronomic traits. Ind Crops Prod 31:71–76

Koutroubas SD, Papageorgiou M, Fotiadis S (2009) Growth and nitrogen dynamics of spring chickpea genotypes in a Mediterranean-type climate. J Agric Sci 147:445–458

Koutroubas SD, Fotiadis S, Damalas CA (2012) Biomass and nitrogen accumulation and translocation in spelt (Triticum spelta) grown in a Mediterranean area. Field Crops Res 127:1–8

Koutroubas SD, Fotiadis S, Damalas CA, Papageorgiou M (2014) Grain-filling patterns and nitrogen utilization efficiency of spelt (Triticum spelta) under Mediterranean conditions. J Agric Sci 152:716–730

Koutroubas SD, Fotiadis S, Damalas CA (2016) Grain yield and nitrogen dynamics of Mediterranean barley and triticale. Arch Agron Soil Sci 62:484–501

Kurdali F (1996) Nitrogen and phosphorus assimilation, mobilization and partitioning in rainfed chickpea (Cicer arietinum L.). Field Crops Res 47:81–92

Li M, Zhang H, Yang X, Ge M, Ma Q, Wei H et al (2014) Accumulation and utilization of nitrogen, phosphorus and potassium of irrigated rice cultivars with high productivities and high N use efficiencies. Field Crops Res 161:55–63

López-Bellido FJ, López-Bellido RJ, Khalil SK, López-Bellido L (2008) Effect of sowing date on winter Kabuli chickpea growth and yield under rainfed Mediterranean conditions. Agron J 100:957–964

Marschener H (1998) Role of root growth, arbuscular mycorrhiza, and root exudates for the efficiency in nutrient acquisition. Field Crops Res 56:203–207

Marschner H (1995) Mineral nutrition of higher plants, 2nd edn. Academic Press, London

Marshall C, Wardlaw IF (1973) A comparative study of the distribution and speed of movement of 14C assimilates and foliar-applied 32P-labelled phosphate in wheat. Austr J Biol Sci 26:1–14

Moinuddin, Imas P (2014) Potassium uptake in relation to drought tolerance of chickpea under rain-fed conditions. J Plant Nutr 37:1120–1138

Moll RH, Kamprath EJ, Jackson WA (1982) Analysis and interpretation of factors which contribute to efficiency of nitrogen utilization. Agron J 74:562–564

Muurinen S, Kleemola J, Peltonen-Sainio P (2007) Accumulation and translocation of nitrogen in spring cereal cultivars differing in nitrogen use efficiency. Agron J 99:441–449

Nascente AS, Carvalho MDCS, Rosa PH (2016) Growth, nutrient accumulation in leaves and grain yield of super early genotypes of common bean. Pesq Agrop Trop 46:292–300

Ning P, Li S, Yu P, Zhang Y, Li C (2013) Post-silking accumulation and partitioning of dry matter, nitrogen, phosphorus and potassium in maize varieties differing in leaf longevity. Field Crops Res 144:19–27

Norton GJ, Deacon CM, Xiong L, Huang S, Meharg AA, Price AH (2010) Genetic mapping of the rice ionome in leaves and grain: identification of QTLs for 17 elements including arsenic, cadmium, iron and selenium. Plant Soil 329:139–153

Ntanos DA, Koutroubas SD (2002) Dry matter and N accumulation and translocation for Indica and Japonica rice under Mediterranean conditions. Field Crops Res 74:93–101

Ortiz-Monasterio JI, Sayre KD, Rajaram S, McMahon M (1997) Genetic progress in wheat yield and nitrogen use efficiency under four nitrogen rates. Crop Sci 37:898–904

Pang J, Zhao H, Bansal R, Bohuon E, Lambers H, Ryan MH, Siddique KH (2018) Leaf transpiration plays a role in phosphorus acquisition among a large set of chickpea genotypes. Plant Cell Environ 41:2069–2079

Papakosta DK (1994) Phosphorus accumulation and translocation in wheat as affected by cultivar and nitrogen fertilization. J Agron Crop Sci 173:260–270

Papakosta DK, Gagianas AA (1991) Nitrogen and dry matter accumulation, remobilization, and losses for Mediterranean wheat during grain filling. Agron J 83:864–870

Rengel Z, Damon PM (2008) Crops and genotypes differ in efficiency of potassium uptake and use. Physiol Plant 133:624–636

Rose TJ, Wissuwa M (2012) Rethinking internal phosphorus utilization efficiency: a new approach is needed to improve PUE in grain crops. Adv Agron 116:185–217

Rose TJ, Pariasca-Tanaka J, Rose MT, Fukuta Y, Wissuwa M (2010) Genotypic variation in grain phosphorus concentration, and opportunities to improve P-use efficiency in rice. Field Crops Res 119:154–160

Singh KB, Malhotra RS, Saxena MC, Bejiga G (1997) Superiority of winter sowing over traditional spring sowing of chickpea in the Mediterranean region. Agron J 89:112–118

Soltani A, Hammer GL, Torabi B, Robertson MJ, Zeinali E (2006) Modeling chickpea growth and development: phenological development. Field Crops Res 99:1–13

Srinivasarao C, Ganeshamurthy AN, Ali M, Venkateswarlu B (2006) Phosphorus and micronutrient nutrition of chickpea genotypes in a multi-nutrient-deficient typic ustochrept. J Plant Nutr 29:747–763

Veneklaas EJ, Lambers H, Bragg J, Finnegan PM, Lovelock CE, Plaxton WC et al (2012) Opportunities for improving phosphorus-use efficiency in crop plants. New Phytol 195:306–320

Wang K, Cui K, Liu G, Luo X, Huang J, Nie L et al (2017) Low straw phosphorus concentration is beneficial for high phosphorus use efficiency for grain production in rice recombinant inbred lines. Field Crops Res 203:65–73

Yang F, Wang G, Zhang Z, Eneji AE, Duan L, Li Z, Tian X (2010) Genotypic variations in potassium uptake and utilization in cotton. J Plant Nutr 34:83–97
Additional information
Publisher's Note
Springer Nature remains neutral with regard to jurisdictional claims in published maps and institutional affiliations.
About this article
Cite this article
Fotiadis, S., Koutroubas, S.D. & Damalas, C.A. Phosphorus and potassium uptake, translocation, and utilization efficiency in chickpea under Mediterranean conditions. Nutr Cycl Agroecosyst (2020) doi:10.1007/s10705-020-10047-z
Received:

Accepted:

Published:
Keywords
Cicer arietinum L.

Nutrient accumulation

Nutrient removal

Sowing date