Abstract
Perennial cover crops, also known as living mulches, have the capacity to improve soil quality, yet their effects on nitrogen (N) cycling and provisioning in organic systems are not well understood. We evaluated soil N contributions of kura clover (Trifolium ambiguum) between and within crop rows for four zone tillage approaches of varying intensity for corn (Zea mays). In 2015 and 2016, an established kura clover field was subjected to tillage treatments including no-till, traditional shank till, also known as strip-till (ST), novel, PTO-driven rotary zone till (ZT), and a combination of ST and ZT (DT; double till) in Rosemount, MN, followed by corn. An earlier planting date in 2015 (May 5, 2015 vs. May 18, 2016) contributed to a substantially lower rate of kura clover biomass at corn planting in 2015 (518 kg ha−1) compared to 2016 (3035 kg ha−1). The substantial difference in kura clover biomass contributions at tillage and planting between years appeared to govern N cycling indicators. For instance, soil inorganic N differed by tillage treatments only in 2016. After tillage, within row soil inorganic N was 68% and 106% greater than between rows for ST and DT treatments, respectively. At harvest, DT within row soil inorganic N was approximately double that of ST. We conclude that the N benefit from a legume living mulch depends on both the intensity of tillage and the amount of biomass present, and thus there may be advantages to delayed planting, particularly when used for organic production.
This is a preview of subscription content, log in to check access.
Access options
Buy single article
Instant unlimited access to the full article PDF.
US$ 39.95
Price includes VAT for USA
Subscribe to journal
Immediate online access to all issues from 2019. Subscription will auto renew annually.
US$ 199
This is the net price. Taxes to be calculated in checkout.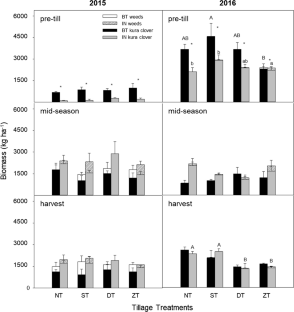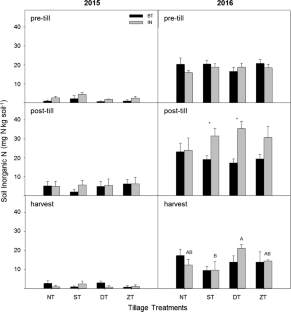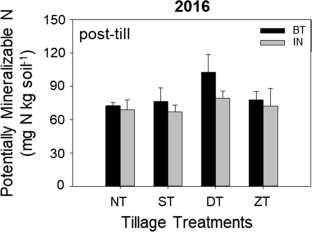 Data availability
The datasets generated during and/or analyzed during the current study are available from the corresponding author on reasonable request.
References
Affeldt RP, Albrecht KA, Boerboom CM, Bures EJ (2004) Integrating herbicide-resistant corn technology in a kura clover living mulch system. Agron J 96:247–251. https://doi.org/10.2134/agronj2004.2470

Alexander J, Venterea R, Baker J, Coulter J (2019) Kura clover living mulch: spring management effects on nitrogen. Agronomy 9:69. https://doi.org/10.3390/agronomy9020069

Brainard DC, Peachey RE, Haramoto ER, Luna JM, Rangarajan A (2013) Weed ecology and nonchemical management under strip-tillage: implications for Northern U.S. Vegetable cropping systems. Weed Technol 27:218–230. https://doi.org/10.1614/WT-D-12-00068.1

Brandsæter LO, Netland J, Meadow R (1998) Yields, weeds, pests and soil nitrogen in a white cabbage-living mulch system. Biol Agric Hortic 16:291–309. https://doi.org/10.1080/01448765.1998.10823201

Culman SW, Snapp SS, Green JM, Gentry LE (2013) Short- and long-term labile soil carbon and nitrogen dynamics reflect management and predict corn agronomic performance. Agron J 105:493–502. https://doi.org/10.2134/agronj2012.0382

Dobbratz M, Baker JM, Grossman J, Wells MS, Ginakes P (2019) Rotary zone tillage improves corn establishment in a kura clover living mulch. Soil Tillage Res 189:229–235. https://doi.org/10.1016/j.still.2019.02.007

Enache AJ, Ilnicki RD (1990) Weed control by subterranean clover (Trifolium subterraneum) used as a living mulch. Weed Technol 4:534–538

Frank DA (2008) Ungulate and topographic control of nitrogen: phosphorus stoichiometry in a temperate grassland; soils, plants and mineralization rates. Oikos 117:591–601. https://doi.org/10.1111/j.2007.0030-1299.16220.x

Giller KE, Cadisch G (1995) Future benefits from biological nitrogen fixation: an ecological approach to agriculture. Plant Soil 174:255–277. https://doi.org/10.1007/BF00032251

Grabber JH, Jokela WE (2013) Off-season groundcover and runoff characteristics of perennial clover and annual grass companion crops for no-till corn fertilized with manure. J Soil Water Conserv 68:411–418. https://doi.org/10.2489/jswc.68.5.411

Grabber JH, Jokela WE, Lauer JG (2014) Soil nitrogen and forage yields of corn grown with clover or grass companion crops and manure. Agron J 106:952–961. https://doi.org/10.2134/agronj13.0466

Grandy AS, Kallenbach C, Loecke TD, Snapp S, Smith RG (2011) The biological basis for nitrogen management in agroecosystems. In: Cheeke T, Wall D, Coleman D (eds) Microbial ecology in sustainable agroecosystems, 1st edn. Taylor and Francis LLC, Milton Park, pp 113–132

Kai-yun X, Xiang-lin L, Feng H, Ying-jun Z, Li-qiang W, Hannaway DB, Dong W, Yan Q, Fadul GMA (2015) Effect of nitrogen fertilization on yield, N content, and nitrogen fixation of alfalfa and smooth bromegrass grown alone or in mixture in greenhouse pots. J Integr Agric 14:1864–1876. https://doi.org/10.1016/S2095-3119(15)61150-9

Leavitt MJ, Sheaffer CC, Wyse DL, Allan DL (2011) Rolled winter rye and hairy vetch cover crops lower weed density but reduce vegetable yields in no-tillage organic production. HortScience 46:387–395

Licht MA, Al-Kaisi M (2005) Strip-tillage effect on seedbed soil temperature and other soil physical properties. Soil Tillage Res 80:233–249. https://doi.org/10.1016/j.still.2004.03.017

Lowry CJ, Brainard DC (2016) Strip-intercropping of rye-vetch mixtures affects biomass, carbon/nitrogen ratio, and spatial distribution of cover crop residue. Agron J 108:2433–2443. https://doi.org/10.2134/agronj2016.04.0189

McSwiney CP, Snapp SS, Gentry LE (2010) Use of N immobilization to tighten the N cycle in conventional agroecosystems. Ecol Appl 20:648–662. https://doi.org/10.1890/09-0077.1

Mohammadi GR, Mozafari S, Ghobadi ME, Najaphy A (2012) Interaction effects of weed interference and berseem clover (Trifolium alexandrinum) as a living mulch on corn (Zea mays). Adv Environ Biol 6:763–767

Ochsner TE, Albrecht KA, Schumacher TW, Baker JM, Berkevich RJ (2010) Water balance and nitrate leaching under corn in kura clover living mulch. Agron J 102:1169–1178. https://doi.org/10.2134/agronj2009.0523

Ourry A, Kim TH, Boucaud J (1994) Nitrogen reserve mobilization during regrowth of Medicago sativa L. relationships between availability and regrowth yield. Plant Physiol 105:831–837. https://doi.org/10.1104/pp.105.3.831

Overstreet LF, Hoyt GD (2008) Effects of strip tillage and production inputs on soil biology across a spatial gradient. Soil Sci Soc Am J 72:1454–1463. https://doi.org/10.2136/sssaj2007.0143

Parr M, Grossman JM, Reberg-Horton SC, Brinton C, Crozier C (2011) Nitrogen delivery from legume cover crops in no-till organic corn production. Agron J 103:1578–1590. https://doi.org/10.2134/agronj2011.0007

Peterson PR, Sheaffer CC, Jordan M, Christians J (1994) Responses of kura clover to sheep grazing and clipping: I. Yield and forage quality. Agron J 86:655–660

Poudel DD, Horwath WR, Lanini WT, Temple SR, van Bruggen AHC (2002) Comparison of soil N availability and leaching potential, crop yields and weeds in organic, low-input and conventional farming systems in northern California. Agric Ecosyst Environ 90:125–137. https://doi.org/10.1016/S0167-8809(01)00196-7

Qi Z, Helmers MJ, Christianson RD, Pederson CH (2011) Nitrate-nitrogen losses through subsurface drainage under various agricultural land covers. J Environ Qual 40:1578–1585. https://doi.org/10.2134/jeq2011.0151

Robertson GP, Sollins P, Ellis BG, Lajtha K (1999) Exchangeable ions, pH, and cation exchange capacity. In: Robertson GP, Coleman DC, Bledsoe CS, Sollins P (eds) Standard soil methods for long-term ecological research. Oxford University Press, Oxford, pp 106–114

Saturno DF, Cerezini P, Moreira da Silva P, Barbosa de Oliveira A, Neves de Oliveira MC, Hungria M, Nogueira MA (2017) Mineral nitrogen impairs the biological nitrogen fixation in soybean of determinate and indeterminate growth types. J Plant Nutr 40:1690–1701. https://doi.org/10.1080/01904167.2017.1310890

Sawyer JE, Pedersen P, Barker DW, Ruiz Diaz DA, Albrecht K (2010) Intercropping corn and kura clover: response to nitrogen fertilization. Agron J 102:568–574. https://doi.org/10.2134/agronj2009.0392

Scott TW, Mt. Pleasant J, Burt RF, Otis DJ (1987) Contributions of ground cover, dry matter, and nitrogen from intercrops and cover crops in a corn polyculture system. Agron J 79:792–798. https://doi.org/10.2134/agronj1987.00021962007900050007x

Scott NA, Parfitt RL, Ross DJ, Salt GJ (1998) Carbon and nitrogen transformations in New Zealand plantation forest soils from sites with different N status. Can J For Res 28:967–976. https://doi.org/10.1139/x98-067

Seguin P, Russelle MP, Sheaffer CC, Ehlke NJ, Graham PH (2000) Dinitrogen fixation in kura clover and birdsfoot trefoil. Agron J 92:1216–1220

Seguin P, Sheaffer CC, Ehlke NJ, Russelle MP, Graham PH (2001) Nitrogen fertilization and rhizobial inoculation effects on kura clover growth. Agron J 93:1262–1268

Sheaffer CC, Marten GC (1991) Kura clover forage yield, forage quality, and stand dynamics. Can J Plant Sci 71:1169–1172

Siller ARS, Albrecht KA, Jokela WE (2016) Soil erosion and nutrient runoff in corn silage production with kura clover living mulch and winter rye. Agron J 108:989–999. https://doi.org/10.2134/agronj2015.0488

Wang Z, Lu J, Yang M, Yang H, Zhang Q (2015) Stoichiometric characteristics of carbon, nitrogen, and phosphorus in leaves of differently aged lucerne (Medicago sativa) stands. Front Plant Sci 6:1–10. https://doi.org/10.3389/fpls.2015.01062

Zemenchik RA, Albrecht KA, Boerboom CM, Lauer JG (2000) Corn production with kura clover as a living mulch. Agron J 92:698–705. https://doi.org/10.2134/agronj2000.924698x

Ziyomo C, Albrecht KA, Baker JM, Bernardo R (2013) Corn performance under managed drought stress and in a kura clover living mulch intercropping system. Agron J 105:579–586. https://doi.org/10.2134/agronj2012.0427
Acknowledgements
This work was funded by the Minnesota Department of Agriculture (Water Quality Grant #76922), Ceres Trust, and the North Central Region Sustainable Agriculture Research and Education (Grant GNC14-187). The authors sincerely thank colleagues Michelle Dobbratz, Bill Breiter, Michael Dolan, and members of the Grossman Lab, as well as Victoria Hoeppner, Elayna Shapiro, Lindsay Countryman, Yordanose Solomone, Victoria Hoffman, Rachel Brann, Bruna De Bacco Lopes, and Kaleiilima Holt.
Ethics declarations
Conflict of interest
The authors declare that they have no conflict of interest.
Additional information
Publisher's Note
Springer Nature remains neutral with regard to jurisdictional claims in published maps and institutional affiliations.
Electronic supplementary material
Below is the link to the electronic supplementary material.
About this article
Cite this article
Ginakes, P., Grossman, J., Baker, J. et al. Tillage intensity influences nitrogen cycling in organic kura clover living mulch. Nutr Cycl Agroecosyst 116, 71–82 (2020) doi:10.1007/s10705-019-10025-0
Received:

Accepted:

Published:

Issue Date:
Keywords
Kura clover

Zone tillage

Living mulch

Soil inorganic nitrogen

Organic agriculture

Legume