Interaction of toluidine blue dye with heptamolybdate: UV–visible and ultrafiltration study
Abstract
The present work represents the first attempt to apply a polyoxometalates (POMs) type heptamolybdate [Mo7O24]6− as a complexing agent for the removal of toluidine blue (TB) dye by ultrafiltration. Before ultrafiltration study, the interaction between heptamolybdate and dye was investigated using spectrophotometry UV–visible. It was shown that a metachromatic complex dye/POMs type 1:6 was formed with a blue shift from 623 to 550 nm indicating the formation of dye H-aggregates. The ultrafiltration process shows that the addition of heptamolybdate to dye solution greatly improved TB retention from 10 to 97%. The heptamolybdate concentration (0–1 mM), NaCl concentration (0.001–1500 mM), CTAB concentration (0.001–10 mM), pH (2–12) and applied pressure ∆P (2–4 bar) on the dye retention and permeate flux have been investigated. A 25 full factorial design shows that the main influenced factors are CTAB surfactant following by heptamolybdate and salt concentrations.
Graphic abstract
Schematic of the process of TB removal by PAUF method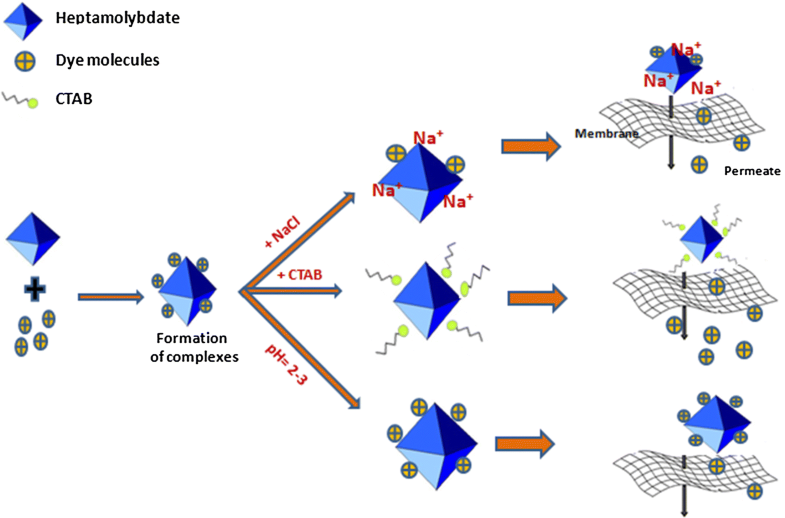 Keywords
Ultrafiltration membrane 
Complexation 
Spectrophotometric study 
Heptamolybdate 
Toluidine blue 
Notes
Acknowledgements
The authors wish to acknowledge the Head of the Department of chemistry and laboratory of water, membrane and environmental biotechnology (LEMBE) CERTE of Tunisia and all who supported and assisted in conducting this study.
Copyright information
© Springer Nature B.V. 2019