Abstract
This article studies the enhancement of bitumen properties by the addition of crumb rubber obtained from different scrap tyres. Crumb rubber extracted from scrap tyres through shedding and other traditional process has smaller size, which has the ability to enrich the various relevant characteristics of bitumen. An extensive study of different scrap tyres obtained from different automobiles (heavy, medium, and light) was conducted and also analysed its effects on bitumen properties. Different dosages of the crumb rubber added to bitumen evaluate its physical properties, Marshall stability, and indirect tensile strength to identify the optimum dosage. And retained Marshall stability test is used to assess the resistance against moisture susceptibility. The result obtained proved that modified crumb rubber bitumen is more effective and can be utilized for wide applications such as road constructions. A comparative analysis is executed between the CRMB samplings and bituminous mixes utilizing waste tyres of different automobiles and recommended the best automobile waste tyre for the purpose of bitumen modification and to acquire best outcomes.
This is a preview of subscription content, log in to check access.
Access options
Buy single article
Instant access to the full article PDF.
US$ 39.95
Price includes VAT for USA
Subscribe to journal
Immediate online access to all issues from 2019. Subscription will auto renew annually.
US$ 99
This is the net price. Taxes to be calculated in checkout.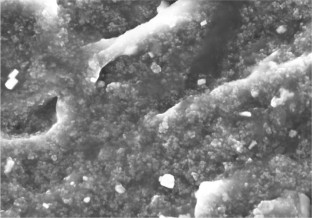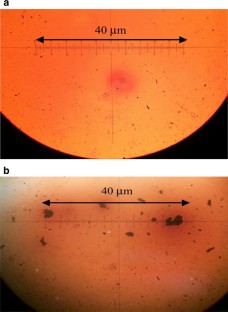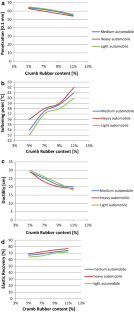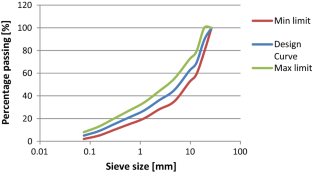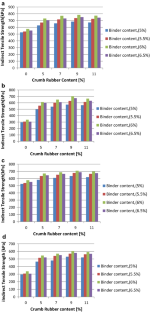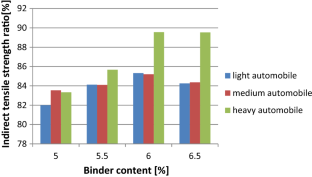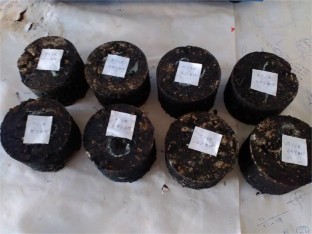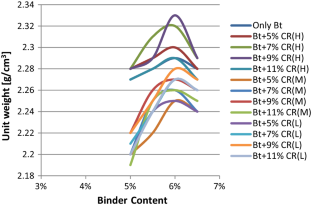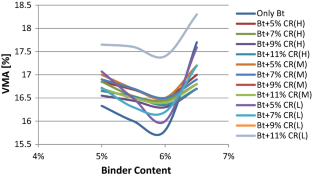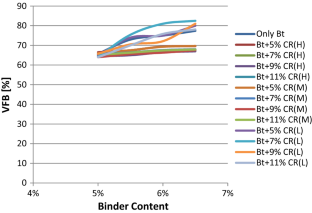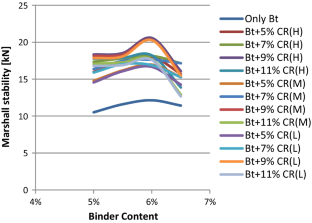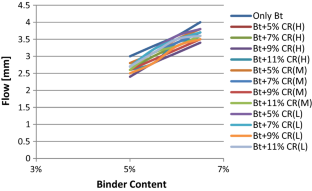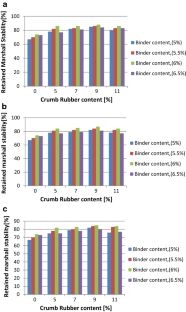 Abbreviations
ASTM:

American Society for testing and materials

TSR:

Tensile strength ratio

AASHTO:

American Association of state highway and transportation officials

AC:

Asphalt concrete

VMA:

Void in mineral aggregate

VFB:

Voids filled with bitumen

CRMB:

Crumb rubber-modified bitumen

ITS:

Indirect tensile strength

CR:

Crumb rubber
References
AASHTO T 283. (2014). Standard method of test for resistance of compacted Asphalt mixtures to moisture-induced damage.

Abdelrahman, M. A., & Carpenter, S. H. (1999). The mechanism of the interaction of Asphalt cement with crumb rubber modifier (CRM). Transportation Research Record,1661, 106–113.

Bilema, M. A., Aman, M. Y., Hassan, N. A., Ahmad, K. A., Elghatas, H. M., Radwan, A. A., & Shyaa, A. S. (2018). Moisture sensitivity of crumb rubber modified modifier warm mix asphalt additive for two different compaction temperatures. In IOP conference series: Earth and environmental science, p. 140.

Cheovits, J. G., Dunning, R. L., & Morris, G. R. (1982). Characteristics of asphalt-rubber by the slide plate micro-viscometer. Association of Asphalt Paving Technologists,51, 240–261.

EEA. Europe's environment. (1995). The Dobøı´s assessment. Copenhagen: European Environment Agency (EEA).

Ghavibazoo, A., Abdelrahman, M., & Agab, M. (2013). Mechanism of crumb rubber modifier dissolution into asphalt matrix and its effect on final physical properties of crumb rubber-modified binder. Transportation Research Record,2370(1), 92–101.

Greene, J., Chun, S., Nash, T., & Choubane, B. (2015). Evaluation and Implementation of PG 76–22 Asphalt rubber binder in Florida. Transportation Research Record: Transportation Research Board,2524, 3–10.

Heitzman, M. (1999). Design and construction of asphalt paving materials with crumb rubber modifier. Transportation Research Record, 1339. https://trid.trb.org/view/370637.

Hu, Y., Kang, Y., Wang, X.-C., Li, X.-H., Long, X.-P., Zhai, G.-Y., et al. (2014). Mechanism and experimental investigation of ultra high pressure water jet on rubber cutting. International Journal of Precision Engineering & Manufacturing,15(9), 1973–1978.

Ibrahim, M. R., Katman, H. Y., Karim, M. R., Koting, S., & Mashaan, N. S. (2013). A review on the effect of crumb rubber addition to the rheology of crumb rubber modified bitumen. Advances in Materials Science and Engineering, Article ID 415246, 8.

Kebaïli, N., Zerzour, A., & Belabdelouhab, F. (2015). Influence of rubber fine powder on the characteristics of the bitumens in Algeria. In International conference on technologies and materials for renewable energy, environment and sustainability, TMREES15.

Kök, B. V., & Çolak, H. (2011). Laboratory comparison of the crumb-rubber and SBS modified bitumen and hot mix asphalt. Construction and Building Materials,25(8), 3204–3212.

Kumar, S. P., Kumar, S. A., & Arora, T. R. (2013). Experimental study of flexible pavement by using waste rubber tyres. International Journal of Engineering Research & Technology (IJERT), 2(8), ISSN: 2278–0181.

Lo, P. D. (2013). Recycled tyre rubber modified bitumen for road asphalt mixtures: A literature review. Construction and Building Materials,49, 863–881. https://doi.org/10.1016/j.conbuildmat.2013.09.007.

Magar, N. R. (2014). A study on the performance of crumb rubber modified bitumen by varying the sizes of crumb rubber. International Journal of Engineering Trends and Technology,14(2), 50–56.

Mashaan, N. S., Ali, A. H., Karim, M. R., & Abdelaziz, M. (2011). Effect of blending time and crumb rubber content on properties of crumb rubber modified asphalt binder. International Journal of the Physical Sciences:6(9), 2189–2193.

Mturi, G., O'connel, J., & Zoorob, S. (2014). A study of crumb rubber modified bitumen used in South Africa. Road Materials & Pavement Design,15(4), 774–790. https://doi.org/10.1080/14680629.2014.910130.

Nicoletti, G. M., & Notarnicola, B. (1999). Streamlining LCA as a tool to evaluate the sustainability of commodities production processes. Annali di Chimica,89(9), 747–755.

Parmar, A., Kotak, B., Patel, D. M., Shah, P., Katariya, B., Parmar, A., et al. (2014). Flexible pavement of 80/100 penetration bitumen grade using crumb rubber and fly ash. International Journal,1, 167–169.

Siddharth, R. (2012). Use of waste plastic and waste rubber tyres in flexible highway pavement. International Conference on Future Environment and Energy,28, 105–108.

Souliman, M. I., Mamlouk, M. & Eifert, A. (2015). Cost effectiveness of rubber and polymer modified asphalt mixtures as related to sustainable fatigue performance. In International conference on sustainable design, engineering and construction.

Van Beukering, P. J. H., & Janssen, M. A. (2001). Trade and recycling of used tyres in Western and Eastern Europe. Resources, Conservation and Recycling,33(4), 235–265.

Yan, K., Xu, H., & You, L. (2015). Rheological properties of asphalts modified by waste tire rubber and reclaimed low density polyethylene. Construction & Build. Materials,83, 143–149. https://doi.org/10.1016/j.conbuildmat.2015.02.092.

Zolfaghari, F. A., Zolfaghari, F., & Javid, M. (2014). Modification of bitumen by varying percentage of the crumb rubber in coarse graded aggregates. International Journal of Science, Engineering and Technology, 3(19), 4002–4010.
About this article
Cite this article
Vishnu, T.B., Singh, K.L., Thomas, P. et al. Investigating the suitability of used heavy, medium, and light automobile tyres for bituminous mix pavement applications. Environ Dev Sustain 22, 1505–1527 (2020). https://doi.org/10.1007/s10668-018-0260-6
Received:

Accepted:

Published:

Issue Date:
Keywords
Shredding

Marshall

Dosage

Optimum

Bitumen

Scrap

CRMB