Implementing ecological networks through the Red for Green approach in a densely populated country: Does it work?
Abstract
Regional and local governments in Europe are often challenged with establishing suitable institutional practices to meet ecological targets within urban spatial development plans and address the ultimate goal of the Environmental Policy Integration (EPI). EPI has been proliferated by the European policy as the operational principle to sustainable development. Yet it is necessary to develop and apply suitable approaches that allow achieving EPI within the policy implementation practices of the local and regional authorities. Particularly in the field of urban planning, such EPI approaches are needed to more firmly integrate ecological considerations in the land-use planning process and safeguard the sustainability of urban developments. This is the case when implementing key nature policy objectives such as the development of national ecological networks (NEN) aimed at protecting biodiversity, and in which multiple actors and sectorial interests are involved. Among European countries, the Netherlands has been a forerunner in NEN development and has applied innovative approaches such as the Red for Green approach (RGA). The RGA aims to integrate ecological issues (green) in urban developments (red) and establishes a communicative platform for the actors involved in the urban developments. This study assesses the unique experiences with the RGA in seven regional case studies, identifies its key success factors and reflects on its role as a communicative practice towards EPI. The study concludes that the RGA can be a suitable approach to integrating ecological network objectives in urban developments. However, RGA's success depends on five factors, among which the two most important are the actors' communication and development of a shared strategic vision on developments.
Keywords
Environmental policy integration 
Ecological networks 
Nature conservation policy 
Urban development 
Communicative planning 
1

Introduction

Urbanization has a significant impact on the natural environment and often results in degradation and fragmentation of natural habitats (Foley et al. 2005; United Nations Habitat 2012; Coutard et al. 2014). While more than half of the world's population now lives in urban areas, studies have shown that as population density increases so does the threat to biodiversity (Luck 2007). In an attempt to reduce such impacts, an integrated perspective in land-use planning is recommended by variety of scholars in the field of planning and biodiversity conservation. Such a perspective aims to envision mutual benefits between economic developments and nature conservation goals. As argued by planning scholars, such mutual benefits can be ensured only if decisions regarding land-use transformations of natural landscapes into urbanized areas are based on knowledge about the impact of these transformations on natural habitats (Theobald et al. 2000; Berkes et al. 2003; Opdam et al. 2002; Termorshuizen et al. 2007). Moreover, practices have shown that, even if available, ecological knowledge is often not shared among planners or decision makers during the planning process (Mcelfish and Kihslinger 2009). In this regard, improvement in these traditional planning practices has been considered necessary to address the increasing societal needs in urban development and the competing claims for land uses by different sectors, including for green areas and nature (Berkes et al. 2003; Termorshuizen et al. 2007; Shandas et al. 2008; Beatley 2010; CEC 2013). Such transformation, as justified by planning scholars, would ideally focus on involving multiple stakeholders such as planning authorities, private actors or local communities in order to resolve differences in interests in a collaborative manner (Innes and Booher 2003; Healey 2006; Nadin and Stead 2008).

These issues have become particularly evident in the implementation of nature conservation policies in many countries in Europe in which the spatial planning systems play a crucial role (Dale et al. 2000; Daniels and Lapping 2005; Simeonova and van der Valk 2016). The emergent need for integration of ecological objectives in spatial plans has been as well acknowledged within European policy frameworks on territorial development and biodiversity conservation (EEA 2006a, b; CEC 2011a). The underlying policy process for this integration is based on the Environmental Policy Integration (EPI) principle (Jordan and Lenschow 2010). EPI is defined as "the incorporation of the environmental objectives into all stages of policy-making in non-environmental policy sectors, with a specific recognition of its role as a guiding principle for the planning and execution of policy" (Lafferty and Hovden 2003). EPI implies the consideration of environmental consequences of sectoral policy activities that promote economic development. EPI is viewed as a process and an outcome to be anchored in the institutional frameworks of different policy sectors with the aim of achieving more sustainable developments. The establishment of an EPI process, however, is rather challenging, and it depends on the changing administrative cultures of different governmental authorities responsible for policy development and implementation. The key challenges to EPI as described in the literature relate to the organizational fragmentation and lack of collaboration between governmental scales and sectoral departments responsible for different policies (Jordan and Lenschow 2010; Mullally and Dunphy 2015). Until now, few analytical reviews have provided much on the way of explanation of the process or an indication of possible means towards EPI in different policy sectors and in the field of planning (Lafferty and Hovden 2003; Persson 2004; Simeonova and van der Valk 2009; Jordan and Lenschow 2010). However, systematic knowledge on how to address EPI, in different policy sectors (e.g. urban development, energy, agriculture, transport etc.) and across different governmental scales, is still being developed (Mullally and Dunphy 2015). EPI is often interpreted as a form of policy integration based on multilevel governance (vertically: across scales and horizontally: across sectors) (Lafferty and Hovden 2003; Jordan and Lenschow 2010).

While the general policy integration concept has long been a part of the scientific debate on planning theory, the role of the EPI principle has attracted the attention of planning scholars more recently (Simeonova and van der Valk 2009; Stead and Meijers 2009; Scholz et al. 2012; Stight et al. 2013). In the field of planning, EPI is interpreted as an incremental form of planning which encourages long-term strategic visions about spatial development of a territory, brings together variety of policy interests, supports sustainable development and improves collaboration between stakeholders (CEC 1999; Eggenberger and Partidário 2000; Healey 2006).

While there is no consistent framework of approaches for implementing EPI in various policy contexts and governance levels, studies have identified a number of key approaches including strategic, procedural, structural, coordinative and communicative approaches (Hertin and Berkhout 2003; Simeonova and van der Valk 2009; Mullally and Dunphy 2015). The strategic, procedural and structural approaches focus on the substantive elements of the EPI process, such as elaborating an overarching EPI strategy, establishing coordinating structures and legal procedures, and the communicative approach aims to address actors' communication processes at inter-organizational level (Hertin and Berkhout 2001; Von Homeyer 2006; Jordan and Schout 2007). Among these approaches, of particular interest among policy makers and planning scholars has been the communicative approach (Healey 2003; Simeonova and van der Valk 2009; Runhaar et al. 2014). This approach is advocated as a way of providing more efficient communication between a variety of actors across policy sectors in order to balance different interests (Margerum 2002; Healey 2003; Innes and Booher 2010). Such an approach offers a platform for actors to share their interests and competences so that preventing environmental impacts of urban developments is a shared responsibility and not just that of one institution or department (Innes and Booher 2010). This necessitates suitable institutional arrangements and organizational structures to facilitate collaboration, communication and exchange of knowledge (EEA 2005; Von Homeyer 2006; Simeonova and van der Valk 2009; Runhaar et al. 2014). This article explores some of these institutional arrangements in the actual planning processes.

Up to now, only few prominent planning practices have been developed that apply EPI in urban planning (EEA 2006b; Simeonova and van der Valk 2010; Nadin and Stead 2012). For example, a number of initiatives in the Netherlands, Denmark, Sweden and the UK have led to the development of integrated spatial planning strategies based on a multilevel collaborative process between governmental agencies. Some of these strategies have been developed as part of the compliance process with the EU nature policy and legislation. The EU nature policy, which aims at conservation of wild flora and fauna, embeds the need for EPI in urban spatial plans as a key prerequisite to preserving and restoring natural habitats in close proximity to urbanized areas or within cities (Miller and Hobbs 2002; Opdam et al. 2003; CEC 2013). This implies the formation of spatially coherent ecological networks of protected areas that interlink natural habitats fragmented by urbanization and provide sufficient habitat to facilitate viable populations of flora and fauna (Jongman 1995; Opdam et al. 2003; Jongman et al. 2004). This idea is envisioned in the Pan European Ecological Network (Jongman et al. 2011). In addition, the Habitats and Bird Directives envision the designation and management of a network of protected areas such as Natura 2000 (Council Directive 92/43/EEC 1992; CEC 2011b). One of the main challenges in the development of such ecological networks is achieving the needed landscape configuration and spatial cohesion between the protected areas (Opdam et al. 2003; Jongman et al. 2004). This challenge is aggravated particularly in densely populated areas where pressure from urban land-use developments is high. Moreover, in many countries, the institutional arrangements to implement the ecological network strategy are not explicit regarding the responsibilities and competences of different governmental agencies and stakeholders with regard to ensuring proper nature conservation in spatial plans (Termorshuizen et al. 2007; Shandas et al. 2008; Termorshuisen and Opdam 2009; Beunen and Duineveld 2010; Beatley 2010).

Several member states, including the Netherlands, Germany, Poland and Spain, have developed national policy plans for ecological networks (NENs) (Jongman and Kristiansen 2001, Jongman et al. 2004). Among these, the Netherlands has been one of the forerunners, where the NEN was developed shortly before the introduction of the EU Natura 2000 policy (VROM 2004). In line with the EPI principle, the NEN became an integral part of the Dutch national spatial development strategy and has been considered in the plans of the regional and local governments (VROM 2004; LNV & VROM 2009a).

In this article, we explore in more detail the unique experiences generated with the implementation of the EPI principle in integrated spatial development practices in the Netherlands, related to the realization of the NEN. The focus is particularly on assessing the role of a distinctive planning approach such as the Red for Green approach (RGA), which emerged during the implementation of the Dutch NEN. RGA has fostered the integration of nature conservation objectives in spatial developments at regional scale and has been applied by several regional and local authorities (van Rij 2008; Wolff and Spaans 2010). The key objective of the research is to assess whether approaches such as RGA are examples of EPI in urban spatial development. The key questions asked are in what way RGA can be a beneficial approach for integrating nature conservation objectives in urban spatial plans and whether it offers useful mechanisms for collaboration between various actors during the planning process. Finally, we identify key success factors of RGA and explore how these success factors can help to address EPI in urban planning.
2

Research methods
2.1

General approach

This research is based on qualitative methods of data collection and analysis, namely an in-depth case study and a comparative case study analysis (Creswell 2007). These methods were considered as most suitable for assessing the specific institutional context of the planning practices of RGA, which has been used in different projects and by different regional authorities across the Netherlands. The case study analysis allowed specific observations to be made on the underlying process of the RGA and on its applicability in different local contexts and actors' involvement (e.g. public and private). It also made it possible, via interviews, to gain insight into the experiences and perceptions of different actors who were involved in the RGA projects. In the case study analysis, the RGA was referred to as a potentially beneficial approach to EPI that can improve institutional cooperation in urban development and nature conservation projects and can facilitate actors' collaboration. With this in view, we assessed the institutional challenges in implementing the RGA projects as a form of EPI. The assessment addressed four key aspects of EPI, which were identified in previous studies, including: (1) formulation of planning objectives and development of a strategic vision; (2) shared responsibilities between actors; (3) planning procedures; and (4) communicative process between actors (Jacob et al. 2008; Stead and Meijers 2009; Simeonova and van der Valk 2009).
2.2

Selection of cases, data collection and analysis

In order to select the most suitable cases for analysis, we first compiled a long list of 45 projects in which the RGA was used. These projects were described based on available data about their status and implementation. We selected seven case studies from this long list for an in-depth case study analysis (see Appendix

1

; Fig. 

1

). The selected projects all started between the years 2001 and 2006. Projects that started more recently were excluded because the implementation phase had not yet been reached, so it would not have been possible to assess their outcomes. The selection of the seven projects was made on the basis of the following criteria: (1) the project uses the RGA at the regional scale; (2) the project addresses

green

ambitions that are significant for developing the ecological network; and (3) the project involves multiple public and private actors. Appendix

1

provides an overview of the selected case studies, including their aim,

red

and

green

ambitions, and involved actors. All case studies consisted of spatial development plans in suburban areas where

red

and

green

functions usually compete for the same space (Fig. 

1

). Data on each selected case study were gathered by reviewing relevant documents in which the project was described and by interviewing key actors. The selection of the documents to review was done on the basis of whether they contained primary data about the developmental vision and the design of the project area. Documents selected included the spatial plans, progress reports, collaboration agreements, environmental impact assessment reports, consultation reports and governmental policy plans addressing the development of the NEN in the case areas).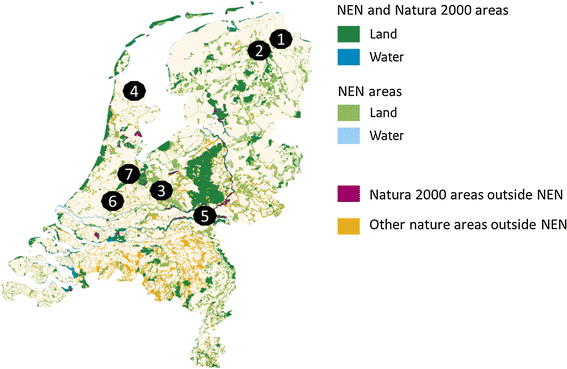 In total, 23 actors were interviewed. The criteria for selecting the respondents were (1) that they were directly or indirectly involved in the projects; (2) their interests were to one degree or another affected by the developments of the RGA; and (3) they were willing to openly share information or their opinions. Following Creswell's method of qualitative research (2007), we assessed in advance who might be appropriate candidates for the interviews (Creswell 2007). The respondents consisted of ten representatives of public authorities (policy makers and project managers from national, regional or local government), four representatives from non-governmental organizations (groups that endorse nature conservation), four representatives from private organizations and developers' associations, and five representatives from universities (mostly experts in the field of spatial planning and ecological network development) (see Appendix 2).
The interviews were semi-structured and open-ended, and all interviewees were asked the same questions. We chose this type of interview, as it facilitates faster responses that can be easily analysed and compared. The interviews lasted approximately 60 min and were taped and transcribed. The questions aimed to solicit information about: (1) project status and progress; (2) interviewees' roles and responsibilities within the project; (3) the project elements in which the RGA was used; (4) interviewees' opinions on the RGA's effectiveness; (5) their opinions on whether or not the RGA improved the communication processes between policy makers, planners, NGOs, researchers and private actors; and (6) perceived success and/or failure factors for RGA. The interviewees were also encouraged to mention any other issues they deemed important in terms of significantly affecting project implementation and outcomes. Appendix 3 provides an overview of the open-ended questions that formed the framework for each interview. Furthermore, we used a stepwise approach to analyse and compare the case studies. In the first step, we reviewed each case study individually and conducted an in-depth analysis of the data. We analysed whether the RGA was a suitable or promising approach to EPI for developing or restoring ecological networks at the regional level in each case. We also identified each case's success and/or failure factors for the use of the RGA. The success factors were formulated as factors that supported progress in the NEN development and achieved beneficial outcomes in favour of the "green" ambitions indicated by each project. This we refer to as the achievement of EPI. The formulation of the relevance of the success factors is based on qualitative assessment of respondents' statements. The number of positive responses regarding the importance of each success factor was assessed and then schematized based on arbitrary approximation. Finally, we used the results of the in-depth analyses of each individual case in a comparative analysis across all case studies. We identified similarities and differences between the case studies with respect to the applicability of the RGA and assessed which key success factors are generic factors that determine whether or not the RGA will succeed. Based on these success factors, we assessed whether RGA might be a beneficial approach with a view to supporting the communicative process between actors towards the achievement of the EPI in urban planning.
4

Discussion

In our research, we evaluated the suitability of the RGA to integrate the key objectives of the NEN implementation into regional spatial plans. By assessing seven case studies in which the RGA was applied, we explored its potential to contribute to integrated and therefore more sustainable land-use development and achieve a higher degree of EPI. We identified the key success factors for implementing the RGA based on this assessment.

Our findings show that the use of RGA has not yet been firmly institutionalized in the spatial planning policy and land-use planning practices of national, regional and local authorities in the Netherlands, but that it is more of an ad hoc approach. However, interviewees shared the opinion that the RGA will be of great benefit if it is embedded and channelled within spatial planning policy at regional and local level. They believe that, with a more solid institutional basis for RGA as an integrated form of land-use planning, private actors can be better encouraged to invest in green developments, and funding for the compensation of the loss of natural areas due to red developments can be more easily secured.

At the same time, it became evident that certain legal provisions alone will not fulfil all the RGA needs. In conformance with earlier studies in the EPI literature (Simeonova and van der Valk 2009; Jordan and Lenschow 2010), it has been found that while legislation can provide the rules of the game, it cannot replace the need for actors' strong commitment. Actors should be convinced that multiple development needs can be met through the RGA in the spatial plan. This requires a stronger collaborative attitude and more communication skills than those required in more conventional planning approaches, where regulations and governmental hierarchy usually play a more dominant role in decision-making. RGA projects emphasize the deliberation process for negotiating a shared vision on the spatial development goals. While these negotiations in the first stages of a planning project require more effort and usually take more time than the more conventional planning approaches, most interviewees agreed that they pay off at later stages in the planning process. Although a signed agreement between the actors is indispensable in this respect, the success of an RGA project also greatly depends on the quality of the relationships between the public and private actors.

An essential element in this process is the proactive role of the regional authorities towards both private actors and other governmental agencies. Although the Dutch national policy on establishing the NEN promotes integrated, nature-friendly spatial developments, applying the RGA is not mandatory. The use of the RGA greatly depends on the ambitions and the initiatives of the regional authorities. This is evidence of the challenges that the EPI process faces at regional and local level in light of the ongoing decentralization spurred by many European states (Stead and Meijers 2009; Scholz et al. 2012; Simeonova and van der Valk 2016).

In addition, our research illustrates that no two RGA projects are the same in terms of ambitions, objectives, planning process or agreements between actors. This makes RGA projects complex, but simultaneously allows for tailor-made planning solutions that address the needs of a specific regional development initiative. It became clear in the seven case studies that how agreement is achieved between all actors differs for each project and is a very dynamic, complex process. However, deliberations allow for a certain amount of flexibility regarding the choice of the planning instruments, the design of the communication and negotiation process, the division of responsibilities and the financial mechanisms needed to implement the RGA project. The advantage of this flexibility, compared to more rigid conventional planning processes, is that specific ways of working can be designed for each project that fit best with the local situation and preferences of the actors involved. This advantage results in differences both in agreements between RGA projects managed by different regional authorities and between projects initiated by one regional authority. This brings into focus the context-related aspects upon which the success of EPI may depend and that have to be taken into consideration in the development of EPI approaches in urban planning. RGA exemplifies the understanding that EPI is strongly related to the need to reconcile competing policy objectives involving a multiplicity of actors in a complex societal arena (Jordan and Lenschow 2010). We have shown that regional use of the RGA can enhance the functionality of the NEN. Within the projects explored, one particularly beneficial outcome for the NEN was the development of a number of substantially important ecological corridors. In this relation, the RGA could be seen as a promising approach towards progress with the implementation of the NEN at national scale.

The benefit that the RGA offers to this NEN process is that it allows actors to no longer limit their focus to individual green developments on a local scale, but to look at the whole picture as a cluster of interdependent green developments that should be addressed together to achieve ultimate coherence and conservation targets of the NEN. Although the development of the NEN cannot fully be realized just through RGA projects, the RGA seems to be suitable for addressing green ambitions in densely populated areas where urbanization exerts high pressure on nature. It illustrates a new form of land-use planning at the regional and local scales of spatial development, designed to embed conservation objectives within the land-use planning process (Van Rij 2005). Nevertheless, RGA use at the regional level is not a common practice. Some interviewees explained that there is still some hesitation about routine use of the RGA due to its complexity with regard to planning procedures, financial arrangements, multiple actors' involvement and timely negotiations. Nevertheless, most regional authorities agree that the approach helps to raise general awareness that green developments are not necessarily solely a governmental responsibility. The RGA promotes integrated planning, meaning that red and green ambitions are simultaneously addressed with even weight. Although green developments were a priority objective in most of the case studies, the RGA has proved that it is not only that red projects pay for green ones, but also that green projects improve red ones, for example, by providing economic benefits as a result of increased real estate values due to high-quality green space surrounding the red.

Several of the cases showed that successful implementation of green ambitions greatly depended on a clear vision of what the green developments should be in the earliest stages of the project. An elaborated plan, in which the necessary green areas, their spatial configuration and the conservation objectives within these areas are specified, will result in better incorporation of NEN ambitions in the final plans, compared to projects in which green developments were not specified. Such a vision streamlined the deliberations between actors, as it prevented unexpected or new demands with regard to green developments at later stages in the project.

It is essential for the RGA to balance power relationships and build trust between actors. The formalized actors' agreements play a key role in this respect, as these should outline the roles and responsibilities of the actors. The agreements, such as the PPPs and PuPs, should be based on a consensus among all actors. Incomplete agreements may result in conflicts, disturbed relationships or even legal battles. The essential issue for consensus building is acknowledging public and private interests, potential risks of the RGA agreement and how these risks will be divided among the actors during the RGA planning process. Furthermore, it is essential that the cross-subsidizing mechanisms also be agreed upon among all actors, such as how red developments will contribute to green ones.

RGA projects have an added value in that they improve the image of the actors involved and this applies to both public and private actors. For governmental authorities, they are a clear means to demonstrate their interest in protecting the environment and, specifically, their support for developing and restoring green areas, including ecological networks. This may strengthen the position of a region, as RGA projects may change the view of both private actors and the public on the attractiveness of an area to live or start an economic activity. They can also be a means for private actors to show their ambition to conduct nature-friendly businesses or actively put efforts into improving natural values. Although such benefits will not necessarily improve the quality of a spatial plan, they may result in greater commitment from the actors, fewer obstacles during the planning process and a greater chance of the project being implemented successfully.
5

Conclusions

The growing pressure on natural areas due to land scarcity, urbanization and the general call for decentralization of development activities in favour of regional governments in the Netherlands has increased the need for planning approaches such as the RGA which can support the achievement of EPI. Using profits from property development is a possible way to finance the development and maintenance of nature areas. However, a key element of the RGA is the collaborative planning process that it involves. In this study, we have shown that the RGA is a balancing approach, but to a high degree it is also a collaborative planning tool that regional authorities, private developers and nature conservation parties can use to develop parts of the NEN. RGA is actual evidence of an EPI-oriented practice that is based on a communicative form of planning. It also illustrates the context-specific factors influencing planning decisions about competing policy interests. The RGA provides tailor-made solutions for balancing red and green land-use functions by promoting more integrated planning instruments, facilitating communication between multiple actors and offering new financial incentives. Although opinions differ among regional actors about when and how to use the RGA, current experiences demonstrate the vast array of opportunities that it offers for achieving complementary purposes, such as ecological developments alongside conventional land-use planning aims.

Our research shows that nature conservation objectives can be part of collaborative RGA planning processes initiated by regional governments. The RGA is also a collaborative process that crosses the boundaries of private and public interests and actors' perceptions. The case studies illustrated that the RGA supports regional governments in speeding up the needed NEN ecological developments, based on their jurisdictions, status and authority. Private actors, such as project developers, can also benefit from engaging in RGA projects by designing innovative developments while investing in improving quality of life of an area and a region. Meanwhile, some regional actors are concerned about the struggles with insufficient public funding for developing the Dutch NEN and whether the RGA alone can meet these needs. However, others viewed positively the opportunity offered by the RGA to create public–private partnerships that increase actors' overall awareness, considerations and desire for investments in NEN. The RGA provided provinces with a means to orient their initial ambitions towards development that is not restrictive, but based on sustainability principles in which economic opportunities can provide better quality of life and nature. The RGA can prevent economic developments being made at the cost of actual or potential natural values. The RGA proves that in many cases the EPI process in the field of urban development will need to be based on specific planning solutions based on each development plan and a mix of planning instruments, including procedural, strategic and collaborative instruments.

The key success factors to RGA include: (1) actors' communication; (2) strategic vision; (3) shared responsibilities; (4) economic incentives; and (5) efficient land-use procedures. Of these, we conclude that the communication between actors is the most important success factor. Within all the case studies, the communication between actors was an ongoing process that influenced the outcomes of all planning stages. Ensuring successful communication between actors, while also understanding the particular regional setting, institutional and organizational interactions, and the public and private actors' relationships, is the most challenging and unpredictable endeavour of the RGA and hence the greatest obstacle to achieving EPI. While this process requires serious effort and a proactive role on the part of regional authorities, it still offers an attractive perspective for more sustainable regional developments. Despite a few observed complexities in RGA implementation, such as too high initial ambitions, sudden financial constraints and longer implementation time, most projects can be considered successful. We can thus conclude that RGA did contribute, to some degree or another, to the realization of at least a substantial number of the NEN ecological developments and of the enhancement of the NEN overall.

The RGA serves as an alternative to the more conventional planning practices in which powerful economic forces often hinder green ambitions. Although the RGA still possesses a number of challenges and dilemmas, it offers ways to mediate between competing demands for land in favour of nature conservation goals. RGA is promising and can be characterized as a communicative approach to the implementation of the EPI principle in regional spatial planning. Last but not least, the RGA remains a fairly unique approach and its potential needs to be further revealed in the EPI debate and the planning discourse in line with the emerging planning practices. Finally, the credibility of the EPI principle and its current approaches at regional and local level need to be further explored in a wider European perspective of sustainable urban development and planning.
Copyright information
© The Author(s) 2017
Open AccessThis article is distributed under the terms of the Creative Commons Attribution 4.0 International License (http://creativecommons.org/licenses/by/4.0/), which permits unrestricted use, distribution, and reproduction in any medium, provided you give appropriate credit to the original author(s) and the source, provide a link to the Creative Commons license, and indicate if changes were made.