Nile red staining in microplastic analysis—proposal for a reliable and fast identification approach for large microplastics
Abstract
A variety of methods concerning the identification of microplastics in environmental samples exist. While visual identification is often used, implemented easily, and cost-efficient but implying biased results, spectroscopic or chromatographic approaches are reliable but time-consuming and need specific equipment. Nile red staining is an available alternative and complement method for identifying microplastics. In this study, Nile red staining and subsequent photographing in a UV light photobox was tested on its reliability and feasibility. The approach was compared with a second identification process using again staining but a fluorescence microscope. Selected identified microplastic particles were analyzed by μ-Raman spectroscopy to prove their polymeric origin. The results show that the presented approach is faster compared with the use of a fluorescence microscope or μ-Raman spectroscopy. Furthermore, it is cost-effective as well as accurate for large microplastics > 0.63 mm and, therefore, may be applied when large sample volumes need to be analyzed.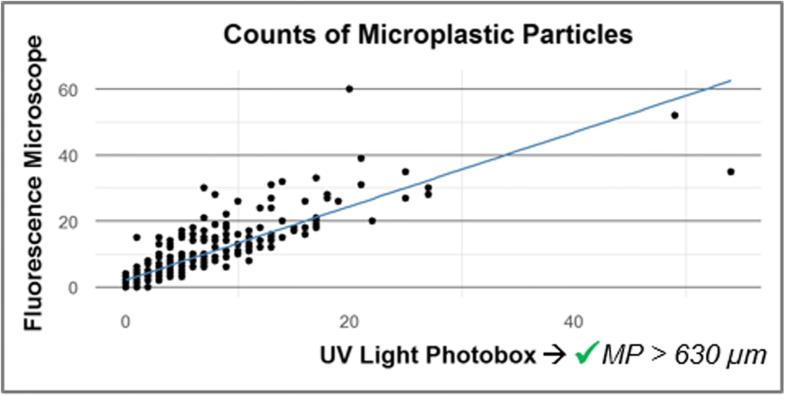 Keywords
Microplastics 
Identification 
Monitoring 
Nile red staining 
Notes
Acknowledgments
We thank the "Evangelisches Studienwerk Villigst" for their grant and Grace Swanson for the language revision of our manuscript.
Funding information
This study was partly funded by "Evangelisches Studienwerk Villigst".
Compliance with ethical standards
This article does not contain any studies with human participants or animals performed by any of the authors.
Conflict of interest
The authors declare that they have no conflict of interest.
Copyright information
© Springer Nature Switzerland AG 2019