Abstract
In Germany, the nationwide population-based mammography screening program (MSP) was introduced in 2005 and is full-running since 2010. By 2014, incidence rates for invasive breast cancer were very similar to those of the pre-screening era. Therefore, the ongoing effect of the MSP on breast cancer surgery rates can now be investigated. We analyzed population-based breast-conserving (BCS) and mastectomy (MET) surgery rates (per 100,000) among women aged < 50, 50–69 (eligible for the MSP), and 70+ years among women with in situ and invasive breast cancer during 2005–2015. For invasive breast cancer, both BCS and MET rates slightly increased in the age group < 50 years (38.3 in 2005 vs 42.5 in 2015 and 15.7 vs 18.2, respectively). In contrast, MET rates considerably decreased among women aged 50–69 and 70+ years (92 vs 65.4 and 155.4 vs 122.1, respectively), while BCS rates increased in both age groups (210.6 vs 254.4 and 147.2 vs 187, respectively). For in situ breast cancer, MET rates slightly increased in all age groups. BCS rates slightly increased in women aged < 50, but nearly doubled for women aged 50–69 (26.9 vs 49.1) and markedly increased in the 70+ age group (11.5 vs 16.1). During and after the implementation of MSP, there was a strong shift towards BCS within the screening-eligible age group and for women aged 70+ . Women with invasive breast cancer in these age groups may profit from screening with a decline of MET rates in favor of BCS rates at the expense of higher surgery rates for in situ breast cancer.
This is a preview of subscription content, log in to check access.
Access options
Buy single article
Instant access to the full article PDF.
US$ 39.95
Price includes VAT for USA
Subscribe to journal
Immediate online access to all issues from 2019. Subscription will auto renew annually.
US$ 99
This is the net price. Taxes to be calculated in checkout.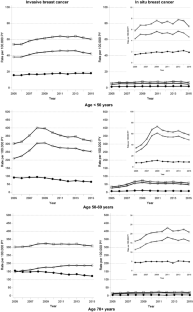 References
1.

Krebs in Deutschland für 2013/2014. 11. ed. Berlin: Robert Koch-Institut und die Gesellschaft der epidemiologischen Krebsregister in Deutschland e.V.; 2017.

2.

S3-Leitlinie für die Früherkennung, Diagnostik, Therapie und Nachsorge des Mammakarzinoms, Version 4.0, AWMF Registernummer: 032-045OL. Leitlinienprogramm Onkologie (Deutsche Krebsgesellschaft, Deutsche Krebshilfe, AWMF); 2017. http://www.leitlinienprogramm-onkologie.de/leitlinien/mammakarzinom/. Accessed 15 Aug 2018.

3.

Pathology EWGoBS. Quality assurance guidelines for pathology. In: Perry N, Broeders M, de Wolf C, Törnberg S, Holland R, von Karsa L, editors. European guidelines for quality assurance in breast cancer screening and diagnosis. 4th ed. Brussels: European Union; 2006. p. 219–312.

4.

Evaluation Jahresbericht. Deutsches mammographie-screening-programm. Berlin: Kooperationsgemeinschaft Mammographie; 2015. p. 2017.

5.

Krebsgeschehen in Nordrhein-Westfalen 2015. Jahresbericht 2017. Bochum Landeskrebsregister NRW gGmbH (Hrsg.); 2018.

6.

Stang A, Katalinic A, Dieckmann KP, Pritzkuleit R, Stabenow R, Network of German Cancer R. A novel approach to estimate the German-wide incidence of testicular cancer. Cancer Epidemiol. 2010;34(1):13–9. https://doi.org/10.1016/j.canep.2009.11.007.

7.

Stang A, Weichenthal M. Micrographic surgery of skin cancer in German hospitals 2005–2006. J Eur Acad Dermatol Venereol. 2011;25(4):422–8. https://doi.org/10.1111/j.1468-3083.2010.03805.x.

8.

Stang A, Merrill RM, Kuss O. Nationwide rates of conversion from laparoscopic or vaginal hysterectomy to open abdominal hysterectomy in Germany. Eur J Epidemiol. 2011;26(2):125–33. https://doi.org/10.1007/s10654-010-9543-4.

9.

Trocchi P, Kluttig A, Dralle H, Sekulla C, Biermann M, Stang A. Thyroid cancer surgery in Germany: an analysis of the nationwide DRG statistics 2005-2006. Langenbecks Arch Surg. 2012;397(3):421–8. https://doi.org/10.1007/s00423-011-0897-1.

10.

Boshuizen HC, Feskens EJ. Fitting additive Poisson models. Epidemiol Perspect Innov. 2010;7:4. https://doi.org/10.1186/1742-5573-7-4.

11.

Suhrke P, Maehlen J, Schlichting E, Jorgensen KJ, Gotzsche PC, Zahl PH. Effect of mammography screening on surgical treatment for breast cancer in Norway: comparative analysis of cancer registry data. BMJ. 2011;343:d4692.

12.

Walsh PM, McCarron P, Middleton RJ, Comber H, Gavin AT, Murray L. Influence of mammographic screening on trends in breast-conserving surgery in Ireland. Eur J Cancer Prev. 2006;15(2):138–48. https://doi.org/10.1097/01.cej.0000180668.96710.47.

13.

Jorgensen KJ, Keen JD, Gotzsche PC. Is mammographic screening justifiable considering its substantial overdiagnosis rate and minor effect on mortality? Radiology. 2011;260(3):621–7. https://doi.org/10.1148/radiol.11110210.

14.

Nederend J, Duijm LE, Louwman MW, Roumen RM, Jansen FH, Voogd AC. Trends in surgery for screen-detected and interval breast cancers in a national screening programme. Br J Surg. 2014;101(8):949–58. https://doi.org/10.1002/bjs.9530.

15.

Simbrich A, Wellmann I, Heidrich J, Heidinger O, Hense HW. Trends in advanced breast cancer incidence rates after implementation of a mammography screening program in a German population. Cancer Epidemiol. 2016;44:44–51. https://doi.org/10.1016/j.canep.2016.07.006.

16.

Bericht zum Krebsgeschehen in Deutschland 2016. Berlin: Robert Koch-Institut; 2016.

17.

Weigel S, Khil L, Hense HW, et al. Detection rates of ductal carcinoma in situ with biennial digital mammography screening: radiologic findings support pathologic model of tumor progression. Radiology. 2018;286(2):424–32. https://doi.org/10.1148/radiol.2017170673.

18.

Duffy SW, Dibden A, Michalopoulos D, et al. Screen detection of ductal carcinoma in situ and subsequent incidence of invasive interval breast cancers: a retrospective population-based study. Lancet Oncol. 2016;17(1):109–14. https://doi.org/10.1016/S1470-2045(15)00446-5.

19.

Tillmanns H, Schillinger G, Dräther H. Früherkennung bei Erwachsenen in der gesetzlichen Krankenversicherung: Ergebnisse einer AOK-Sekundärdatenanalyse. Versorgungs-Report Früherkennung. Berlin: Medizinisch Wissenschaftliche Verlagsgesellschaft; 2019. p. 49–69.

20.

WIdO. Unpublished Data. 2019.
Acknowledgements
This study was funded by German Cancer Aid (Deutsche Krebshilfe) [Grant No. 70112088]. The funding source had no role in the study design, in the collection, analysis and interpretation of data, in the writing of the report, and in the decision to submit the paper for publication.
Ethics declarations
Conflict of interest
The authors declare that they have no conflict of interest.
Ethical approval
For this type of study formal consent is not required.
Additional information
Publisher's Note
Springer Nature remains neutral with regard to jurisdictional claims in published maps and institutional affiliations.
Electronic supplementary material
Below is the link to the electronic supplementary material.
About this article
Cite this article
Trocchi, P., Kuss, O., Kääb-Sanyal, V. et al. Trends in surgical treatment for breast cancer in Germany after the implementation of the mammography screening program. Eur J Epidemiol 34, 1143–1150 (2019). https://doi.org/10.1007/s10654-019-00570-x
Received:

Accepted:

Published:

Issue Date:
Keywords
Breast neoplasms

Mastectomy

Breast-conserving surgery

Germany

Mammography

Screening