Abstract
We examine occupational mobility and its link to wage mobility across a large number of EU countries using worker-level micro data. In doing so, we document the extent, the individual-level determinants and the consequences of occupational mobility in terms of wage outcomes and structural change across the EU. In addition, we identify potential explanations for the observed cross-country variation. Our results show that on average, 3% of European workers change their occupation per year, and that the extent of occupational mobility differs strongly by country. Individual characteristics play an important role for person-specific occupational mobility, but have little explanatory power for differences between countries. Occupational mobility is strongly associated with earnings mobility, and occupation movers are more likely than job movers to experience a downward rather than an upward earnings transition; by contrast, changing occupation voluntarily is more often followed by an upward wage transition. As opposed to composition effects, employment protection legislation seems to play an important role for explaining cross-country differences in occupational mobility through its impact on overall job mobility.
This is a preview of subscription content, log in to check access.
Access options
Buy single article
Instant access to the full article PDF.
US$ 39.95
Price includes VAT for USA
Subscribe to journal
Immediate online access to all issues from 2019. Subscription will auto renew annually.
US$ 99
This is the net price. Taxes to be calculated in checkout.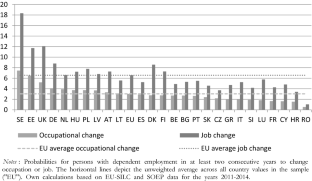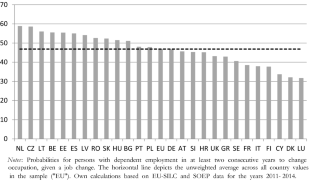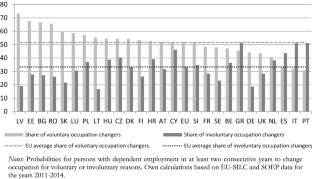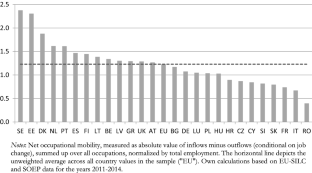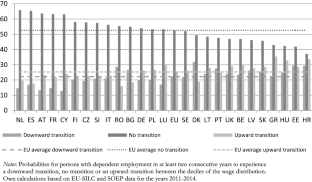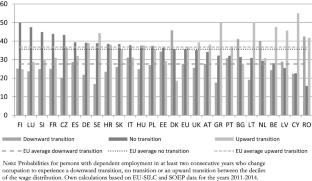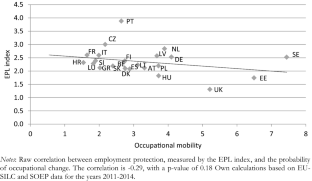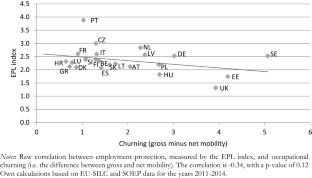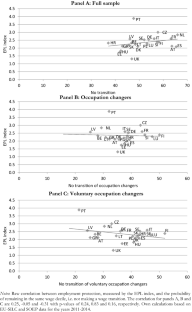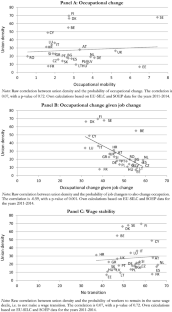 Notes
1.

Wage transitions refer to transitions between deciles of the distribution of earnings from paid labour. The terms "wage transitions" and "earnings transitions" are used interchangeably in the article.

2.

Note that—as indicated in the introduction—we choose this time period for our analysis because there is a break in the ISCO classification in 2011, and because we aim at focusing on a recent period of relative economic stability.

3.

4.

Distinguishing between changes of employers and changes within the same firm is not possible, however.

5.

All EU averages are unweighted averages of the country values in the overall sample. The values for each country are calculated using individual weights in order to be representative for the country's population.

6.

For the 1-digit level of occupational codes, the average is somewhat lower (2.5%), which means that the large majority of occupational changes at the 2-digit level go along with a change at the 1-digit level. These figures indicate that a relatively large share of occupational changes in our sample reflect a vertical, rather than a horizontal, change when changing their job and occupation. Our figures are furthermore of a similar magnitude as those in Lalé (2012) who reports mobility rates for the 1- and the 2-digit-level of slightly below and above 4%, respectively.

7.

This is in line with the finding by Carrillo-Tudela et al (2016) for the UK that about 50% of all job changes are accompanied by an occupational change.

8.

This figure is in line with the result of net mobility amounting to 1% in France (Lalé 2012), but lower than figures for the US (Kambourov and Manovskii 2008) and the UK (Carrillo-Tudela et al. 2016), where net mobility was found to be 4.5% and 12%, respectively. Apart from different time horizons, also sample restrictions might be reasons for diverging results.

9.

In a robustness test, we apply as an alternative measure of wage mobility absolute changes in deflated earnings that are larger than 5% compared to the previous year's individual earnings and define such changes as upward or downward mobility. This measure has the advantage that it is not affected by the degree of inequality prevailing in a specific country. The results (available from the authors upon request) are very close to our main measure.

10.

The magnitude of this number should not be overinterpreted as it is a consequence of defining wage transitions as transitions across deciles of the wage distribution. Rather, it should be regarded as an indicator of the probability that a wage change is zero or relatively small.

11.

Note that this could be partly driven by the selection of risk-averse workers into full-time jobs, as part-time jobs (which are excluded from this part of the analysis) make up an important share of employees in the Netherlands.

12.

The contrary argument is not necessarily true, however: Overlapping confidence intervals do not always imply that the difference between two values is not significantly different, as long as each of the two values is not included in the confidence interval for the other.

13.

Data source: Visser (2016).
References
Bachmann, R., Bechara, P., & Schaffner, S. (2016). Wage inequality and wage mobility in Europe. Review of Income and Wealth, 62(1), 181–197.

Bachmann, R., Cim, M., & Green, C. (2019). Long-run patterns of labour market polarisation: Evidence from German micro data. British Journal of Industrial Relations, 57(2), 350–376.

Bartelsman, E. J., Haltiwanger, J. C., & Scarpetta, S. (2009). Measuring and analyzing cross-country differences in firm dynamics. In T. Dunne, J. B. Jensen, & M. J. Roberts (Eds.), Producer dynamics: New evidence from micro data, NBER. Chicago: University of Chicago Press.

Boeri, T. (1999). Enforcement of employment security regulations, on-the-job search and unemployment duration. European Economic Review,43(1), 65–89.

Buchinsky, M., & Hunt, J. (1999). Wage mobility in the United States. The Review of Economics and Statistics,81(3), 351–368.

Burgess, S., Lane, J., & Stevens, D. (2000). Job flows, worker flows, and churning. Journal of Labor Economics,18(3), 473–502.

Carrillo-Tudela, C., Hobijn, B., She, P., & Visschers, L. (2016). The extent and cyclicality of career changes: Evidence for the UK. European Economic Review,84, 18–41.

Connolly, S., & Gregory, M. (2008). Moving down: Women's part-time work and occupational change in Britain 1991–2001. The Economic Journal,118(526), F52–F76.

Cortes, G. M. (2016). Where have the middle-wage workers gone? A study of polarization using panel data. Journal of Labor Economics,34(1), 63–105.

Cortes, G. M., & Gallipoli, G. (2018). The costs of occupational mobility: An aggregate analysis. Journal of the European Economic Association,16(2), 275–315.

Engel, M., & Schaffner, S. (2012). How to use the EU-SILC panel to analyse monthly and hourly wages. Ruhr Economic Papers, 390.

EUROSTAT (2014) Description of target variables: Cross-sectional and longitudinal. EU-SILC 065 (2013 operation). Technical Report.

EUROSTAT. (2019). Duration of working life—annual data. Retrieved August 9, 2019 from https://appsso.eurostat.ec.europa.eu/nui/show.do?dataset=lfsi_dwl_a&lang=en.

Evans, P. (1999). Occupational downgrading and upgrading in Britain. Economica,66(261), 79–96.

Fitzenberger, B., & Kunze, A. (2005). Vocational training and gender: Wages and occupational mobility among young workers. Oxford Review of Economic Policy,21(3), 392–415.

Gathmann, C., & Schönberg, U. (2010). How general is human capital? A task-based approach. Journal of Labor Economics,28(1), 1–49.

Groes, F., Kircher, P., & Manovskii, I. (2015). The U-shapes of occupational mobility. The Review of Economic Studies,82(2), 659–692.

Haltiwanger, J., Scarpetta, S., & Schweiger, H. (2014). Cross country differences in job reallocation: The role of industry, firm size and regulations. Labour Economics,26, 11–25.

Hart, R. A. (2006). Worker-job matches, job mobility and real wage cyclicality. Economica,73(290), 287–298.

Hopenhayn, H., & Rogerson, R. (1993). Job turnover and policy evaluation: A general equilibrium analysis. Journal of Political Economy,101(5), 915–938.

ILO—International Labor Organization. (2017). Correspondence table between ISCO-88 and ISCO-08. Retrieved October 20, 2017 from http://www.ilo.org/public/english/bureau/stat/isco/docs/corrtab88-08.xls.

Jolivet, G., Postel-Vinay, F., & Robin, J.-M. (2006). The empirical content of the job search model: Labor mobility and wage distributions in Europe and the US. European Economic Review,50(4), 877–907.

Jovanovic, B. (1979). Job matching and the theory of turnover. Journal of Political Economy,87(5), 972–990.

Kambourov, G., & Manovskii, I. (2008). Rising occupational and industry mobility in the United States: 1968–1997. International Economic Review,49(1), 41–79.

Kambourov, G., & Manovskii, I. (2009). Occupational specificity of human capital. International Economic Review,50(1), 63–115.

Krause, M. U., & Lubik, T. A. (2006). The cyclical upgrading of labor and on-the-job search. Labour Economics,13(4), 459–477.

Kwon, I., & Milgrom, E. M. M. (2014). The significance of firm and occupation specific human capital for hiring and promotions. Labour Economics,31, 162–173.

Lalé, E. (2012). Trends in occupational mobility in France: 1982–2009. Labour Economics,19, 373–387.

Lalé, E. (2017). Worker reallocation across occupations: Confronting data with theory. Labour Economics,44(Supplement C), 51–68.

Lazear, E. P., & Spletzer, J. R. (2012). Hiring, churn, and the business cycle. American Economic Review,102(3), 575–579.

Ljungqvist, L., & Sargent, T. J. (1998). The European unemployment dilemma. Journal of Political Economy,106(3), 514–550.

Longhi, S., & Brynin, M. (2010). Occupational change in Britain and Germany. Labour Economics,17, 655–666.

Lucas, R. E., & Prescott, E. C. (1974). Equilibrium search and unemployment. Journal of Economic Theory,7(2), 188–209.

Mortensen, D. T., & Pissarides, C. A. (1999). Unemployment responses to 'skill-biased' technology shocks: The role of labour market policy. The Economic Journal,109(455), 242–265.

Neal, D. (1999). The complexity of job mobility among young men. Journal of Labor Economics,17(2), 237–261.

OECD—Organisation for Economic Co-operation and Development (2015) Strictness of employment protection. OECD database. Retrieved October 20, 2017 from www.oecd.org/els/emp/oecdindicatorsofemploymentprotection.htm.

Postel-Vinay, F., & Turon, H. (2014). The impact of firing restrictions on labour market equilibrium in the presence of on-the-job search. The Economic Journal,124(575), 31–61.

Reichert, A. R., & Tauchmann, H. (2017). Workforce reduction, subjective job insecurity, and mental health. Journal of Economic Behavior & Organization,133, 187–212.

Topel, R. H., & Ward, M. P. (1992). Job mobility and the careers of young men. The Quarterly Journal of Economics,107(2), 439–479.

Venn, D. (2009). Legislation, collective bargaining and enforcement: Updating the OECD employment protection indicators. OECD Social, Employment and Migration Working Papers, 89.

Visser, J. (2016). ICTWSS Data base version 5.1. Amsterdam: Amsterdam Institute for Advanced Labour Studies (AIAS), University of Amsterdam. September 2016.

von Wachter, T., & Bender, S. (2006). In the right place at the wrong time: The role of firms and luck in young workers' careers. The American Economic Review,96(5), 1679–1705.

Wagner, G. G., Frick, J. R., & Schupp, J. (2007). The German socio-economic panel study (SOEP): Scope, evolution and enhancements. Schmollers Jahrbuch: Zeitschrift für Wirtschafts- und Sozialwissenschaften,127(1), 139–169.
Acknowledgements
This paper is based on the project "Permeability of European Labour Markets" which was carried out by RWI for the Bertelsmann Foundation. We thank Joscha Schwarzwälder from the Bertelsmann Foundation for his support at various stages of the project. The authors are grateful to Julia Bredtmann, Sandra Schaffner, an anonymous referee and participants of the EALE 2018 Conference, the 5th European User Conference for EU-Microdata, the International Workshop on "Income Mobility, Economic Insecurity and Vulnerability for Different Generations of Europeans" at the University of Alcalá and a seminar at RWI for helpful comments and suggestions.
Additional information
Publisher's Note
Springer Nature remains neutral with regard to jurisdictional claims in published maps and institutional affiliations.
About this article
Cite this article
Bachmann, R., Bechara, P. & Vonnahme, C. Occupational Mobility in Europe: Extent, Determinants and Consequences. De Economist 168, 79–108 (2020). https://doi.org/10.1007/s10645-019-09355-9
Keywords
Occupational mobility

Job mobility

Wage mobility

European labour markets

EU-SILC
JEL Classification