Summary
Background We examined the efficacy of mirtazapine in preventing delayed nausea and vomiting following highly emetogenic chemotherapy (HEC). Patients and methods Patients who had experienced delayed emesis and would be subsequently scheduled for at least three more cycles of the same chemotherapy were randomly assigned to either a mirtazapine (15 mg daily on days 2–4) or a control group. In addition, both groups received a standard triplet regimen comprising aprepitant, a 5-HT3 receptor antagonist, and dexamethasone (7.5 mg on days 2–4). The chemotherapy regimens were either an epirubicin plus cyclophosphamide regimen or cisplatin-containing regimens. The primary end point was a complete response (no emesis and no rescue treatment) to the delayed phase (25–120 h post-chemotherapy) during Cycle 1. The impact on quality of life (QOL) was assessed using the Functional Living Index–Emesis (FLIE) questionnaire. Results Of 95 enrolled patients, 46 were assigned to the mirtazapine group and 49 to the control group. The complete response rate in the delayed phase during Cycle 1 was significantly higher with mirtazapine than in the control group (78.3% versus 49.0%, P = 0.003). The main adverse effects of mirtazapine were mild to moderate somnolence and weight gain. Mean total FLIE scores were similar between the two arms. Conclusions This is the first randomized prospective study to show that adding mirtazapine has a substantial and statistically significant benefit with good tolerance in patients with breast cancer who have experienced delayed emesis following the same prior HEC. (Trial registration: ClinicalTrials.gov NCT02336750).
This is a preview of subscription content, log in to check access.
Access options
Buy single article
Instant access to the full article PDF.
US$ 39.95
Price includes VAT for USA
Subscribe to journal
Immediate online access to all issues from 2019. Subscription will auto renew annually.
US$ 99
This is the net price. Taxes to be calculated in checkout.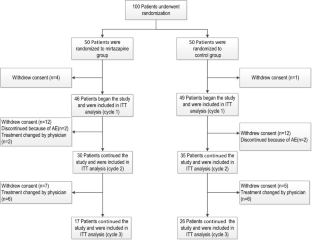 References
1.

Hesketh PJ (1999) Defining the emetogenicity of cancer chemotherapy regimens: relevance to clinical practice. Oncologist. 4:191–196

2.

Sommariva S, Pongiglione B, Tarricone R (2016) Impact of chemotherapy-induced nausea and vomiting on health-related quality of life and resource utilization: a systematic review. Crit Rev Oncol Hematol 99:13–36

3.

Hesketh PJ, Bohlke K, Lyman GH et al (2016) Antiemetics: American Society of Clinical Oncology focused guideline update. Am Soc Clin Oncol J Clin Oncol 34(4):381–386

4.

Roila F, Herrstedt J, Aapro M et al (2010) ESMO/MASCC guidelines. Working group. Guideline update for MASCC and ESMO in the prevention of chemotherapy and radiotherapy-induced nausea and vomiting: results of the Perugia consensus conference. Ann Oncol 21(suppl 5):232–243

5.

NCCN National Comprehensive Cancer Network. Antiemesis: Clinical Practice Guidelines in Oncology, v 2. 2017. Available at: www.nccn.org. 2017

6.

Takahashi T, Hoshi E, Takagi M et al (2010) Multicenter, phase II, placebo-controlled, double-blind, randomized study of Aprepitant in Japanese patients receiving high-dose cisplatin. Cancer Sci 101(11):2455–2461

7.

Hesketh PJ, Grunberg SM, Gralla RJ et al (2003) The oral neurokinin-1 antagonist Aprepitant for the prevention of chemotherapy-induced nausea and vomiting: a multinational, randomized, double-blind, placebo-controlled trial in patients receiving high-dose cisplatin – the Aprepitant protocol 052 study group. J Clin Oncol 21:4112–4119

8.

Poli-Bigelli S, Rodrigues-Pereira J, Carides AD et al (2003) Aprepitant protocol 054 study group. Addition of the neurokinin 1 receptor antagonist Aprepitant to standard antiemetic therapy improves control of chemotherapy-induced nausea and vomiting. Results from a randomized, double-blind, placebo-controlled trial in Latin America. Cancer 97:3090–3098

9.

Schmoll HJ, Aapro MS, Poli-Bigelli S et al (2006) Comparison of an Aprepitant regimen with a multiple-day Ondansetron regimen, both with dexamethasone, for antiemetic efficacy inhigh-dose cisplatin treatment. Ann Oncol 17:1000–1006

10.

Bymaster FP, Calligaro DO, Falcone JF et al (1996) Radioreceptor binding profile of the atypical antipsychotic olanzapine. Neuropsychopharmacology. 14(2):87–96

11.

Brafford MV, Glode A (2014) Olanzapine: an antiemetic option for chemotherapy-induced nausea and vomiting. J Adv Pract Oncol 5(1):24–29

12.

Navari RM, Aapro M (2016) Antiemetic prophylaxis for chemotherapy- induced nausea and vomiting. N Engl J Med 374(14):1356–1367

13.

Mukhopadhyay S, Kwatra G, Alice KP et al (2017) Role of olanzapine in chemotherapy-induced nausea and vomiting on platinum-based chemotherapy patients: a randomized controlled study. Support Care Cancer 25(1):145–154

14.

Wang X, Wang L, Wang H et al (2015) Effectiveness of olanzapine combined with Ondansetron in prevention of chemotherapy-induced nausea and vomiting of non-small cell lung cancer. Cell Biochem Biophys 72(2):471–473

15.

Tan L, Liu J, Liu X et al (2009) Clinical research of olanzapine for prevention of chemotherapy-induced nausea and vomiting. J Exp Clin Cancer Res 28:131

16.

Navari R, Nagy C, Le-Rademacher J et al (2016) Olanzapine versus fosAprepitant for the prevention of concurrent chemotherapy radiotherapy-induced nausea and vomiting. J Community Support Oncol 14(4):141–147

17.

Navari RM (2013) Management of chemotherapy-induced nausea and vomiting: focus on newer agents and new uses for older agents. Drugs. 73(3):249–262

18.

de Boer T (1996) The pharmacologic profile of mirtazapine. J Clin Psychiatry 57(Suppl 4):19–25

19.

Nutt D (1997) Mirtazapine: pharmacology in relation to adverse effects. Acta Psychiatr Scand Suppl 391:31–37

20.

Kast RE, Foley KF (2007) Cancer chemotherapy and cachexia: mirtazapine and olanzapine are 5-HT3 antagonists with good antiemesis effects. Eur J Cancer Care (Engl) 16(4):351–354

21.

Rohde A, Dembinski J, Dorn C (2003) Mirtazapine (Remergil) for treatment resistant hyperemesis gravidarum: rescue of a twin pregnancy. Arch Gynecol Obstet 268:219–221

22.

Teixeira FV, Novaretti TM, Pilon B et al (2005) Mirtazapine (Remeron) as treatment for non-mechanical vomiting after gastric bypass. Obes Surg 15:707–709

23.

Theobald DE, Kirsh KL, Holtsclaw E et al (2002) An open-label, crossover trial of mirtazapine (15 and 30 mg) in cancer patients with pain and other distressing symptoms. J Pain Symptom Manag 23:442–447

24.

Thompson DS (2000) Mirtazapine for the treatment of depression and nausea in breast and gynecological oncology. Psychosomatics. 41:356–369

25.

Common Terminology Criteria for Adverse Events (CTCAE), Version 4.0, published on May 28, 2009

26.

Lindley CM, Hirsch JD, O'Neill CV et al (1992) Quality of life consequences of chemotherapy-induced emesis. Qual Life Res 1(5):331–340

27.

Hu W, Fang J, Nie J et al (2014) Addition of Aprepitant improves protection against cisplatin-induced emesis when a conventional anti-emetic regimen fails. Cancer Chemother Pharmacol 73(6):1129–1136

28.

Vardy J, Chiew KS, Galica J et al (2006) Side effects associated with the use of dexamethasone for prophylaxis of delayed emesis after moderately emetogenic chemotherapy. Br J Cancer 94(7):1011–1015

29.

Yu S, Burke TA, Chan A et al (2015) Antiemetic therapy in Asia Pacific countries for patients receiving moderately and highly emetogenic chemotherapy--a descriptive analysis of practice patterns, antiemetic quality of care, and use of antiemetic guidelines. Support Care Cancer 23(1):273–382

30.

Ng TL, Hutton B, Clemons M (2015) Chemotherapy-induced nausea and vomiting: time for more emphasis on nausea? Oncologist. 20(6):576–583

31.

Navari RM, Qin R, Ruddy KJ et al (2016) Olanzapine for the prevention of chemotherapy-induced nausea and vomiting. N Engl J Med 375:134–142

32.

Kim SW, Shin IS, Kim JM et al (2008) Effectiveness of mirtazapine for nausea and insomnia in cancer patients with depression. Psychiatry Clin Neurosci 62(1):75–83

33.

Schmitt T, Goldschmidt H, Neben K et al (2014) Aprepitant, granisetron, and dexamethasone for prevention of chemotherapy-induced nausea and vomiting after high-dose melphalan in autologous transplantation for multiple myeloma: results of a randomized, placebo-controlled phase III trial. J Clin Oncol 32(30):3413–3420

34.

Chasen M, Urban L, Schnadig I et al (2017) Rolapitant improves quality of life of patients receiving highly or moderately emetogenic chemotherapy. Support Care Cancer 25:85–92
Acknowledgments
We thank David Warr for assistance with revising the protocol of the study, Yannan Zhao and Zhe Feng for data collection, Enying Cao for following the patients up and H. Nikki March, PhD, and Trish Reynolds, MBBS, FRACP, from Liwen Bianji, Edanz Editing China (www.liwenbianji.cn/ac), for editing the English text of a draft of this manuscript.
Funding
This study was sponsored and funded by MSD China Holding, Shanghai, China.
Ethics declarations
Conflicts of interest
All authors declare they have no conflicts of interest.
Ethics approval
All procedures performed in studies involving human participants were in accordance with the ethical standards of the institutional and/or national research committee and with the 1964 Helsinki Declaration and its later amendments or comparable ethical standards. The Fudan University Shanghai Cancer Center Ethic Committee for Clinical Investigation approved the study.
Informed consent
Informed consent was obtained from all study participants.
Additional information
Publisher's note
Springer Nature remains neutral with regard to jurisdictional claims in published maps and institutional affiliations.
About this article
Cite this article
Cao, J., Ouyang, Q., Wang, S. et al. Mirtazapine, a dopamine receptor inhibitor, as a secondary prophylactic for delayed nausea and vomiting following highly emetogenic chemotherapy: an open label, randomized, multicenter phase III trial. Invest New Drugs (2020). https://doi.org/10.1007/s10637-020-00903-8
Received:

Accepted:

Published:
Keywords
Mirtazapine

Aprepitant

Breast cancer

Nausea and vomiting

5-HT3 receptor antagonist