Synergistic effect and reduced toxicity by intratumoral injection of cytarabine-loaded hyaluronic acid hydrogel conjugates combined with radiotherapy on lung cancer
Summary
The aim of this study was to explore the synergistic anti-tumor effects of cytarabine hyaluronic acid-tyramine (Ara-HA-Tyr) hydrogel conjugates and radiotherapy (RT) in the Lewis lung cancer (LLC) xenograft model, and the mechanisms involved. The radiotherapy sensitization ratio (SER) of 0.5 μg cytarabine (Ara-C) was 1.619 in the LLC cells. Ara-HA-Tyr was prepared by encapsulating Ara-C into hyaluronic acid-tyramine (HA-Tyr) conjugates. The hydrogels were formed through the oxidative coupling of tyramines by hydrogen peroxide (H2O2) and horseradish peroxidase (HRP). Mice engrafted with the LLC cells were given intra-tumoral injections of saline, Ara-C or Ara-HA-Tyr, with or without RT. The combination of Ara-HA-Tyr and RT increased survival compared to free Ara-C and RT (p < 0.05), and prolonged tumor growth delay (TGD). Furthermore, the RT + Ara-HA-Tyr combination therapy significantly reduced 18F-FDG uptake, induced cell cycle arrest at G2/M-phase, increased apoptosis and histone H2AX phosphorylation (γ-H2AX), and decreased the proliferation index (Ki67) in tumor cells compared to either monotherapy. Taken together, Ara-C encapsulated with HA-Tyr effectively sensitized tumor xenografts to RT and showed significantly less systemic toxicity.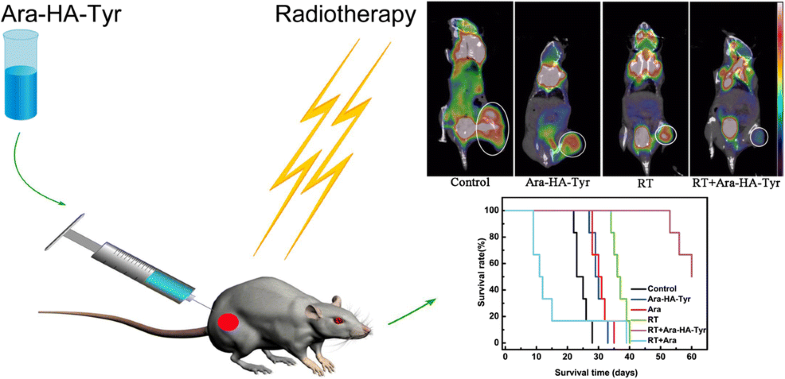 Keywords
Cytarabine 
Hydrogel 
Radiotherapy 
Synergistic effect 
Notes
Funding
This work was supported by grants from the National Natural Science Foundation of China (No.81201682), the Scientific Research Foundation of the Luzhou Science and Technology Bureau (No.2016LZXNYD-J05), and the Southwest Medical University Foundation (No.201617).
Compliance with ethical standards
Conflict of interest
The authors declare that they have no conflict of interest.
Ethical approval
No studies were conducted on human participants. All applicable international, national, and/or institutional guidelines for the care and use of animals were followed. All animal experiments were implemented in accordance with the Institutional Animal Care and Use Guidelines, and approved by the Institutional Animal Southwest Medical Care and Use Committee (Luzhou, China).
Informed consent
For this type of study, formal consent is not required.
Copyright information
© Springer Science+Business Media, LLC, part of Springer Nature 2019