An orally antitumor chalcone hybrid inhibited HepG2 cells growth and migration as the tubulin binding agent
Summary
Liver cancer is a kind of high mortality cancer due to the difficulty of early diagnosis. It is necessary to develop the anticancer agents to treat liver cancer. Here, a novel chalcone derivative was synthesized and evaluated for anticancer activity in vitro against liver cancer cell lines (HepG2, SNU-423, SMMC7221, and SNU-398). The chalcone hybrid 9 displayed the antiproliferative effect against HepG2, SNU-423, SMMC7221 and SNU-398 cells with IC50 values of 0.9 μM, 2.7 μM, 6.2 μM and 4.6 μM, respectively. Cellular mechanisms showed that derivative 9 could obviously inhibit HepG2 cells growth and colony formation in a concentration-dependent manner. Analogue 9 inhibited the migration by regulating the expression levels of migration-releated markers and transcription factors (Snail and Slug). Tubulin polymerization inhibition assay illustrated that chalcone hybrid 9 might be a potent tubulin polymerization inhibitor. Importantly, compound 9 displayed the antitumor activity against liver cancer HepG2 cells in vivo with the low toxicity toward mice. Therefore, compound 9 as a novel tubulin polymerization inhibitor deserves further investigation to treat liver cancer.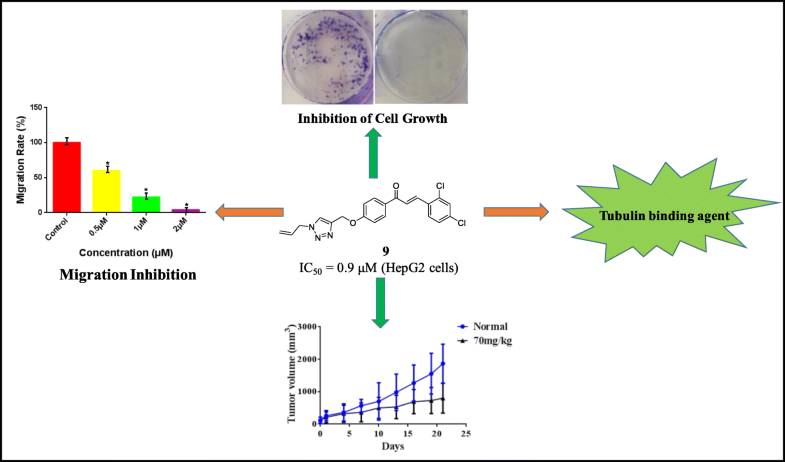 Keywords
Chalcone 
Liver cancer 
Cell growth 
Migration 
Tubulin 
Notes
Acknowledgments
So thanks the supports from The First Affiliated Hospital of Zhengzhou University.
Author's contribution
Wang Yan., Chen Xiangyu., Li Ya., and Wang Yu. performed the design work and experiments. Wang Yan., and Xu Feng. witten the paper. All authors read and approved the final manuscript.
Funding
This work was supported by the fund of The First Affiliated Hospital of Zhengzhou University.
Compliance with ethical standards
Conflict of interest
The authors declare that they have no conflict of interest.
Ethical approval
This article does not contain any studies with human participants or animals performed by any of the authors.
Informed consent
Informed consent was obtained from all individual participants included in the study.
Copyright information
© Springer Science+Business Media, LLC, part of Springer Nature 2019