Abstract
Background
In the USA, fibrolamellar hepatocellular carcinoma (FLC) accounts for 1–2% of all cases of hepatocellular carcinoma. FLC remains poorly understood.
Aim
We aim to investigate the incidence, demographics, tumor characteristics, treatment, and prognosis of patients with FLC.
Methods
Data on FLC between 2000 and 2016 were extracted from the SEER database and analyzed.
Results
A total of 300 patients with FLC were identified where 126 were male. Median age at diagnosis was 27 ± 22 years. The overall age-adjusted incidence of FLC between 2000 and 2016 was 0.02 per 100,000 per year. A bimodal distribution was observed where the highest incidences occurred between 15–19 years and 70–74 years. Most tumors on presentation were moderately differentiated (20.7%), while the most common stage at presentation was stage 1 (21.7%) followed by stages 3 and 4 (20.0% and 20.3%, respectively); 50.3% of these tumors were surgically resected, while 8.0% received radiation and 45.3% received chemotherapy. One- and 5-year cause-specific survival for FLC was 72.0% and 32.9%, respectively, with a median survival of 32.9 months. HCC had a median survival time of 11.7 months. Patients who were not treated with surgical intervention had about 3 times increased risk for death (HR 2.8, 95% CI 1.68–4.72, P = 0.000). Radiation and chemotherapy did not significantly affect outcomes.
Conclusion
FLC presents with a bimodal distribution in both early and elderly individuals. Compared to HCC, FLC has a higher recurrence rate but better survival outcome. Surgical intervention is superior to chemotherapy and radiation.
This is a preview of subscription content, log in to check access.
Access options
Buy single article
Instant access to the full article PDF.
US$ 39.95
Price includes VAT for USA
Subscribe to journal
Immediate online access to all issues from 2019. Subscription will auto renew annually.
US$ 199
This is the net price. Taxes to be calculated in checkout.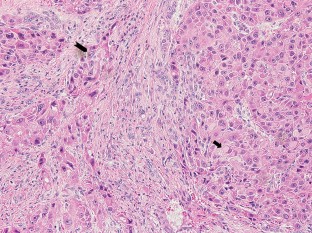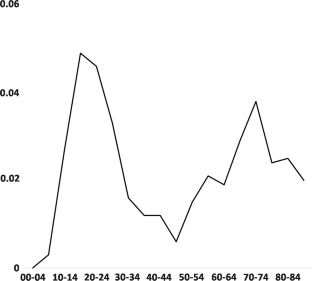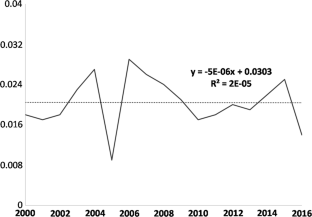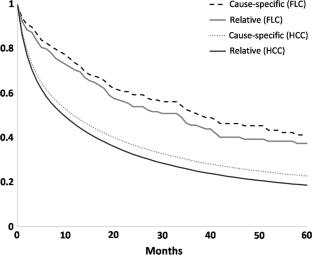 References
1.

El-Serag HB, Davila JA. Is fibrolamellar carcinoma different from hepatocellular carcinoma? A US population-based study. Hepatology. 2004;39:798–803.

2.

Ross HM, Daniel HDJ, Vivekanandan P, et al. Fibrolamellar carcinomas are positive for CD68. Mod Pathol. 2011;24:390–395.

3.

Farber BA, Lalazar G, Simon EP, et al. Non coding RNA analysis in fibrolamellar hepatocellular carcinoma. Oncotarget. 2018;9:10211–10227.

4.

Lim I, Farber B, LaQuaglia M. Advances in Fibrolamellar Hepatocellular Carcinoma: A Review. Eur J Pediatr Surg. 2014;24:461–466.

5.

Graham RP, Yeh MM, Lam-Himlin D, et al. Molecular testing for the clinical diagnosis of fibrolamellar carcinoma. Mod Pathol. 2018;31:141–149.

6.

Graham RP, Jin L, Knutson DL, et al. DNAJB1-PRKACA is specific for fibrolamellar carcinoma. Mod Pathol. 2015;28:822–829.

7.

Stipa F, Yoon SS, Liau KH, et al. Outcome of patients with fibrolamellar hepatocellular carcinoma. Cancer. 2006;106:1331–1338.

8.

Maniaci V, Davidson BR, Rolles K, et al. Fibrolamellar hepatocellular carcinoma—prolonged survival with multimodality therapy. Eur J Surg Oncol. 2009;35:617–621.

9.

Yamashita S, Vauthey J-N, Kaseb AO, et al. Prognosis of fibrolamellar carcinoma compared to non-cirrhotic conventional hepatocellular carcinoma. J Gastrointest Surg. 2016;20:1725–1731.

10.

Chakrabarti S, Tella SH, Kommalapati A, et al. Clinicopathological features and outcomes of fibrolamellar hepatocellular carcinoma. J Gastrointest Oncol. 2019;10:554–561.

11.

Eggert T, McGlynn KA, Duffy A, et al. Fibrolamellar hepatocellular carcinoma in the USA, 2000-2010: A detailed report on frequency, treatment and outcome based on the surveillance, epidemiology, and end results database. United Eur Gastroenterol J. 2013;1:351–357.

12.

Jernigan PL, Wima K, Hanseman DJ, et al. Natural history and treatment trends in hepatocellular carcinoma subtypes: Insights from a national cancer registry. J Surg Oncol. 2015;112:872–876.

13.

Mayo SC, Mavros MN, Nathan H, et al. Treatment and prognosis of patients with fibrolamellar hepatocellular carcinoma: A national perspective. J Am Coll Surg. 2014;218:196–205.

14.

Malouf GG, Brugières L, Le Deley M-C, et al. Pure and mixed fibrolamellar hepatocellular carcinomas differ in natural history and prognosis after complete surgical resection. Cancer. 2012;118:4981–4990.

15.

Katzenstein HM, Krailo MD, Malogolowkin MH, et al. Fibrolamellar hepatocellular carcinoma in children and adolescents. Cancer. 2003;97(8):2006–2012.

16.

SEER Registries - About SEER [Internet]. [cited 2019 Mar 8] Available from: https://seer.cancer.gov/registries/index.html.

17.

Glossary of Statistical Terms [Internet]. [cited 2019 Mar 8] Available from: https://seer.cancer.gov/cgi-bin/glossary/glossary.pl.

18.

Wahab MA, El Hanafy E, El Nakeeb A, et al. Clinicopathological features and surgical outcome of patients with fibrolamellar hepatocellular carcinoma (experience with 22 patients over a 15-year period). World J Gastrointest Surg. 2017;9:61.

19.

Herman P, Chagas AL, Perini MV, et al. Surgical treatment of fibrolamellar hepatocellular carcinoma: An underestimated malignant tumor? Hepatobiliary Pancreat. Dis. Int. 2014;13:618–621.

20.

Kakar S, Burgart LJ, Batts KP, et al. Clinicopathologic features and survival in fibrolamellar carcinoma: Comparison with conventional hepatocellular carcinoma with and without cirrhosis. Mod Pathol. 2005;18:1417–1423.

21.

El–Serag HB, Rudolph KL. Hepatocellular carcinoma: Epidemiology and molecular carcinogenesis. Gastroenterology. 2007;132:2557–2576.

22.

Llovet JM, Burroughs A, Bruix J. Hepatocellular carcinoma. Lancet. 2003;362:1907–1917.

23.

Kassahun WT. Contemporary management of fibrolamellar hepatocellular carcinoma: Diagnosis, treatment, outcome, prognostic factors, and recent developments. World J Surg Oncol. 2016;14:151.

24.

Moreno-Luna LE, Arrieta O, García-Leiva J, et al. Clinical and pathologic factors associated with survival in young adult patients with fibrolamellar hepatocarcinoma. BMC Cancer. 2005;5:142.

25.

Berman MA, Burnham JA, Sheahan DG. Fibrolamellar carcinoma of the liver: An immunohistochemical study of nineteen cases and a review of the literature. Hum Pathol. 1988;19:784–794.

26.

Khan AS, Hussain HK, Johnson TD, et al. Value of delayed hypointensity and delayed enhancing rim in magnetic resonance imaging diagnosis of small hepatocellular carcinoma in the cirrhotic liver. J Magn Reson Imaging. 2010;32:360–366.

27.

Lo EC, Rucker AN, Federle MP. Hepatocellular carcinoma and intrahepatic cholangiocarcinoma: Imaging for diagnosis, tumor response to treatment and liver response to radiation. Semin Radiat Oncol. 2018;28:267–276.

28.

Do RKG, McErlean A, Ang CS, et al. CT and MRI of primary and metastatic fibrolamellar carcinoma: a case series of 37 patients. Br J Radiol. 2014;87:20140024.

29.

Kaseb AO, Shama M, Sahin IH, et al. Prognostic indicators and treatment outcome in 94 cases of fibrolamellar hepatocellular carcinoma. Oncology. 2013;85:197–203.

30.

Njei B, Rotman Y, Ditah I, et al. Emerging trends in hepatocellular carcinoma incidence and mortality. Hepatology. 2015;61:191–199.

31.

Njei B, Konjeti VR, Ditah I. Prognosis of patients with fibrolamellar hepatocellular carcinoma versus conventional hepatocellular carcinoma: A systematic review and meta-analysis. Gastrointest Cancer Res. 2014;7:49–54.

32.

Grandhi MS, Pawlik TM. Managing fibrolamellar hepatocellular carcinoma. Expert Opin Orphan Drugs. 2017;5:143–152.
Ethics declarations
Conflicts of interest
None.
Additional information
Publisher's Note
Springer Nature remains neutral with regard to jurisdictional claims in published maps and institutional affiliations.
About this article
Cite this article
Ramai, D., Ofosu, A., Lai, J.K. et al. Fibrolamellar Hepatocellular Carcinoma: A Population-Based Observational Study. Dig Dis Sci (2020). https://doi.org/10.1007/s10620-020-06135-3
Received:

Accepted:

Published:
Keywords
Hepatocellular carcinoma

Fibrolamellar hepatocellular carcinoma

Surveillance

Epidemiology and End Results Registry

Resection

Prognosis