An intra-household analysis of farmers' perceptions of and adaptation to climate change impacts: empirical evidence from drought prone zones of Bangladesh
Abstract
The agricultural sector is highly vulnerable to climate change, particularly in drought-prone environments. An understanding of perceptions, adaptation strategies, and their determinants including a gender analysis can benefit vulnerable farmers and policy makers. Using a survey of 360 farming household heads and their spouses, this study identified the intra-household perceptions and their determinants, the major strategies adopted by the farmers to adapt to climate change, and the factors that affect their adaptation decision and choice of strategies including the role of intra-household decision making in a drought prone environment of Bangladesh. The adaptation methods identified include short-duration and drought-tolerant rice varieties, supplementary irrigation for crop production, non-rice winter and horticultural crops, and improved channels for irrigation and water harvesting. Discrete choice model results indicate that age, household size, membership in any organization, access to credit, drought severity, amount of cultivated land, and agricultural subsidy significantly influence farmers' adaptation decision and choices. Results reveal that climate change perceptions of husbands and spouses within the same households differ significantly and intra-household decision making plays a significant role in adaptation decision and selection of alternative adaptation strategies. The results would improve our understanding of farms and farming households and their climate change perceptions and adaptation choices by location and gender, thereby enabling us to outline better strategies to adapt to the changing climate.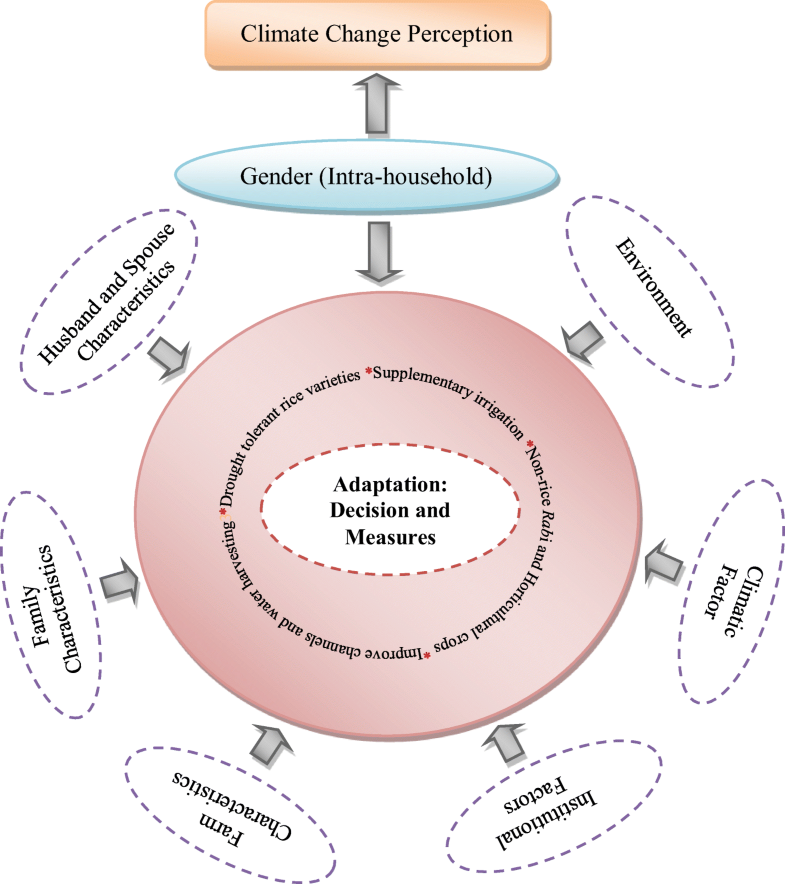 Notes
Acknowledgments
This work was undertaken in collaboration with CSIRO and contributes to the South Asia Sustainable Development Investment Portfolio. Likewise, the authors also thank to the Deputy Directors (DD) of Agriculture, Upazila Agriculture Officers (UAO), Sub-Assistant Agriculture Officers (SAAO), the enumerators, and finally the respondents.
Funding information
This study is financially supported by the Australian aid program.
Compliance with ethical standards
Conflict of interest
The authors declare that they have no conflict of interest.
Copyright information
© Springer Nature B.V. 2019