A waterborne bio-based polymer pigment: colored regenerated cellulose suspension from waste cotton fabrics
Abstract
Waterborne bio-based polymer pigments are promising environmentally friendly coloring materials. In this work, novel colored cellulose suspensions applicable for coloring, labelling and anti-counterfeiting were prepared from waste cotton fabrics. It was demonstrated that cellulose regenerated from a phosphoric acid solution of waste cotton fabrics could be conveniently colored by reacting with reactive dyes. The high specific surface area of the regenerated cellulose (RC) allowed for high color build-up of up to 210 mg/g dye fixation and K/S value of up to 31. The resulting colored regenerated cellulose (CRC) suspension had typical characteristics of regenerated cellulose and was used to color polyurethane (PU). The resulting colored PU films exhibited excellent color fastness/resistance to leaching when soaked in water. This study demonstrated a way of alleviating the environmental burden of waste cotton fabrics by converting them to high value-added colored waterborne cellulose suspension.
Graphical abstract
Preparation and application of CRC suspensions from waste cotton fabrics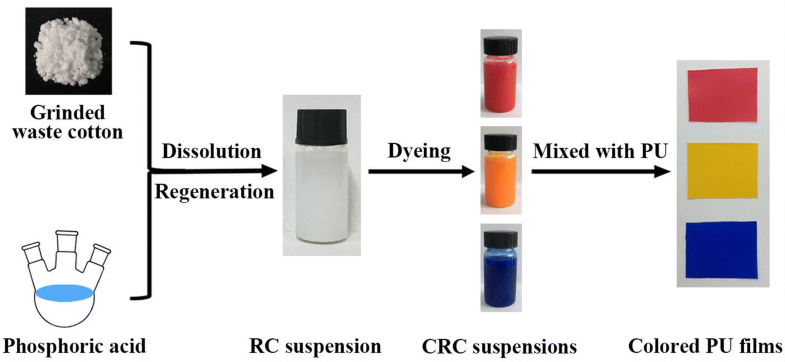 Keywords
Waterborne bio-based pigments 
Regenerated cellulose suspension 
Waste cotton fabrics 
Reactive dyeing 
Notes
Acknowledgments
This work was financially supported by the Fundamental Research Funds for the Central Universities (Nos. 2232018A3-04 and 2232018-02), the National Key Research and Development Program of China (No. 2016YFC0802802), and the Programmer of Introducing Talents of Discipline to Universities (No. 105-07-005735).
Copyright information
© Springer Nature B.V. 2018